Af­ter land­ing a $354M pay­out, Medi­va­tion CEO David Hung doesn't over­look his 2016 bonus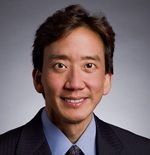 David Hung, Medi­va­tion CEO
It's been a very good year at Medi­va­tion, num­bers wise. So now that CEO David Hung has com­plet­ed his $14 bil­lion deal to sell the com­pa­ny to Pfiz­er, se­cur­ing a $354 mil­lion ex­it pack­age on the way, what's left to do?
Why, arrange 2016 bonus­es for him­self and the ex­ec­u­tive crew, of course.
Medi­va­tion won't see the end of the year as an in­de­pen­dent com­pa­ny, but that's not a deal break­er. The ac­coun­tants cal­cu­lat­ed how the com­pa­ny was do­ing so far and then ex­trap­o­lat­ed the da­ta to cov­er the rest of the year. And by that mea­sure, the team qual­i­fied for a 128% pay­out rate.
For Hung, that's worth a per­for­mance bonus of $868,015, ac­cord­ing to a fil­ing with the SEC.
That's the big pay­out for the group, but the rest of the team didn't do so bad­ly for their last round of an­nu­al bonus­es.
CFO Jen­nifer Jar­rett — $152,903.
In­ter­im CMO Mo­hammed Hir­mand — $159,066
COO Mar­i­on Mc­Court — $291,577
Gen­er­al Coun­sel An­drew Pow­ell — $266,815
SVP Thomas Tem­ple­man — $157,960