Af­ter thy­roid eye drug scores in PhI­II test, Hori­zon Phar­ma read­ies mar­ket­ing ap­pli­ca­tion
Less than two years af­ter Hori­zon Phar­ma $HZNP pro­cured phase III-ready thy­roid eye dis­ease (TED) drug tepro­tu­mum­ab for $145 mil­lion up­front by ac­quir­ing a unit of Nar­row Riv­er, biotech vet­er­an David Mad­den's in­vest­ment firm — the bet has paid off, as the au­toim­mune in­flam­ma­to­ry dis­or­der drug passed its late-stage test on Thurs­day.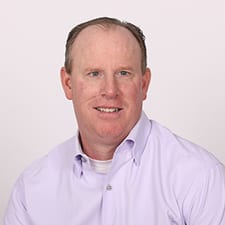 Tim Wal­bert, Hori­zon CEO
In TED pa­tients, the eye mus­cles and fat­ty tis­sue be­hind the eye be­come in­flamed, caus­ing the eyes to ap­pear to be 'bulging' and eye­lids to be­come swollen and red, even­tu­al­ly cul­mi­nat­ing in eye mis­align­ment, dou­ble vi­sion and in some cas­es even blind­ness — but there is lim­it­ed win­dow of up to three years dur­ing which the con­di­tion can be treat­ed with­out sur­gi­cal in­ter­ven­tion.
Tepro­tu­mum­ab is a mon­o­clon­al an­ti­body de­signed to in­hib­it in­sulin-like growth fac­tor 1 re­cep­tor (IGF-1R). In the 83-pa­tient phase III tri­al, 82.9% of pa­tients treat­ed with tepro­tu­mum­ab ex­pe­ri­enced a mean­ing­ful im­prove­ment in prop­to­sis or bulging of the eye (a 2 mm or more re­duc­tion (p<0.001)) com­pared to 9.5% of pa­tients on the place­bo — meet­ing the main goal of the study. All the sec­ondary end­points were al­so met, the com­pa­ny said.
The rare dis­ease drug­mak­er is work­ing on sub­mit­ting a mar­ket­ing ap­pli­ca­tion for tepro­tu­mum­ab by the mid­dle of 2019, it said. The FDA has grant­ed the ex­per­i­men­tal TED treat­ment — which was orig­i­nal­ly de­vel­oped by Gen­mab and sub­se­quent­ly li­censed from Roche — all the bells and whis­tles: break­through ther­a­py, or­phan drug and fast track des­ig­na­tions that should make a speedy re­view like­ly.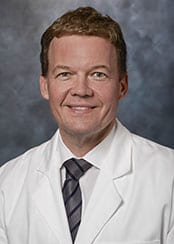 Ray­mond Dou­glas
"If ap­proved, tepro­tu­mum­ab would give physi­cians the first med­i­cine shown to re­duce prop­to­sis dur­ing ac­tive thy­roid eye dis­ease, in ad­di­tion to treat­ing oth­er painful symp­toms," said Ray­mond Dou­glas, the study's co-prin­ci­pal in­ves­ti­ga­tor and di­rec­tor of the or­bital and thy­roid eye dis­ease pro­gram at the Cedars-Sinai Med­ical Cen­ter, in a state­ment.
If the BLA is ac­cept­ed, the drug is po­si­tioned for launch in the first half of next year — giv­en the pos­si­bil­i­ty of pri­or­i­ty re­view, Jef­feries an­a­lyst David Stein­berg wrote in a note, adding that there are rough­ly 15,000 to 20,000 ac­tive TED US pa­tients el­i­gi­ble for treat­ment.
Stein­berg es­ti­mat­ed $500 mil­lion in peak sales of the drug by 2024, but added that Hori­zon man­age­ment has fore­cast $750 mil­lion, giv­en the drug has se­cured or­phan sta­tus and is dis­ease-mod­i­fy­ing — po­ten­tial­ly paving the way for ro­bust pric­ing.
Hori­zon cur­rent­ly sells the drug with the high­est price tag in the Unit­ed States — Ac­tim­mune.
"Giv­en the strong ex­e­cu­tion in the re­launch of Krys­texxa (a drug for chron­ic gout) and now on the cusp of in­tro­duc­ing an­oth­er long du­ra­tion or­phan drug with tepro, we in­creas­ing­ly see HZNP be­com­ing a leader in the rare dis­ease area," Stein­berg wrote.