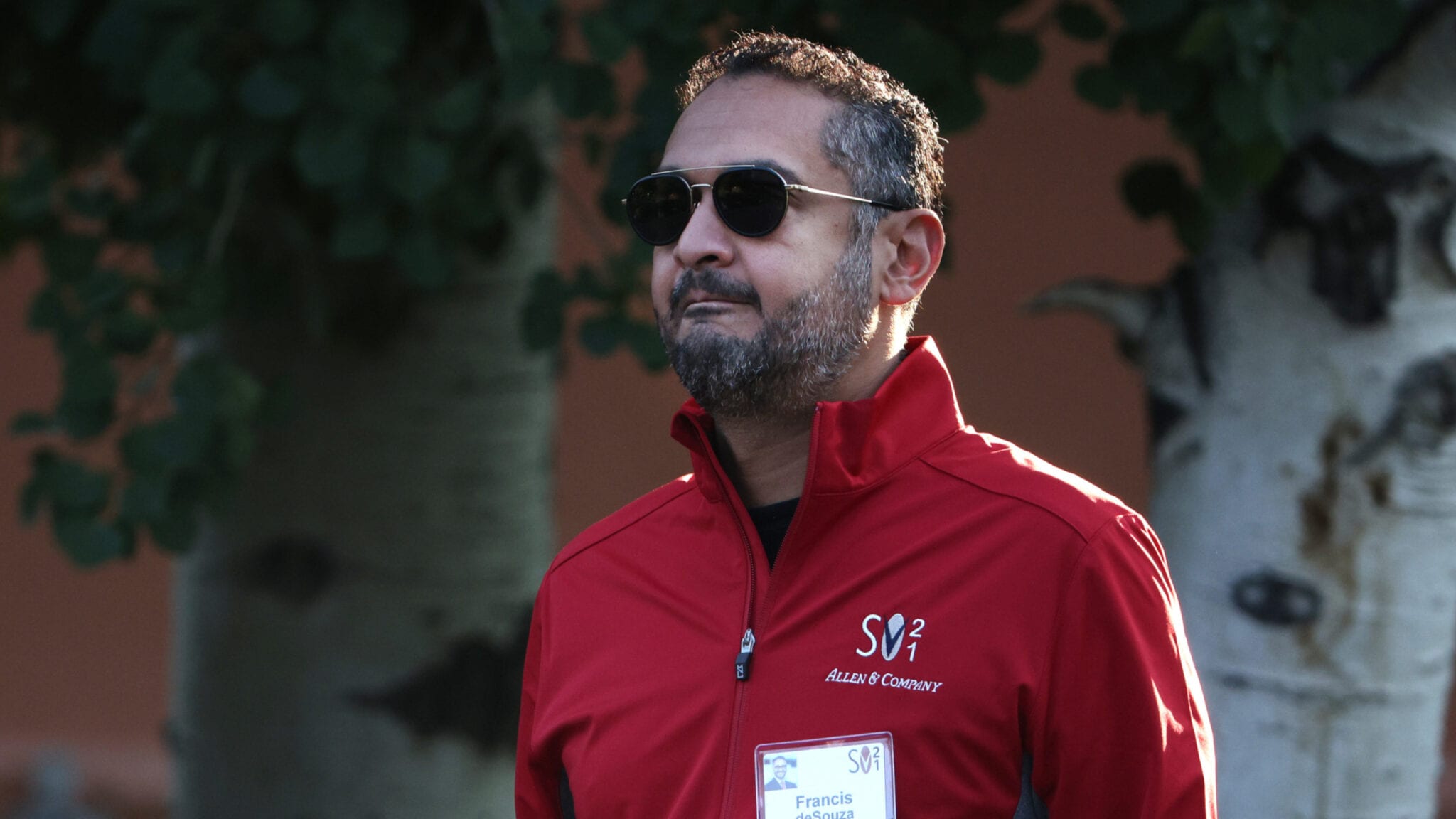 Francis deSouza, Illumina CEO (Kevin Dietsch/Getty Images)
Ahead of ex­pect­ed EU ob­jec­tions, Il­lu­mi­na de­fends Grail ac­qui­si­tion
Ahead of ex­pect­ed ob­jec­tions by Eu­ro­pean reg­u­la­tors Wednes­day to its deal to ac­quire Grail, Il­lu­mi­na de­fend­ed it­self in pa­pers sub­mit­ted to the agen­cies Tues­day.
Il­lu­mi­na is an­tic­i­pat­ing a for­mal bloc ob­jec­tion to the $8 bil­lion Grail buy­out, it said in a brief­ing doc­u­ment for EU com­pe­ti­tion au­thor­i­ties, and tried to pre­empt the move by as­sert­ing the deal is not an­ti-com­pet­i­tive. It's an ar­gu­ment Il­lu­mi­na has used pre­vi­ous­ly, but it's un­clear whether or not the new brief will prove per­sua­sive.
Bloomberg and Reuters were the first to re­port the news late Tues­day.
As of press time Wednes­day morn­ing, it re­mained un­clear when ex­act­ly the ob­jec­tions would come, or what de­tails they might in­clude. Bloomberg re­port­ed, how­ev­er, that Il­lu­mi­na could face up to a $400 mil­lion fine.
Though Il­lu­mi­na faced an­titrust mea­sures from both the EU and the FTC, the biotech marched on ahead with the buy­out re­gard­less. In Au­gust, the com­pa­nies com­plet­ed the merg­er in a move that was seen as "provoca­tive," per a Fi­nan­cial Times re­port at the time. Amer­i­can reg­u­la­tors ini­tial­ly sought an in­junc­tion to block the deal from clos­ing.
But once the an­titrust is­sues cropped up in Eu­rope, the FTC moved to con­duct its re­view in an in-house hear­ing rather than in the courts. Last month, the EU is­sued an or­der that Grail be kept as a sep­a­rate com­pa­ny and run by in­de­pen­dent man­agers. It was the first in a se­ries of in­ter­im mea­sures ex­pect­ed to try to un­do the ac­qui­si­tion be­fore the EU re­view ends next Feb­ru­ary.
Il­lu­mi­na found­ed Grail and spun it out in 2016, but an­nounced re-ac­qui­si­tion plans in Sep­tem­ber 2020. That news came just two weeks af­ter Grail had filed for a po­ten­tial­ly mas­sive IPO, aim­ing to com­bine Il­lu­mi­na's ge­net­ic se­quenc­ing tech with Grail's screen­ing tests for ear­ly can­cer de­tec­tion.
The move re­sult­ed in the com­pa­nies al­most im­me­di­ate­ly be­ing caught up in the FTC's crosshairs, how­ev­er, with Pres­i­dent Joe Biden and new agency chair Lina Khan hav­ing sig­naled a more ag­gres­sive stance to­ward phar­ma M&A. Reg­u­la­tors had con­cerns over Il­lu­mi­na's hold on the DNA se­quenc­ing mar­ket af­fect­ing po­ten­tial Grail com­pe­ti­tion, as all liq­uid biop­sy com­pa­nies re­ly on such tech­nol­o­gy.
It's not the first time in re­cent years Il­lu­mi­na has po­ten­tial­ly run afoul of an­titrust reg­u­la­tors, as they suc­cess­ful­ly blocked the com­pa­ny's at­tempt to ac­quire Pa­cif­ic Bio­sciences in ear­ly 2020.