Akero el­bows its way in­to a crowd­ed NASH field, with $65M and a strat­e­gy for tack­ling a block­buster mar­ket
Over the last few weeks we've been treat­ed to a cou­ple of sto­ries about small biotechs which en­joyed a swift run-up in stock val­ues af­ter post­ing their beau­ty shots of clin­i­cal da­ta for NASH drugs. NASH re­mains the big new dis­ease tar­get that is suck­ing up a lot of R&D at­ten­tion at large and small bio­phar­mas around the world, and in­vestors are look­ing to ride one of the win­ning play­ers to the promised land.
You can now add a new com­pa­ny to watch in this sul­try re­search zone. And it's a brand new ba­by that's been gift­ed with $65 mil­lion in op­er­at­ing cap­i­tal and a deeply ex­pe­ri­enced Pfiz­er vet to head up the re­search work.
The com­pa­ny has been dubbed Akero, which is de­but­ing to­day with a Cam­bridge base and $65 mil­lion in Se­ries A cash, with Ap­ple Tree Part­ners lead­ing the way.
Now, with all the clin­i­cal work that's been go­ing on for the last few years in NASH, you might think that we've al­ready seen the even­tu­al win­ners jump for­ward. But then, you haven't met the peo­ple at Akero.
The start­up has in-li­censed an FGF21 drug that's al­ready been through ear­ly-stage work at Am­gen, which let it go be­cause of their move away from meta­bol­ics.
This isn't the first FGF21 in the clin­i­cal. Bris­tol-My­ers has one that has been through Phase II.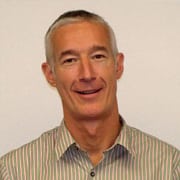 Tim Rolph
"My ex­pe­ri­ence with FGF21 goes back 8 years," says Akero CSO Tim Rolph. It start­ed at Pfiz­er and con­tin­ued af­ter he left the phar­ma gi­ant. The sci­ence around FGF21, he adds, has grown ex­po­nen­tial­ly in the last 3 to 4 years.
"It's a mech­a­nism that us­es the whole body to get to a bet­ter place," says Rolph. "It plays an es­sen­tial role restor­ing cells un­der stress — that's what drove my in­ter­est."
Jonathon Young, the CEO, and Rolph went to go out in search of drug, and found this pro­gram at Am­gen, which li­censed it out. And the two are pumped about the en­gi­neer­ing work that has gone in­to it to give the drug longer dura­bil­i­ty.
Ap­ple Tree Part­ners, where Young has been a part­ner, seed­ed the project. At­las Ven­ture, ven­Bio Part­ners and Ver­sant Ven­tures all joined as co-leads, mak­ing an im­pres­sive group of deep-pock­et in­vestors. They'll be rep­re­sent­ed on the board by Aaron Kantoff, Kevin Bit­ter­man, Aaron Roys­ton and Gra­ham Walm­s­ley.
Young — like a lot of start­up biotech CEOs — gets a lit­tle skit­tish when you try to nail down the staff plans right now. There are the two founders, he says, with plans to add more em­ploy­ees. We'll see how that goes.