Alessan­dro Ri­va ex­its top No­var­tis on­col­o­gy post, heads to a trou­bled — but wealthy — Gilead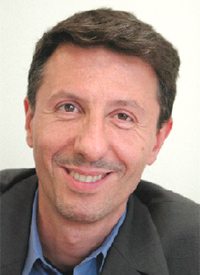 Alessan­dro Ri­va
With its pipeline mired in bad da­ta and se­r­i­al set­backs and an­a­lysts de­mand­ing some sort of co­her­ent strate­gic re­sponse to the omi­nous down­turn in its hep C fran­chise, Gilead $GILD has man­aged to re­cruit one of the top names in on­col­o­gy drug de­vel­op­ment to head up its can­cer R&D ef­forts.
Alessan­dro Ri­va is turn­ing in his Big Phar­ma cre­den­tials at No­var­tis $NVS to move in­to the big biotech, which has tak­en a drub­bing at the hands of dis­ap­point­ed an­a­lysts this year.
In the can­cer field, Gilead was forced to halt a slate of 6 stud­ies for Zy­delig in the spring of 2016 due to safe­ty is­sues. And that came af­ter the drug was clear­ly los­ing a race with Im­bru­vi­ca from J&J and Ab­b­Vie on leukemia and lym­phoma. Ab­b­Vie and Roche's vene­to­clax, mean­while, is ex­pect­ed to gain mar­ket ground in CLL.
Then in No­vem­ber came sub­par da­ta for mo­melo­tinib, which has been strug­gling to dis­tin­guish it­self from Jakafi for myelofi­boris.
Clin­i­cal set­backs, though, are all the rage at Gilead, which has been rack­ing up fail­ures through­out 2016, in­clud­ing 4 straight flops late in the year.
What Gilead does have is cash, and plen­ty of it. Ri­vas may have less to do in the clin­ic right now than at the deal ta­ble, where Gilead may yet spend a sig­nif­i­cant amount of its cash re­serves on M&A and li­cens­ing. Gilead clear­ly needs to do more in on­col­o­gy/hema­tol­ogy.
Bri­an Abra­hams at Jef­feries thinks that could be the case. He not­ed:
We be­lieve the rel­a­tive­ly high-pro­file heme/onc chief hire sig­nals an in­creas­ing fo­cus in on­col­o­gy, a wel­come de­vel­op­ment, and ex­pect GILD to more ag­gres­sive­ly pur­sue BD to build out a broad­er can­cer pipeline– some­thing not sub­stan­tial­ly baked in­to most ex­pec­ta­tions but which we be­lieve could help im­prove sen­ti­ment around the name and LT rev­enue prospects. We ex­pect spec­u­lat­ed (s)mid-cap M&A can­di­dates like IN­CY could al­so trade up on this an­nounce­ment.
"I have al­ways ad­mired Gilead for its sci­en­tif­ic fo­cus and da­ta-dri­ven ap­proach to drug de­vel­op­ment," Ri­va said in a state­ment. "I look for­ward to work­ing along­side Gilead's ded­i­cat­ed and pas­sion­ate col­leagues through­out the R&D or­ga­ni­za­tion to tack­le the can­cer re­search and de­vel­op­ment chal­lenge with a goal of im­prov­ing the lives of pa­tients."