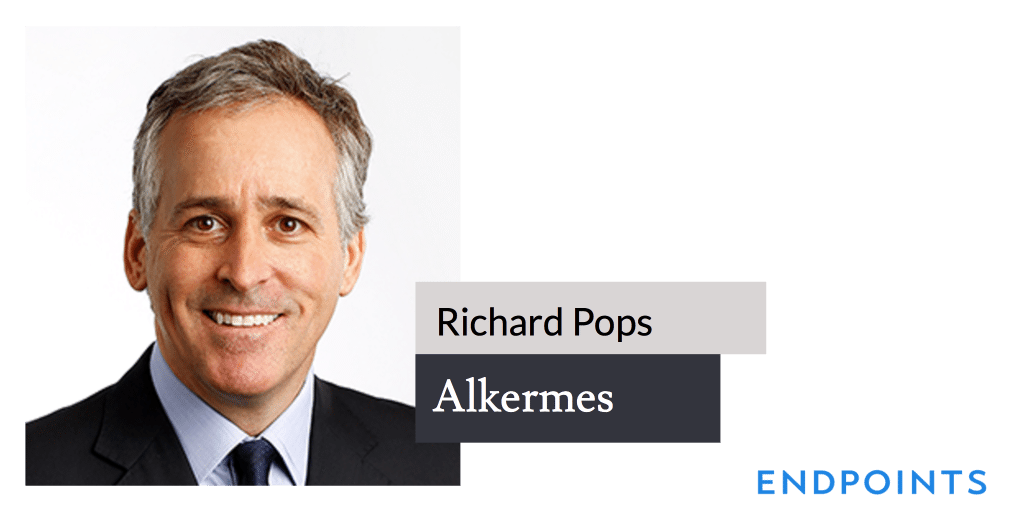 Alk­er­mes plots course to the FDA af­ter its de­pres­sion drug scores suc­cess in last-stand PhI­II
Just af­ter the start of this year, Alk­er­mes was blast­ed by the news that the first two of three late-stage stud­ies for its de­pres­sion drug ALKS-5461 had failed. An­a­lysts hit the red-alert but­ton and the biotech's shares $ALKS skid­ded down 44%, wip­ing out $4 bil­lion of mar­ket cap as ex­ecs im­me­di­ate­ly piv­ot­ed and re­searchers scram­bled to sal­vage the third Phase III by re­vamp­ing the tri­al.
To­day, Alk­er­mes says that third tri­al scored a suc­cess. And even though it doesn't mea­sure up to stan­dard FDA guide­lines, which look for a pos­i­tive read­out from at least two of the three stud­ies, CEO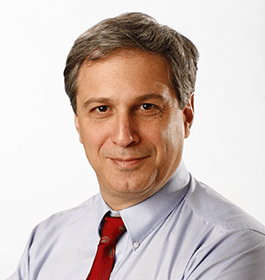 El­liot Ehrich, Alk­er­mes CMO
Richard Pops plans to fol­low through with his ear­li­er an­nounced strat­e­gy of sound­ing out the agency to see if this drug war­rants a green light now with the da­ta in hand.
Said El­liot Ehrich, M.D., Chief Med­ical Of­fi­cer of Alk­er­mes:
"With these da­ta now in hand, we will move for­ward rapid­ly to meet with the FDA to de­ter­mine the ap­pro­pri­ate next steps to­ward a reg­u­la­to­ry sub­mis­sion for ALKS 5461, with a goal of bring­ing this im­por­tant new med­ica­tion to pa­tients with MDD."
Shares im­me­di­ate­ly rock­et­ed up 49% on the news.
Alk­er­mes post­ed top line da­ta re­flect­ing a suc­cess for the key dose in the last-stand study.
In the study, ALKS 5461 2mg/2mg met the pre­spec­i­fied pri­ma­ry end­point of sig­nif­i­cant­ly re­duc­ing de­pres­sion scores com­pared to place­bo, as mea­sured by 6-item Mont­gomery–Ås­berg De­pres­sion Rat­ing Scale (MADRS-6) scores (p=0.018). ALKS 5461 2mg/2mg al­so demon­strat­ed sta­tis­ti­cal­ly sig­nif­i­cant re­duc­tions in 10-item MADRS (MADRS-10) scores com­pared to place­bo (p=0.026). The 1mg/1mg dose of ALKS 5461 showed im­prove­ment in de­pres­sive symp­toms in the study, but did not sep­a­rate sig­nif­i­cant­ly from place­bo.
Pops nev­er low­balled ex­pec­ta­tions on this drug, which is used as an ad­junc­tive ther­a­py for treat­ment re­sis­tant pa­tients — a huge po­ten­tial mar­ket. Just be­fore the first round of bad news hit, he called the up­com­ing re­sults in Jan­u­ary a "seis­mic" event in a chat we had at JP Mor­gan. He wasn't look­ing for the tremors, though, to bring down his stock price.
Some an­a­lysts, in­clud­ing Paul Mat­teis from Leerink, wrote the whole thing off in the wake of the Jan­u­ary de­ba­cle. And while Alk­er­mes man­aged to re­gain some of what it had lost that day, its shares are still far off their 52-week high.
Pops, though, start­ed to re­build the ar­gu­ment for this drug be­fore the dust­up had qui­et­ed down. The com­pa­ny cit­ed a trend to­ward sta­tis­ti­cal sig­nif­i­cance and not­ed that a post hoc analy­sis as­cer­tained that the en­tire 2mg/2mg dose group in one study—FOR­WARD-4—achieved the crit­i­cal end­point on the Mont­gomery–Ås­berg De­pres­sion Rat­ing Scale (MADRS-6) scores. Re­searchers went back to the draw­ing board, adding new pa­tients and re­jig­ging its sta­tis­ti­cal analy­sis plan for FOR­WARD-5. And now the plan is to com­bine what they gleaned from FOR­WARD-4 and 5 to make its case.
FOR­WARD-3 sim­ply failed, says Alk­er­mes, due to a high place­bo re­sponse. Un­like For­ward-4 and For­ward-5, though, For­ward-3 did not use what's called a se­quen­tial par­al­lel com­par­i­son de­sign, or SPCD. In an SPCD study, the first round of place­bo pa­tients who don't re­spond to the drug are re-ran­dom­ized be­tween the drug arm and the sug­ar pill, in or­der to quell the high place­bo re­spons­es that have scut­tled nu­mer­ous oth­er tri­als for de­pres­sion.
Alk­er­mes out­lined its ar­gu­ment for an ap­proval of their drug in a call with an­a­lysts on Thurs­day evening. The key to the turn­about start­ed with their analy­sis of FOR­WARD-4, their sec­ond Phase III study, which failed. The rea­son it failed, they said, is that the study hinged on the de­pres­sion scores at a spe­cif­ic time. To im­prove their odds, in­ves­ti­ga­tors shift­ed from a spe­cif­ic dead­line to com­ing up with an av­er­age score from re­spons­es tracked over weeks for FOR­WARD-5.
Sig­nif­i­cant­ly, Alk­er­mes made the change with­out get­ting any feed­back from the FDA. Un­der care­ful ques­tion­ing by an­a­lysts, they al­so not­ed that MDRS -6 scores have not been used as a pri­ma­ry end­point for a reg­is­tra­tion study be­fore, but felt that it re­flects a re­sponse to the core symp­toms of de­pres­sion.
In a fol­lowup, Pops told me:
The point we were mak­ing was that MADRS-6, which is 6 of the 10 MADRS ques­tions, is fo­cused on the core symp­toms of de­pres­sion. This end­point had not been used as a pri­ma­ry end­point in a reg­is­tra­tion pro­gram. But it re­al­ly doesn't mat­ter, as the study achieved sta­tis­ti­cal sig­nif­i­cance on BOTH MADRS-6 and the full MADRS-10.
Da­ta will be re­leased at an up­com­ing sci­en­tif­ic con­fer­ence.
"This is lit­er­al­ly hot off the press­es," said Pops.
An ap­proval is far from a slam dunk. A ret­ro­spec­tive analy­sis can be hard to sell. But it's a lot bet­ter than be­ing forced to ex­plain go­ing 0 for 3. As of to­day, Alk­er­mes is still in the fight. If it goes down now, it will go down swing­ing.
I'm a bit skep­ti­cal that one pos­i­tive Phase III will be enough af­ter the pre­vi­ous da­ta. $ALKS pic.twit­ter.com/eO­JOGqw­bYl

— Max­im Ja­cobs, CFA (@Max­Ja­cob­sEdi­son) Oc­to­ber 20, 2016