Al­ler­gan CEO Brent Saun­ders takes a pric­ing pledge: Preda­to­ry prac­tices must end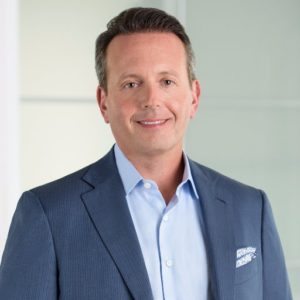 Brent Saun­ders, Al­ler­gan
Caught in the lat­est tem­pest over dra­mat­ic price hikes for old ther­a­peu­tics, Al­ler­gan CEO Brent Saun­ders is swear­ing off the prac­tice, vow­ing to main­tain a fair pric­ing pol­i­cy that could well in­spire oth­ers in the busi­ness to fol­low suit.
This pledge in­cludes lim­it­ing Al­ler­gan's an­nu­al price hikes to mod­est sin­gle-dig­it in­creas­es, and Saun­ders says Al­ler­gan will nev­er again jack up prices with­out a sig­nif­i­cant in­crease in costs as prod­ucts near the loss of patent pro­tec­tion, di­verg­ing from a stan­dard in­dus­try prac­tice he ad­mits the com­pa­ny has fol­lowed in the past.
In a blog post to­day, Saun­ders says:
Where we in­crease price on our brand­ed ther­a­peu­tic med­i­cines, we will take price in­creas­es no more than once per year and, when we do, they will be lim­it­ed to sin­gle-dig­it per­cent­age in­creas­es. Our ex­pec­ta­tion is that the over­all cost of our drugs, net of re­bates and dis­counts, will not in­crease by more than low-to-mid sin­gle dig­its per­cent­ages per year, slight­ly above the cur­rent an­nu­al rate of in­fla­tion.
There's more. Saun­ders says that if the in­dus­try is ex­pect­ed to con­tin­ue to in­vest huge amounts in R&D, there has to be a way to prop­er­ly re­ward in­no­va­tion. Drug re­search, he adds, is done in a frag­ile ecosys­tem that will quick­ly col­lapse with­out ap­pro­pri­ate prices for new ther­a­pies.
"This ecosys­tem can quick­ly fall apart if it is not con­tin­u­al­ly nour­ished with the con­fi­dence that there will be a longer term op­por­tu­ni­ty for ap­pro­pri­ate re­turn on in­vest­ment in the long R&D jour­ney," writes Saun­ders.
The in­dus­try has been quick to main­tain the same po­si­tion on R&D, not­ing that bio­phar­ma tra­di­tion­al­ly in­vests a rel­a­tive­ly large per­cent­age of its rev­enue in re­search. But Saun­ders com­mit­ment to a spe­cif­ic pric­ing pol­i­cy may take more than a few in­dus­try ex­ecs by sur­prise. Reg­u­lar, dou­ble-dig­it price hikes have be­come a main­stay in the in­dus­try, fol­lowed by all the big play­ers.
That prac­tice, though, has come un­der fire as My­lan, Valeant and Tur­ing have all come un­der fire in the last year for big price hikes on old­er prod­ucts that no one is in­vest­ing in. And the storm of protest has spurred Hillary Clin­ton to of­fer a new plan to rein in drug prices, mak­ing this a po­tent po­lit­i­cal is­sue in the run up to the fall elec­tion.
The in­dus­try lob­by­ing group BIO, mean­while, has de­cid­ed to counter the cur­rent shock­wave by launch­ing an ad­ver­tis­ing cam­paign aimed at high­light­ing the good drug de­vel­op­ers do. These kinds of feel-good cam­paigns about the pos­i­tive as­pects of new drugs, though, aren't like­ly to even make a dent in the pub­lic rage fo­cused on price goug­ing. I asked BIO's Jim Green­wood for a com­ment on Saun­der's plan, but he de­clined to re­spond.
Ku­dos @brentsaun­ders for your lead­er­ship. https://t.co/owM4yPo13D

— Ron Co­hen Acor­da CEO (@ron­co­hen­shair) Sep­tem­ber 6, 2016