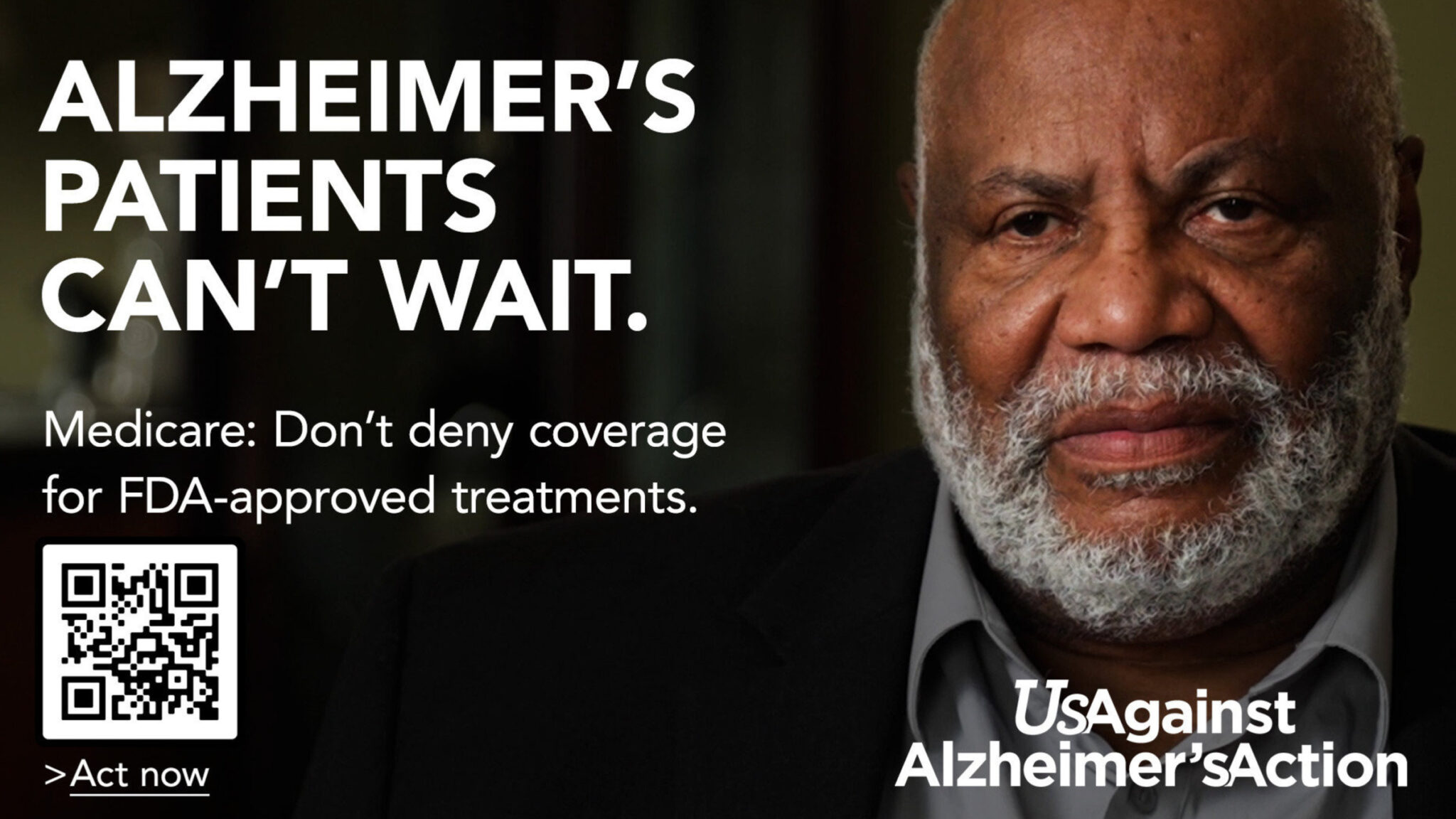 Bus stop ads from the new UsAgainstAlzheimer's campaign include a QR code (pictured) that links to its advocacy website.
Alzheimer's group amps pub­lic pres­sure with ad cam­paign as Medicare de­ci­sion looms
A new sev­en-fig­ure ad cam­paign takes aim – again – at Medicare's pend­ing cov­er­age de­ci­sion on Alzheimer's dis­ease an­ti-amy­loid drugs.
Us­Again­stAlzheimer's launched the $1 mil­lion-plus na­tion­al ef­fort Sun­day, in­clud­ing a TV ad that ran across the the day's morn­ing talk news shows. The group is the lat­est to push back on the Cen­ters for Medicare and Med­ic­aid Ser­vices' pro­posed de­ci­sion to on­ly cov­er Bio­gen and Ei­sais's Aduhelm and oth­er po­ten­tial an­ti-be­ta amy­loid drugs for pa­tients in clin­i­cal tri­als. CMS' fi­nal de­ci­sion is set for re­lease on April 11.
The first Us­Again­stAlzheimer's TV ad fea­tures a re­al Alzheimer's pa­tient who talks about his di­ag­no­sis and then says: "There are new treat­ments that could slow the pro­gres­sion of Alzheimer's. Medicare plans to de­ny cov­er­age for these new treat­ments – and that's wrong." A sec­ond TV ad will be­gin run­ning soon.
Dig­i­tal dis­play ads on­line as well as out­door bus stops ad­ver­tis­ing in Bal­ti­more and Wash­ing­ton D.C. al­so are run­ning. Both fea­ture QR codes that when scanned, re-di­rect peo­ple to the Us­Again­stAlzheimer's Ac­tion web­page where they can opt-in to send a let­ter to Pres­i­dent Joe Biden and their lo­cal Con­gres­sion­al mem­bers. The White House, lo­cal sen­a­tors and rep­re­sen­ta­tives email ad­dress­es au­to pop­u­late based on zip code along with a sug­gest­ed let­ter that can be cus­tomized by the sender.
On so­cial me­dia, physi­cians and re­searchers who op­posed the con­tro­ver­sial Aduhelm ap­proval – and en­su­ing CMS cov­er­age – pushed back on the new Us­Again­stAlzheimer's cam­paign.
"Alzheimer's As­so­ci­a­tion and Us­Again­stAlzheimers are not pa­tient groups. The ad­u­canum­ab saga has ex­posed that they are ac­tu­al­ly paid to lob­by groups. Lob­by­ing for a clin­i­cal­ly in­ef­fec­tive drug that has po­ten­tial­ly fa­tal side-ef­fects shows how lit­tle they care for AD pa­tients," Robert Howard, a pro­fes­sor and old age psy­chi­a­trist at UCL, wrote in a post re­spond­ing to Reuters cov­er­age of the cam­paign.
How­ev­er, Us­Again­stAlze­heimer's founder George Vraden­burg dis­put­ed that, say­ing they didn't speak on be­half of fi­nanciers.
"We do have an enor­mous bias – a bias for pa­tients," he said. "Whomev­er fi­nances us – the in­di­vid­u­als who fi­nance us, the com­pa­nies that fi­nance us, we speak the pa­tients' truth."
He point­ed to the group's own re­search with pa­tients and care­givers re­leased Mon­day. It asked if new drugs for Alzheimer's are ap­proved and "rea­son­ably like­ly to have an ef­fect, while stud­ies to be sure about the ef­fect are still go­ing on," would they take it "even if it might have bad side ef­fects?"
Three-fourths said they would take it. "My dis­ease is fa­tal," one re­spon­dent liv­ing with Alzheimer's said. "What could be worse than that?"
Us­Again­stAlzheimer's new cam­paign is the lat­est in a se­ries of state­ments, events and mar­ket­ing by Alzheimer's ad­vo­ca­cy groups and or­ga­ni­za­tions that came af­ter CMS an­nounced its pro­posed de­ci­sion in Jan­u­ary. The CMS 30-day win­dow for open com­ments yield­ed al­most 10,000 re­spons­es both for and against cov­er­age.
Im­me­di­ate­ly af­ter the Jan­u­ary de­ci­sion, the Alzheimer's As­so­ci­a­tion launched a paid so­cial me­dia cam­paign that ac­cused Medicare of "cre­at­ing fur­ther health in­equities" and call the agency's de­ci­sion "sim­ply un­ac­cept­able." The As­so­ci­a­tion en­cour­aged peo­ple to lob­by Con­gress and CMS to change course in its fi­nal de­ci­sion, sec­ond­ed by a host of oth­er ad­vo­ca­cy in­flu­encers in­clud­ing PhRMA and BIO.
On Tues­day, the Al­liance for Ag­ing Re­search is plan­ning a ral­ly out­side the De­part­ment of Health and Hu­man Ser­vices "to protest the Medicare draft cov­er­age for FDA-ap­proved Alzheimer's treat­ments." Peo­ple who are liv­ing with Alzheimer's along with fam­i­ly mem­bers, Con­gres­sion­al rep­re­sen­ta­tives and chron­ic dis­ease ad­vo­cate groups will speak.
Glob­al Alzheimer's Plat­form's pres­i­dent John Dwyer, an­oth­er out­spo­ken crit­ic of CMS' pro­pos­al, plans to talk about his con­cern the "pro­pos­al will de­lay treat­ment op­tions for at least an­oth­er 10 years and pos­es a threat to health eq­ui­ty in clin­i­cal tri­als."
The Alzheimer's As­so­ci­a­tion said in an email to End­points News that it is not par­tic­i­pat­ing in the Al­liance for Ag­ing's ral­ly in D.C. nor is it work­ing with the Us­Again­stAlzheimer's cam­paign. A spokesper­son said the group has been clear about its po­si­tion on the CMS draft de­ci­sion and added that it "con­tin­ues to use all av­enues of com­mu­ni­ca­tion to en­sure those af­fect­ed, the broad­er pub­lic and the ad­min­is­tra­tion tru­ly un­der­stand the ram­i­fi­ca­tions of this draft de­ci­sion."
The Alzheimer's groups' try to dis­tance them­selves from Bio­gen and Ei­sai's ap­proved drug Aduhelm specif­i­cal­ly. They point to the fact that CMS lumped all an­ti-amy­loid drugs to­geth­er as a prob­lem for fu­ture ap­provals' pay­out. Eli Lil­ly and Roche along with an­oth­er Bio­gen can­di­date are ad­vanc­ing through stud­ies in the same an­ti-amy­loid class.
Eli Lil­ly and Roche joined the CMS re­ply cho­rus with let­ters to CMS ask­ing for it to re­verse its rul­ing re­strict­ing Aduhelm cov­er­age to pa­tients in clin­i­cal stud­ies.
Ed­i­tor's note: The sto­ry has been up­dat­ed with com­ments from the Alzheimer's As­so­ci­a­tion.