Alzheimer's play­er AC Im­mune taps IPO for $58M raise, sees shares soar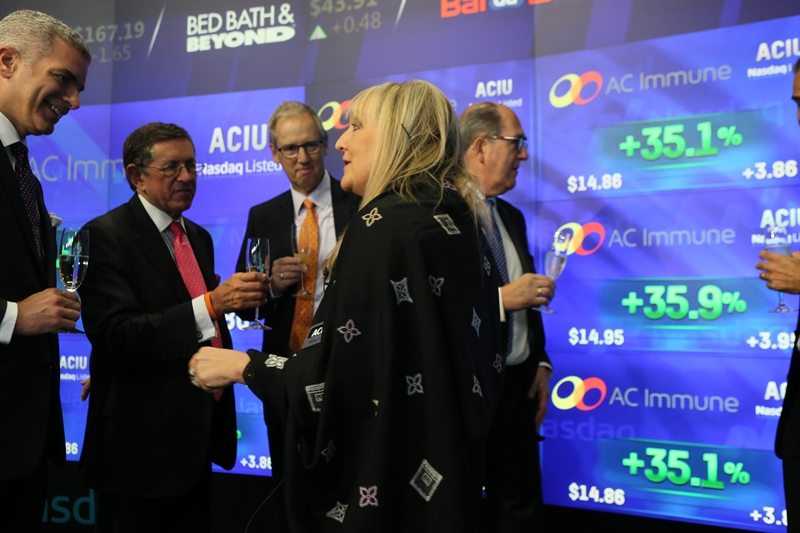 AC Im­mune CEO An­drea Pfeifer
Swiss biotech AC Im­mune fol­lowed through on its IPO $ACIU to­day, pric­ing at $11 a share . That's the low end of the range, but the com­pa­ny bumped the net to $58 mil­lion by adding 1.5 mil­lion shares, in­creas­ing the to­tal to 6 mil­lion.
The big pay­off came af­ter the open on Fri­day, though, as the biotech's shares rock­et­ed up 42% on its de­but.
AC Im­mune has been a promi­nent play­er in Alzheimer's, one of the tough­est games in biotech. Backed in part by bil­lion­aire Di­et­mar Hopp, the biotech is part­nered with Roche on crenezum­ab, now ad­vanced in­to a piv­otal study af­ter mixed re­sults in an ear­li­er study.
Mixed re­sults, though, are a big plus in Alzheimer's, which has known lit­tle more than fail­ure over the past 10 years-plus. Ear­li­er to­day, the 5-HT6 ag­o­nist idalopir­dine from Lund­beck and Ot­su­ka failed the first of three Phase III stud­ies, and an­a­lysts im­me­di­ate­ly all but wrote it off for dead.
AC Im­mune CEO An­drea Pfeifer, though, has fol­lowed a more fa­mil­iar path, pur­su­ing amy­loid be­ta, the tox­ic clus­ters of­ten found in the brains of Alzheimer's pa­tients. But the ex­pe­ri­enced ex­ec al­so be­lieves that it will ul­ti­mate­ly take a com­bi­na­tion of drugs to even­tu­al­ly start to con­trol the dis­ease, and is al­so pur­su­ing tau as a like­ly cul­prit.
The com­pa­ny has been build­ing some siz­able cash re­serves, adding $43.5 mil­lion in ven­ture cash last spring and bring­ing the to­tal ven­ture cash re­port­ed so far for its work on Alzheimer's treat­ments to $121.5 mil­lion
The com­pa­ny has been pa­tient­ly suss­ing out a dif­fi­cult — but not im­pos­si­ble — IPO mar­ket. Fol­low­ing a three-year IPO boom, the in­dus­try has seen a marked pull back as gen­er­al­ists fled the kind of daunt­ing risk pre­sent­ed by drug de­vel­op­ment. But there has nev­er­the­less been a steady stream of new of­fer­ings, if not the kind of sea­son­al tor­rent that hit in 2014 and the first half of 2015.
This year biotech IPOs have re­quired a heavy dose of in­sid­er sup­port.