Am­gen-part­nered Im­mat­ics bags a $58M round to fund its first clin­i­cal steps on new T-cell tech for can­cer
Back at the be­gin­ning of this year, Am­gen stepped up with a bil­lion-dol­lar smor­gas­bord of mile­stones to en­list Im­mat­ics in a cam­paign to cre­ate some next-gen, T-cell en­gag­ing bis­pecifics for can­cer. And to­day Am­gen came back to the ta­ble to help the biotech put to­geth­er a $58 mil­lion round so it could move its first two in-house drugs through their ini­tial paces in the clin­ic.
Im­mat­ics us­es a plat­form tech dubbed Xpres­i­dent to iden­ti­fy the tar­gets on can­cer cells they want to ze­ro in on. One of their lead­ing pro­grams is for IMA101, ex­pand­ing spe­cif­ic en­doge­nous T cells, which set out in Phase I in Au­gust. Just a few days ago, their close col­lab­o­ra­tors at MD An­der­son launched a Phase I study of IMA201, Im­mat­ics' TCR can­di­date that reengi­neers T cells to ex­press an ex­oge­nous re­cep­tor — the adop­tive cell ther­a­py ap­proach that has be­come fa­mous in the wake of the first CAR-T ap­proval.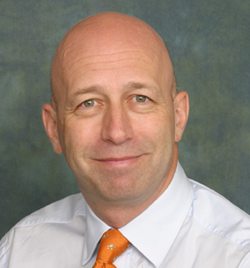 Pe­ter Cham­bré
But as any­one pur­su­ing next-gen tech would tell you, the first-gen CAR-T drugs are lim­it­ed in scope. Im­mat­ics chair­man Pe­ter Cham­bré says that Im­mat­ics is a part of the sec­ond wave of com­pa­nies now look­ing to use new and bet­ter tar­get iden­ti­fi­ca­tion tech with adop­tive ap­proach­es that can make these drugs use­ful, and safe, in treat­ing a wide range of sol­id tu­mors.
The ba­sic ap­proach screens tu­mor can­cer types to "iden­ti­fy those tar­gets ex­clu­sive­ly pre­sent­ed on can­cer cells," says the chair­man, and then com­par­ing it to nor­mal tis­sue to en­sure they're us­ing dis­ease spe­cif­ic tar­gets.
"It al­lows us to iden­ti­fy a sig­nif­i­cant num­ber of tar­gets on sol­id tu­mors we think of­fers the po­ten­tial of ex­pand­ing adop­tive cel­lu­lar ther­a­pies in­to sol­id tu­mors," adds Cham­bré.
That's no easy task. And it's not cheap.
With the help of dievi­ni Hopp Biotech — the in­vest­ment ve­hi­cle dri­ven by Ger­man bil­lion­aire Di­et­mar Hopp, who has a big ap­petite for biotech bets — Im­mat­ics has built up a staff of 100 in Ger­many, with a sub­sidiary op­er­a­tion in Hous­ton work­ing with part­ners at MD An­der­son un­der Harpreet Singh with 50 more work­ers.
Hopp and Am­gen are both back for this new round, with Welling­ton Part­ners, AT Impf GmbH and oth­ers step­ping in along­side.
With this lat­est round, Cham­bré adds, Im­mat­ics has now raised $230 mil­lion since it was found­ed 17 years ago. Their jour­ney in­clud­ed some mis­steps along the way, and now they have enough cash to see if this ap­proach works in hu­mans.
It's a big step.