Am­gen rips off its $10B M&A cap, look­ing for deals "large and small"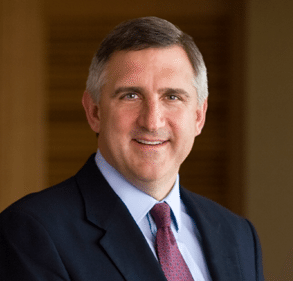 Robert A. Brad­way
You can put Am­gen $AMGN on the list of biotech's big game hunters.
In their quar­ter­ly meet­ing with an­a­lysts Thurs­day, Am­gen CEO Bob Brad­way said his $40 bil­lion cache of cash gives him the flex­i­bil­i­ty to take a hard look at a va­ri­ety of ac­qui­si­tions this year, big and small.
For some time, Am­gen set a $10 bil­lion cap on deals, which is about what it paid for Onyx. This time? There isn't a cap.
"I think we have felt for some time that we have con­sid­er­able flex­i­bil­i­ty to do trans­ac­tions," Brad­way not­ed. "And when we've talked in the past about the kinds of things we're look­ing at, we've of­ten talked about it in the con­text of the big plate of things that we have in­ter­nal­ly that we're work­ing through."
"But we feel like we're in a place now where we can look ex­ter­nal­ly for large and small op­por­tu­ni­ties to help grow the busi­ness. So I think the mes­sage is, we're con­fi­dent in the out­look for our com­pa­ny. We're con­fi­dent in the im­por­tance of in­no­va­tion. And we've got a bal­ance sheet that sup­ports our abil­i­ty to look at trans­ac­tions large and small."
About the on­ly caveat that Brad­way had to of­fer was his in­ter­est in see­ing what Pres­i­dent Trump has in mind for tax re­form, which could free up more rev­enue and al­low the big com­pa­nies to repa­tri­ate bil­lions in off­shore cash.
CFO David Meline sec­ond­ed that:
"I guess from my per­spec­tive, I don't re­al­ly view us even to­day pre-tax re­form as hav­ing some ar­bi­trary cap in terms of what we can look at. We think we need to look at all op­por­tu­ni­ties of all sizes."
There was the usu­al ref­er­ence to stay­ing "dis­ci­plined," mean­ing that they won't want to be brand­ed as spend­thrifts af­ter any deal. But there was al­so no ref­er­ence to the high val­u­a­tions in biotech these days, in­di­cat­ing that Am­gen is will­ing to bid high for what it re­al­ly wants.
There's a long list of com­pa­nies now in a buy­ing mode, scour­ing their re­spec­tive fields for deals. Pfiz­er's Ian Read has been an ea­ger play­er for some time. Sanofi needs to show it can com­plete a deal af­ter Medi­va­tion and Acte­lion got away. Gilead, Bio­gen and oth­ers are fre­quent­ly cit­ed on the list of in­dus­try hunters in need of a deal.
But so far there's been more talk than ac­tion. Last year proved dis­ap­point­ing for M&A watch­ers. But 2017 is off to a fast start, with deals for Acte­lion and Ari­ad. We'll see if Brad­way is ready to get se­ri­ous, or just likes talk­ing a good buy­out game.