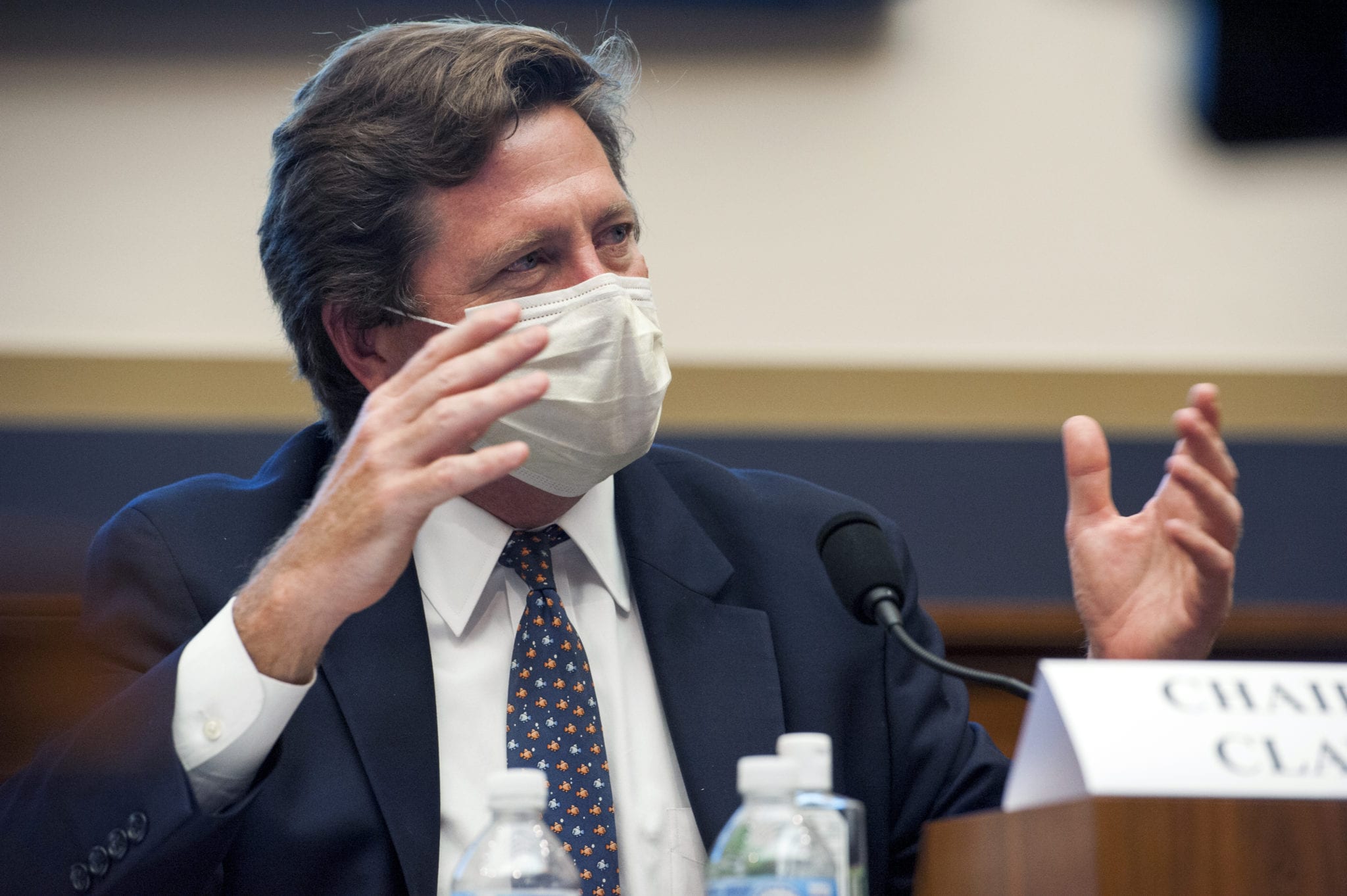 Jay Clayton, SEC chairman (AP Images)
Amid scruti­ny of ex­ec stock sales, SEC chair­man echoes calls for 'cool­ing-off pe­ri­od' in trad­ing plans
In a year when ex­ecs of vac­cine de­vel­op­ers fre­quent­ly came un­der scruti­ny for sell­ing stock in the wake of pos­i­tive news and stock surges, pre-sched­uled trad­ing schemes known as 10b5-1 are al­ways cen­tral to their de­fense. But now the chair­man of the SEC is call­ing for a re­think of that whole sys­tem.
Tes­ti­fy­ing at a Sen­ate hear­ing, Jay Clay­ton sug­gest­ed that lead­ers of bio­phar­ma com­pa­nies should be barred from trad­ing stock too soon af­ter they up­date their plans.
"For se­nior ex­ec­u­tive of­fi­cers us­ing 10b5-1 plans to sell stock, I do be­lieve that a cool­ing-off pe­ri­od from the time that the plan is put in place or is ma­te­ri­al­ly changed, un­til the first trans­ac­tion, is ap­pro­pri­ate," he told the Bank­ing Com­mit­tee, per the Wall Street Jour­nal. "Whether that's four months so you cov­er a full quar­ter, or it's six months—I can make ar­gu­ments for ei­ther. I do think we should do it."
Pfiz­er CEO Al­bert Bourla trig­gered the lat­est back­lash when he net­ted $5.6 mil­lion by sell­ing shares at the peak of the surge that fol­lowed the com­pa­ny's re­lease of pos­i­tive news on its BioN­Tech-part­nered vac­cine. The trade was planned and pre-ap­proved in an Au­gust up­date to his 10b5-1 plan. One ad­vo­ca­cy group, Ac­count­able Phar­ma, called for the com­pa­ny to im­ple­ment a freeze on the sale of stocks to pre­vent "prof­i­teer­ing off of pos­i­tive news."
Pre­vi­ous crit­i­cism tar­get­ed a trio of Mod­er­na ex­ecs — pres­i­dent Stephen Hoge, CEO Stéphane Ban­cel and CMO Tal Zaks — who have each cashed in tens of mil­lions worth of shares.
That's all per­fect­ly le­gal as cur­rent SEC reg­u­la­tions on­ly stip­u­late that the 10b5-1 must be "en­tered in­to in good faith and not as part of a plan or scheme to evade" rules against against in­sid­er trad­ing.
Clay­ton, who is leav­ing his role at the end of the year, said he agreed with Sen. Chris Van Hollen (D-MD) that tighter guardrails are need­ed for the 10b5-1 plans.
Al­though he didn't com­mit to spe­cif­ic SEC ac­tions just yet, in a pre­pared tes­ti­mo­ny, he not­ed that his com­mis­sion has urged mar­ket par­tic­i­pants to main­tain mar­ket in­tegri­ty as well as fol­low cor­po­rate con­trols and pro­ce­dures.
"Good cor­po­rate hy­giene," he said, must be paired with re­lat­ed con­trols "de­signed to pre­vent not on­ly in­sid­er trad­ing, but al­so the ap­pear­ance of im­pro­pri­ety or mis­align­ment of in­ter­est."
It's a po­si­tion that he's ex­pressed in a let­ter sent to the House Fi­nan­cial Ser­vices Com­mit­tee back in Sep­tem­ber, where he wrote there are prac­tices com­pa­nies should fol­low — which could al­so serve as the ba­sis of leg­is­la­tion or fu­ture rule­mak­ing.
The term he used there was "manda­to­ry sea­son­ing" or wait­ing pe­ri­ods, which would ap­ply af­ter the es­tab­lish­ment of a plan as well as any mod­i­fi­ca­tion, sus­pen­sion or ter­mi­na­tion.
"Such sea­son­ing pe­ri­ods not on­ly help demon­strate that a plan was ex­e­cut­ed in good faith, but they al­so can bol­ster in­vestor con­fi­dence in man­age­ment teams and in mar­kets gen­er­al­ly," the let­ter read.
For a look at all End­points News coro­n­avirus sto­ries, check out our spe­cial news chan­nel.