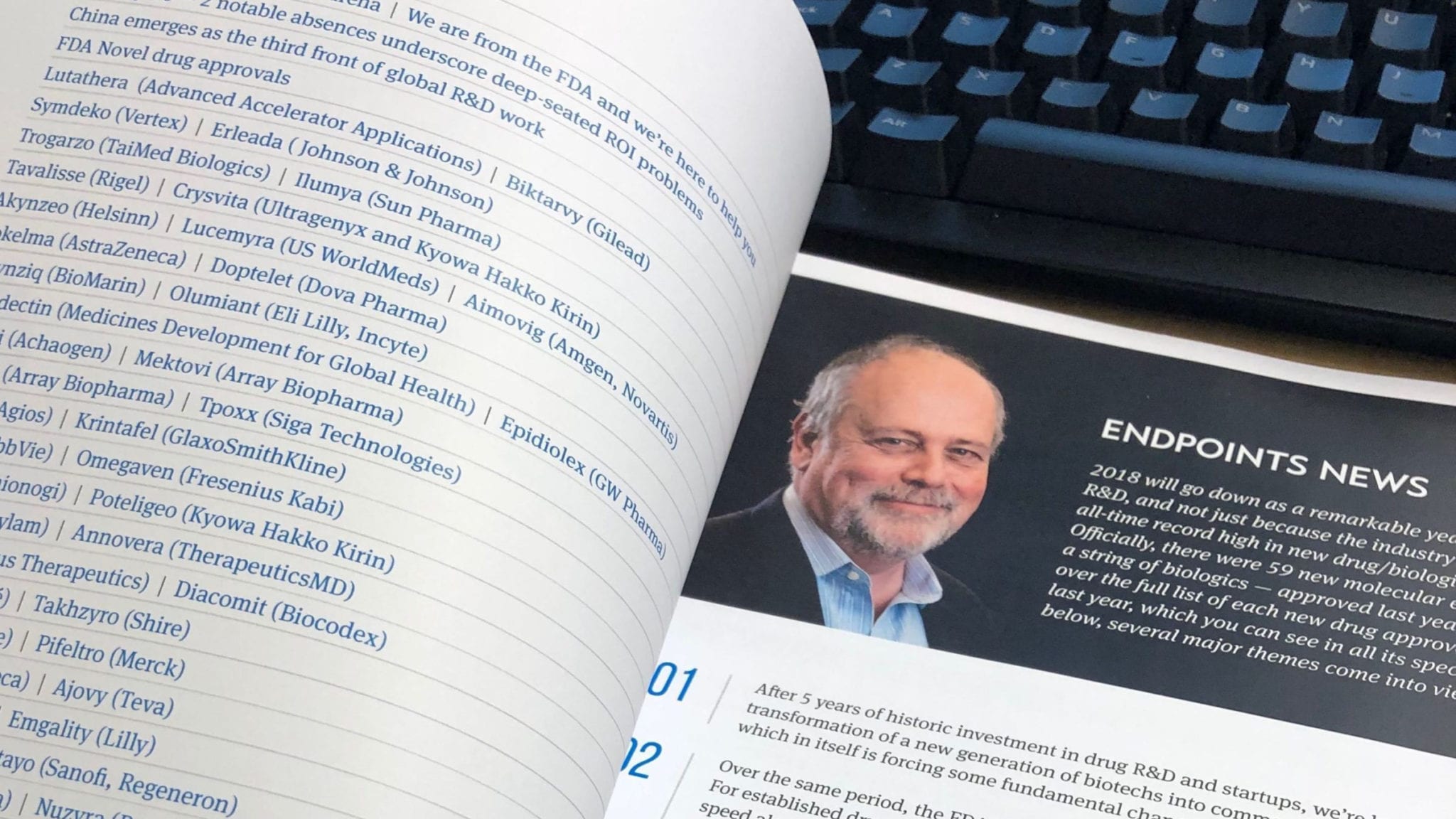 An up­date on the End­points busi­ness mod­el — and how your com­pa­ny can di­rect­ly sup­port it
Pic­tured: The print-op­ti­mized ver­sion of End­points' 2018 New Drug Ap­provals re­port. All paid sub­scribers will re­ceive a di­rect link to down­load the PDF + a copy of all our Q1 pay­wall sto­ries in print­able form, too.
Sign-up for En­ter­prise (com­pa­ny plan)
Sign-up for In­sid­er (in­di­vid­ual plan)
---
I want to give read­ers an up­date on the busi­ness front at End­points News, which is strong.

Two and a half years in — we're prof­itable, about 14 peo­ple on the team and grow­ing, and 75,000 unique bio­phar­ma read­ers con­sume our news across all plat­forms on a week­ly ba­sis. Of that, 31,000 are what we con­sid­er "ba­sic sub­scribers" who re­ceive our dai­ly email re­ports and have opened or clicked on them in the last month, but haven't up­grad­ed to paid sta­tus. And at the top we have 8,300 pre­mi­um sub­scribers who ei­ther di­rect­ly sup­port the work or are em­ployed at a com­pa­ny that does.
We reg­u­lar­ly scrub our email read­er­ship, too.
We've built a glob­al events fran­chise and con­vened over 2,000 at­ten­dees over the last 12 months in San Fran­cis­co, Boston, Lon­don, and Shang­hai. Lat­er this month we'll be an­nounc­ing venues and dates for our en­tire 2019 line­up.
John Car­roll speaks at the US-Chi­na Bio­phar­ma In­no­va­tion and In­vest­ment Sum­mit in Shang­hai on Oc­to­ber 23, 2018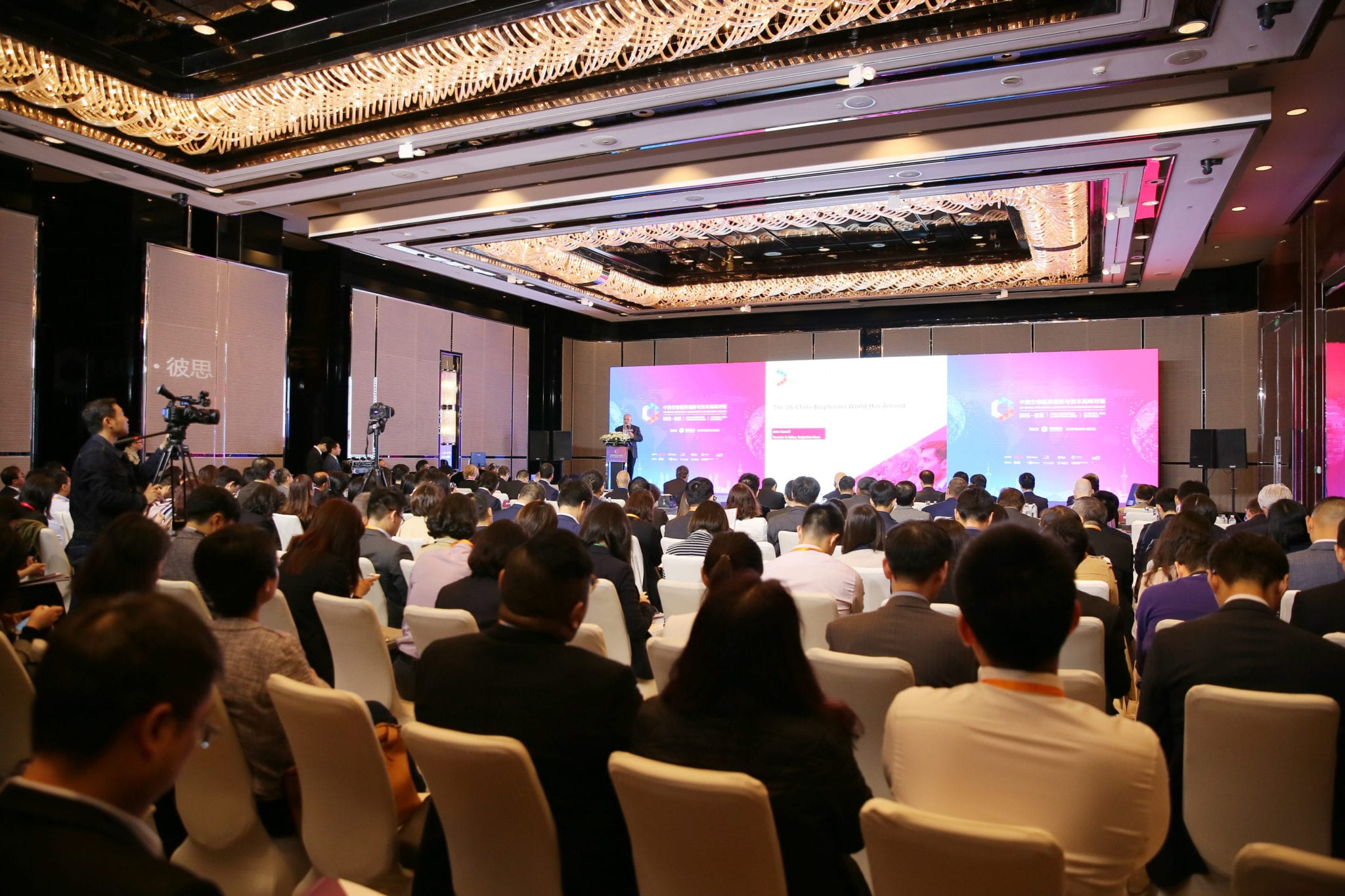 Click on the im­age to see the full-sized ver­sion
---
And we've done all of this with­out rais­ing any VC cash.
End­points is built to with­stand the storms en­velop­ing dig­i­tal me­dia to­day thanks to the di­rect sup­port of our En­ter­prise and In­sid­er sub­scribers. We're hir­ing new jour­nal­ists, plan to dou­ble the au­di­ence, and have moved in­to a new head­quar­ters in Lawrence, Kansas that'll serve as the nerve-cen­ter for End­points' next stage of in­no­va­tion. New hires in mar­ket­ing, sales, and op­er­a­tions are in the works now to sup­port that. There's a web­site re­vamp on tap. And there's just so much more news we'd like to cov­er in trans­la­tion­al sci­ence and out­sourc­ing.
I'm vis­it­ing @AKAarsalan in Lawrence to­day. He opened a new @endpts of­fice in biotech build­ing here. Cool spot. Al­so a rare pho­to bonus pho­to of ca­su­al Brad and busi­ness Ar­salan. pic.twit­ter.com/S77oP­Tx5ev

— Brad Lon­car (@brad­lon­car) De­cem­ber 14, 2018
Most im­por­tant­ly: Our fi­nan­cial in­cen­tives are tied to pro­duc­ing a jour­nal­ism prod­uct that serves the core bio­phar­ma read­er.
Haven't joined yet? Now is a great time and you can see one of the ben­e­fits above: a print (yes, print!) ver­sion of the 2018 class of new drug ap­provals. You'll al­so get ac­cess to the lat­est edi­tion of bio­phar­ma's top 100 VCs, and the en­tire pay­wall li­brary.
The most im­por­tant way you can di­rect­ly sup­port End­points is hav­ing your com­pa­ny sub­scribe to our $1,000/year flat-rate En­ter­prise plan (signup link). That's an "un­lim­it­ed li­cense" for every em­ploy­ee un­der your cor­po­rate ban­ner. All of your col­leagues get ac­cess to pay­wall con­tent, reprint rights, PDF ex­port, and your HR team gets two pre­mi­um job post­ings at End­points Ca­reers. We have a VIP sup­port team who'll work with you to get End­points set up for the rest of your team, too.
It's a great val­ue, and you're sup­port­ing the most im­por­tant part of our mod­el. The pric­ing is trans­par­ent and so is our re­new­al process.
And btw, we are to­tal­ly re­new­ing! We love @endpts !

— Chris Gib­son (@Re­cur­sionChris) Jan­u­ary 13, 2019
For in­di­vid­u­als, we of­fer the In­sid­er plan at $200/year. Ex­tra ben­e­fits on top of the pay­wall ac­cess in­clude dis­count­ed rates to our ma­jor glob­al events line­up.
We're al­so start­ing a se­ries of sub­scriber-on­ly net­work­ing mix­ers for In­sid­ers. The very first one will be in Durham, NC on Thurs­day Feb­ru­ary 21 at 6pm. I'll be there along with our VP/Part­ner­ships Mike Peck. In­sid­ers will get an email next week with signup de­tails on this one and our fu­ture slate.
Grow­ing Plans
We're go­ing through a ma­jor plat­form over­haul this year.
The look and feel of End­points hasn't changed since we launched in June 2016. The orig­i­nal goal of our de­sign is to de­liv­er news with­out un­nec­es­sary or­na­ments, with a user ex­pe­ri­ence that feels fa­mil­iar no mat­ter what de­vice you're on. But we've pub­lished over 5,000 news ar­ti­cles and near­ly 700 dai­ly re­ports now in the End­points style, and with that ex­pe­ri­ence we've iden­ti­fied a num­ber of ar­eas we can im­prove on. Some of it will be in­cre­men­tal like bet­ter search and im­prov­ing the archives. Oth­ers will be more vis­i­ble and feel like brand new fea­tures.
Ad­ver­tis­ing
Sub­scrip­tions are the lifeblood of this com­pa­ny. But in or­der to de­vel­op a sus­tained im­pact be­fit­ting a ma­jor news or­ga­ni­za­tion, ar­ti­cles must be able to trav­el far and wide, eas­i­ly dis­cov­er­able by new au­di­ences. Oth­er­wise, we run the risk of be­com­ing an in­sid­ers-on­ly re­port.
That is where ad­ver­tis­ing comes in. But noth­ing we do there is tra­di­tion­al.
I don't be­lieve in squeez­ing web pages hard for lit­tle juice. That's es­sen­tial­ly what many news pub­lish­ers do when you see pro­mot­ed links and ads that are at best ir­rel­e­vant and at worst have fol­lowed you around the In­ter­net to sell you some­thing you searched on ear­li­er. That kind of ap­proach cheap­ens the qual­i­ty of the con­tent sur­round­ing it, in my view. It has no place on a busi­ness news web­site.
Every ad unit you see on End­points is pur­chased in-house. These are high qual­i­ty im­pres­sions that are rel­e­vant to bio­phar­ma, brought to you by ad­ver­tis­ers that have been vet­ted. Our busi­ness team is led by Mike Peck, who comes to End­points af­ter serv­ing as a VP at Forbes and the New York Times. Mar­ket­ing pros can reach him at mike@end­pointsnews.com.
Busi­ness Mod­el
Sub­scrip­tions, events, ad­ver­tis­ing — in or­der of im­por­tance, that is the End­points busi­ness mod­el. Our mis­sion is to pro­duce the best dai­ly news re­port in bio­phar­ma, writ­ten for our core read­ers, but to make it as wide­ly avail­able as pos­si­ble so it has an im­pact and is dis­cov­er­able by new read­ers.
If you need End­points, we def­i­nite­ly need you. Again the best way to sup­port us is hav­ing your com­pa­ny sub­scribe to our $1,000/year flat-rate En­ter­prise plan (signup link). In­di­vid­u­als can signup for In­sid­er here.
To all of you who've joined — thank you. We're build­ing some­thing to­geth­er.
Proof that qual­i­ty wins. Con­grats team @Endpts – the in­dus­try needs you https://t.co/aGYQH­lx5bj

— David Grainger (@sci­ences­can­ner) Feb­ru­ary 1, 2019