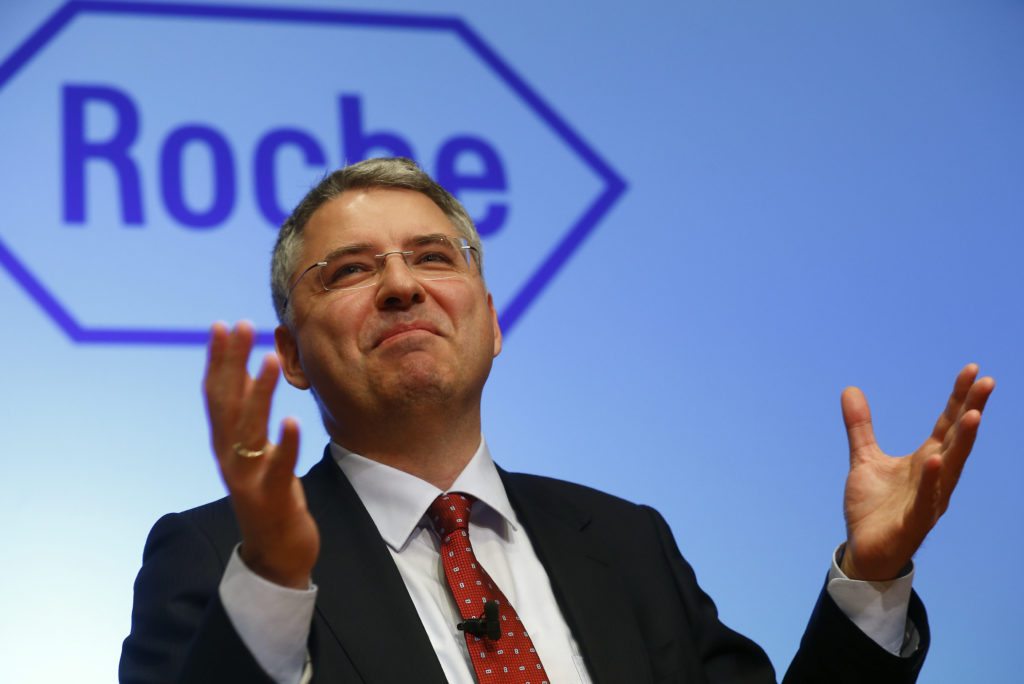 CEO Schwan of Swiss drugmaker Roche addresses the annual news conference in Basel Getty
---
While Credit Suisse was sizing up the amount of overseas money that will soon be available to the top buyers in biopharma, their analysts put together a list of top takeover targets, ranked by market cap. I'm pulling out the top 10 here to go alongside the main story — for Endpoints News Insiders — on who has $171 billion to play with, along with suggestions on how they can spend that money.
A few key words leap out at us in this assessment. One is oncology, which is grabbing the lion's share of the money in the dealmaking world. Two more: Rare diseases. Regulators are quick to hurry these new drugs along, with developers using small studies to offer proof of efficacy and safety. And the price tags can be extreme. That's a winning combination for many of the buyers out there.
What's not particularly winning are the market caps you see below. These companies may be attractive, but only at the right price. I go through an exercise sometimes where I imagine what Roche CEO Severin Schwan would say in private about some of these numbers.
Now add a takeover premium.
I'm using the Credit Suisse numbers for the report, but they've shifted a little.
---
1 Vertex $VRTX
Market cap: $37 billion
Focus: Cystic fibrosis and rare diseases
The scoop: Vertex execs have been having a heyday with new, promising data for their CF combos. The company pulled off a remarkable feat in switching from hep C — now dominated by Gilead — to CF. Investors have bid up their shares, intrigued by the upside of a buyout deal for a company that appears to some to be a tempting target, even at this gargantuan valuation. The math, though, will not be easy.
---
2 Alexion $ALXN
Market cap: $24 billion
Focus: Hematology/rare diseases
The scoop: The big asset here is Soliris, of course, which has a number of rivals in the clinic. But Alexion has been turning heads with '1210, its next-gen successor for PNH. And even though the rest of the pipeline has little to offer, with Ludwig Hantson looking for new assets as he moves the company to Boston, any buyer would have little trouble in swallowing the operations. Big question remains the same as Vertex. How do you make these numbers work?
---
3 Incyte $INCY
Market cap: $21 billion
Focus: Oncology and hematology
The scoop: This one seems more in the realm of the possible. The biotech has a marketed product and a lead asset in IDO1 that's grabbed a lot of attention. Pricey? And how. But this is one way to make a quick splash.
---
4 BioMarin $BMRN
Market cap: $15 billion
Focus: Rare diseases
The scoop: BioMarin has been on the top 10 list of buyout targets for so long, it seems to have branded itself as an attractive acquisition. But through the years, it's been all smoke and no fire. The company is a leader in rare diseases, which quite a few big buyers would benefit from.
---
5 Alkermes $ALKS
Market cap: $7.9 billion
Focus: Schizophrenia, depression
The scoop: Alkermes has had its ups and downs in the last couple of years. which is one reason why the stock has never fully returned to peak form after the drubbing it took in early 2016 on the first round of bad news for '5461 in depression. The biotech has since made a remarkable turnaround there, setting up high expectations that keep Alkermes in the top 10. The company has some marketed products and a late-stage pipeline for potential buyers to inspect. But the stock has been much lower without triggering a bid. What's the big motivation to move now?
---
6 Tesaro $TSRO
Market cap: $4.5 billion
Focus: Cancer
The scoop: Tesaro has been on the top buyout list ever since Zejula was approved. But no one has come up with the cash so far, and everyone has had a chance to run the numbers. A leader in the PARP field, the biotech would seem to have the perfect profile for an acquisition by anyone in the market looking to pay a premium for a cancer drug. But the top team has yet to make a deal work, despite all the buzz.
---
7 Galapagos $GLPG
Market cap: $3.9 billion
Focus: Inflammation and immunology
The scoop: Galapagos finds itself in a late-stage race with filgotinib on rheumatoid arthritis and Crohn's, which earned a $725 million upfront for a partnership with Gilead. That's helped keep this biotech in the big leagues among buyout targets, though it's a wildly competitive field with lots of outstanding players. Investors seem to either love this company or hate it. We'll find out soon enough who was right. But no one is ignoring Galapagos.
---
8 Puma $PBYI
Market cap: $3.8 billion
Focus: Cancer
The scoop: Talk about love and hate. The shorts loved to hate on Puma, citing some issues neratinib had with diarrhea. The FDA wasn't too concerned, though, and the experts on the agency panel barely mentioned an issue that they felt could be successfully managed while treating patients. Puma now has a product on the market, and like Tesaro looks like the kind of bolt-on that revs up a lot of the big buyers in the oncology field.
---
9 Sarepta $SRPT
Market cap: $3.7 billion
Focus: Duchenne muscular dystrophy, rare diseases
The scoop: Whatever you think about Sarepta, and everyone thinks something, they have a DMD drug on the market and it isn't going anywhere. Sure, there was plenty of controversy about the FDA approval on suspicious data from only 12 patients, but the agency shows no sign of backing away now. The biotech, meanwhile, has been making progress with the pipeline, determined not to lose its edge as a long list of rivals take a shot at DMD. Now that the controversy has died down, will a big buyer step in, or do they want to avoid the headache?
---
10 Portola $PTLA
Market cap: $3.2 billion
Focus: Cardiovascular
The scoop: Last year the company reported that its anticoagulant has just barely failed a key endpoint in examining the drug's efficacy (p=0.054) among a key cohort of patients with elevated D-dimer levels. The company went on, though, to do an exploratory analysis of the results, claiming a win in reducing the risk of venous thromboembolism — or simply, blood clots — for their drug compared to enoxaparin. Regulators agreed, approving the therapy last summer for acutely ill patients. Now another drug could be poised for an OK, leaving Portola in the top 10. Cardio is one of the toughest fields in R&D, and some big players may find it easier to market these drugs more efficiently.
---
The best place to read
Endpoints News

? In your inbox.

Comprehensive daily news report for those who discover, develop, and market drugs. Join 51,200+ biopharma pros who read Endpoints News by email every day.

Free Subscription
---
---
---