Ane­mia spe­cial­ist Ake­bia merges with Keryx on the eve of a block­buster brawl with Fi­bro­Gen
Ake­bia is go­ing in­to its head-to-head late-stage fight with Fi­bro­Gen with a lit­tle more fire­pow­er.
Two months af­ter Keryx $KERX CEO Gre­go­ry Madi­son abrupt­ly re­signed and left the com­pa­ny, the biotech has fol­lowed through to­day by agree­ing to a merg­er with Ake­bia $AK­BA, a biotech with a close­ly-watched ane­mia drug in late-stage de­vel­op­ment.
The com­bi­na­tion of the two com­pa­nies will bring to­geth­er two drugs de­signed for pa­tients with chron­ic kid­ney dis­ease. Keryx mar­kets Au­ryx­ia, which ac­count­ed for the li­on's share of about $22 mil­lion in Q1 rev­enue. That drug is used to fight iron de­fi­cien­cy ane­mia in pa­tients with chron­ic kid­ney dis­ease.
The deal didn't add up for in­vestors, though. Both biotechs' shares were down about 25% in mid-day trad­ing.
That down­turn may have had some­thing to do with Ake­bia's up­date on its de­vel­op­ment time­line, with cru­cial da­ta now not ex­pect­ed un­til 2020. In the view of Jef­feries' Michael Yee (in Fi­bro­Gen's camp):
AK­BA has de­layed the Phase III da­ta to 2020, putting the merged com­pa­ny 1-2 years be­hind FGEN, in our view.
Ake­bia, mean­while, has been lin­ing up a slate of glob­al part­ner­ships in an­tic­i­pa­tion of even­tu­al­ly mar­ket­ing vadadu­s­tat to treat ane­mia in CKD pa­tients. But an­a­lysts ex­pect they'll have a bat­tle on their hands, with many giv­ing the ad­van­tage to Fi­bro­Gen, which start­ed the day with a mar­ket cap 10 times what Ake­bia had.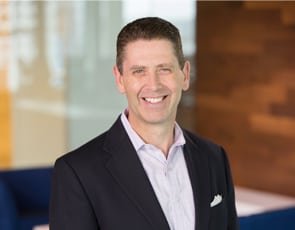 Greg Madi­son
Just a few weeks ago Fi­bro­Gen and its part­ners at Astel­las re­port­ed that their 4th Phase III study of the ri­val rox­adu­s­tat in Japan had end­ed with pos­i­tive re­sults. And Fi­bro­Gen is well in­to Phase III in the US as well.
Keryx and Ake­bia, mean­while, say that af­ter the merg­er the biotech should be worth $1.3 bil­lion. Keryx share­hold­ers will wind up with a slight ma­jor­i­ty of the new shares while Ake­bia CEO John But­ler will stay at the helm. Keryx will name the chair­man and the com­pa­ny will be called Ake­bia.
All that prob­a­bly ex­plains a lot about Madi­son's de­par­ture.
But­ler ex­plained his strat­e­gy:
The strate­gic and fi­nan­cial dri­vers of this merg­er are com­pelling. The com­bined com­pa­ny will have an ex­pand­ed and high­ly com­ple­men­tary nephrol­o­gy port­fo­lio, with Au­ryx­ia, a prod­uct with sig­nif­i­cant growth op­por­tu­ni­ty, and vadadu­s­tat, an in­ves­ti­ga­tion­al late-stage HIF-PHI that has the po­ten­tial to pro­vide a new oral stan­dard of care to pa­tients with ane­mia due to CKD. Com­bin­ing Ake­bia and Keryx cre­ates a lead­ing re­nal com­pa­ny and pro­vides it with the in­fra­struc­ture to max­i­mize the mar­ket po­ten­tial of Au­ryx­ia and build launch mo­men­tum for vadadu­s­tat in the Unit­ed States, sub­ject to FDA ap­proval.