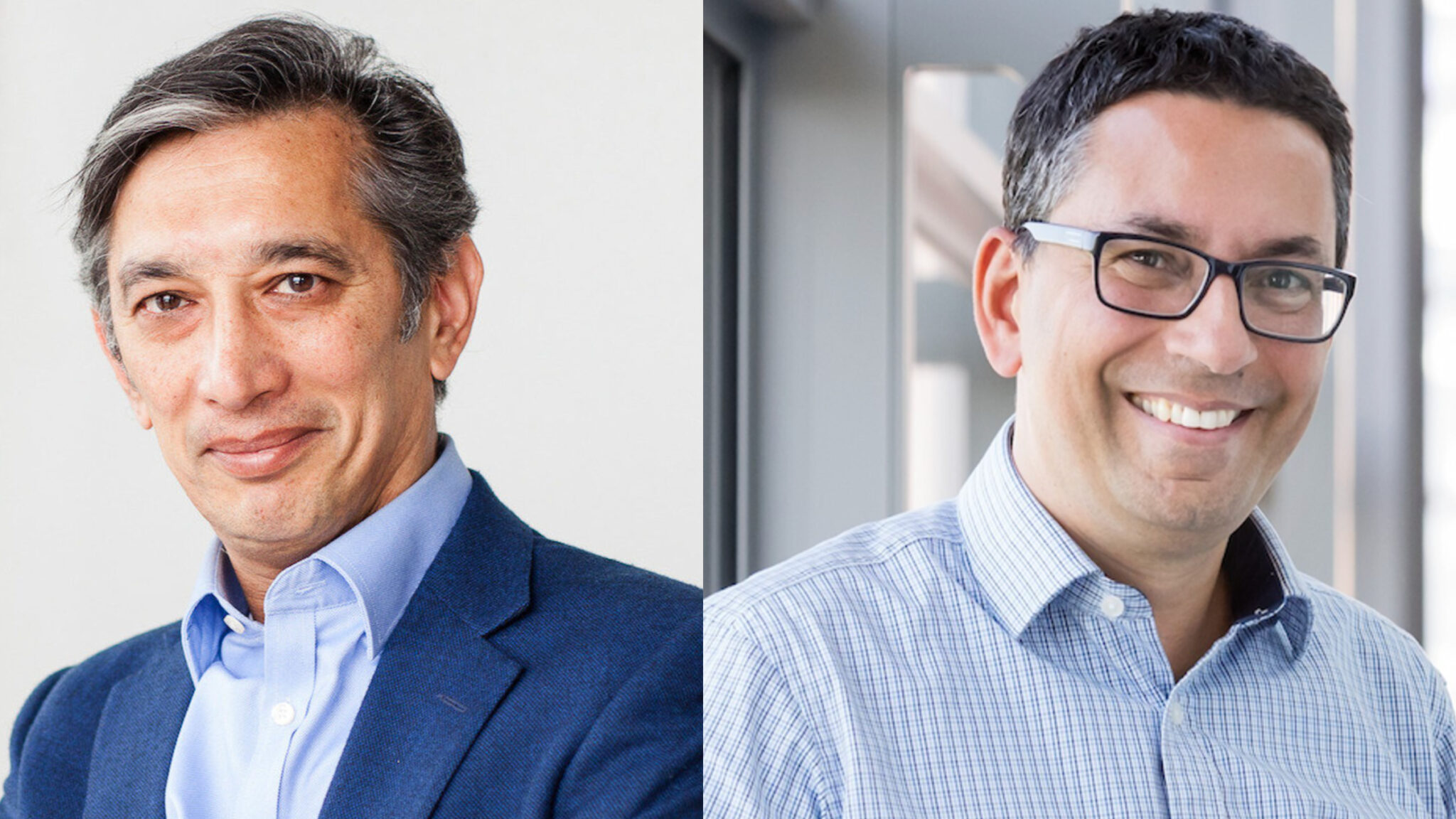 Adendra CEO Raj Mehta and scientific co-founder Caetano Reis e Sousa
Ap­ple Tree Part­ners leaps across the pond to launch a UK biotech look­ing to crack the se­crets of den­drit­ic cells
Once large­ly a mys­tery to re­searchers, the far-flung realm of cells in the im­mune sys­tem has emerged as a fruit­ful sand­box for drug de­vel­op­ers. A new UK biotech is lean­ing on re­search in­to the grow­ing role of den­drit­ic cells in spurring im­mune re­spons­es, and US ven­ture firm Ap­ple Tree Part­ners is bankrolling its ear­ly ef­forts.
Lon­don-based Aden­dra Ther­a­peu­tics launched Tues­day with $53 mil­lion from found­ing in­vestor ATP and re­search out of the Fran­cis Crick In­sti­tute look­ing to lever­age new in­sights in­to how den­drit­ic cells sic preda­to­ry T cells on­to tu­mors — and their role in dri­ving au­toim­mune dis­ease.
Lever­ag­ing re­search out of the lab of Cae­tano Reis e Sousa, Aden­dra starts life with cut­ting-edge re­search in­to den­drit­ic cells un­der its belt and a hefty pay­check to boot.
Reis e Sousa, who helped kick­start the com­pa­ny as sci­en­tif­ic co-founder, point­ed to den­drit­ic cells' dual role in both tak­ing pieces of for­eign bod­ies and pre­sent­ing them to T cells for iden­ti­fi­ca­tion but al­so act­ing as T cells' "on-off" switch. New­er re­search has al­so point­ed to those cells' role in "goad­ing" pro­longed T cell ac­ti­va­tion, which means den­drit­ic cells not on­ly turn T cells on or off but al­so tell them how long to en­gage their tar­get.
"It's not just about trig­ger­ing it but al­so about con­tin­u­ing to push the re­sponse for­ward," he told End­points News. "That is im­por­tant par­tic­u­lar­ly in the con­text of au­toim­mu­ni­ty when you ac­tu­al­ly want to in­ter­rupt that cy­cle. You can think of it as a ther­a­peu­tic tar­get where you can ef­fec­tive­ly try and block these pos­i­tive sig­nals com­ing from the den­drit­ic cells, there­by break­ing the cy­cle that is lead­ing to con­tin­u­al ac­ti­va­tion of those T cells."
With that po­ten­tial in mind, ATP and en­tre­pre­neur-in-res­i­dence Raj Mehta, now in­ter­im CEO, ap­proached Reis e Sousa about the po­ten­tial for a biotech start­up, with Mehta say­ing the wide-rang­ing po­ten­tial for the plat­form caught the ven­ture firm's eye.
"We sat down to­geth­er about a year ago and said, this is an in­ter­est­ing area of bi­ol­o­gy, we want to learn more about how we can trans­late the re­search and work to­geth­er to set up the com­pa­ny," Mehta said.
Aden­dra, of course, isn't the on­ly biotech pur­su­ing break­throughs in den­drit­ic cell bi­ol­o­gy, a hot area for drug de­vel­op­ment giv­en those cells' key reg­u­la­to­ry role in the im­mune sys­tem. BioN­Tech, for in­stance, is work­ing on us­ing mR­NA to help present tar­get­ed anti­gens in den­drit­ic cells — sim­i­lar to the way its Pfiz­er-part­nered Covid-19 vac­cine works.
Now emerged from stealth, Aden­dra is work­ing on build­ing out a pipeline with eyes on a range of ther­a­peu­tic modal­i­ties a pos­si­bil­i­ty, Mehta said. The one thing Mehta de­fin­i­tive­ly said Aden­dra would not pur­sue is cell ther­a­py.
In an un­usu­al work­ing arrange­ment, Aden­dra's ac­tu­al cor­po­rate team will be a bare-bones op­er­a­tion in the short term, with re­search han­dled by sci­en­tists un­der Reis e Sousa at Fran­cis Crick. Mehta will look to bring on a full-time CEO to head the com­pa­ny's next phase with­in the next two years as well as hire ex­pe­ri­enced ex­ec­u­tives to take the com­pa­ny for­ward.