ARCH-backed biotech emerges with $85M and a bold claim: A new hu­man hor­mone can re­verse a key ef­fect of ag­ing
The el­der­ly pa­tient's mus­cles didn't look right be­neath the mi­cro­scope.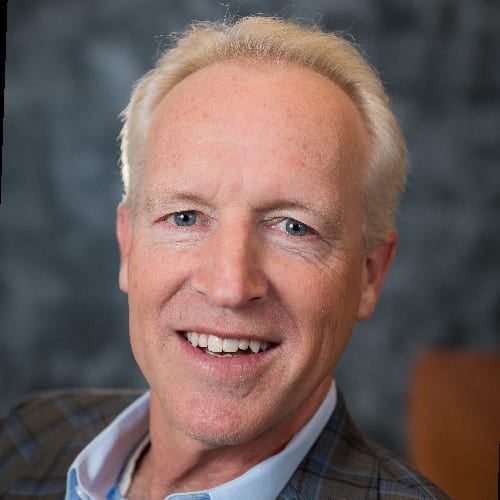 Russ Cox
He wasn't just old. He had di­a­bet­ic my­opa­thy, a com­pli­ca­tion where mus­cles de­grade faster than nor­mal. The mi­to­chon­dria die, fibers weak­en, and the tis­sues be­come so bro­ken up they re­sem­ble cracked Dust Bowl earth. "Like cot­tage cheese," of­fers Russ Cox, a Genen­tech and Jazz Phar­ma al­umn.
But now they looked — healthy. Mi­to­chon­dria were fir­ing. The fibers perked and stretched.
"These mus­cles were re­al­ly look­ing as if they were mus­cles of a per­son 20 years younger," Sun­deep Dugar, the J&J and Bris­tol-My­ers Squibb vet on the oth­er end of the mi­cro­scope, told End­points News.
The pa­tient and oth­ers had been in­ject­ed with a form of fla­vanol, the metabo­lites found in grape skins and wine and dark choco­late that lead nu­tri­tion­ists to some­times rec­om­mend those foods for heart health. It's con­sid­ered an an­tiox­i­dant. But the re­sults that Dugar and his col­lab­o­ra­tor George Schrein­er saw, along with ear­li­er an­i­mal stud­ies, led them to a bold idea: Fla­vanoid was ac­tu­al­ly fol­low­ing bi­o­log­i­cal path­ways nor­mal­ly used by a yet undis­cov­ered hu­man hor­mone, the first of its kind dis­cov­ered in over 50 years.
"It's a big deal," Dugar said. "I think it's a big deal."
That was in 2012. Dugar, Schrein­er and Cox are now form­ing a com­pa­ny called Epir­i­um around that find­ing and the sub­se­quent work they did con­firm­ing the new hor­mone. It's a re­jig of an old­er, poor­ly fund­ed group the trio had worked on called Cardero, but now they've man­aged to con­vince a fleet of topflight in­vestors: Lon­gi­tude, ARCH, Ver­tex and Adams Street have joined in an $85 mil­lion Se­ries A.
There's al­so an in­vestor called Longevi­ty Fund, a group fo­cused on ex­tend­ing hu­man life, and ARCH head Bob Nelsen has made no se­cret of his de­sire to live for­ev­er. The two hint at an idea the new biotech isn't par­tic­u­lar­ly shy about: That while they will be­gin with tri­als in rare neu­ro­mus­cu­lar dis­or­ders, name­ly a form of mus­cu­lar dy­s­tro­phy called Beck­er's, they have am­bi­tions that are much broad­er.
"They made the in­vest­ment not just be­cause they think we can do some­thing mean­ing­ful in Beck­er's mus­cu­lar dy­s­tro­phy, but pri­mar­i­ly be­cause some of these larg­er dis­eases could ben­e­fit as well," Cox, the CEO, told End­points. "There's no ques­tion we will evolve."
Epir­i­um isn't yet re­veal­ing what their claimed new hor­mone is. They say the long de­lay has been in try­ing to se­cure the in­tel­lec­tu­al prop­er­ty and that a sci­en­tif­ic pa­per is com­ing ear­ly next year.
It has to do, though, with mi­to­chon­dria bio­gen­e­sis, or the cre­ation of new mi­to­chon­dria. These or­ganelles are of­ten called the 'en­gine of the cells' but they break down with age or with cer­tain dis­eases and bring the mus­cles down with them. Ex­er­cise is one of the on­ly ways to make more.
"You and I lose 10% of our mi­to­chon­dria every decade, so by the time you get to my age, you're un­der­wa­ter as op­posed to when you're 18," said Cox, a for­mer track and cross coun­try ath­lete now ap­proach­ing 60.
Dugar and Schrein­er, who worked at Scios be­fore it was bought by J&J for $2.4 bil­lion in 2003, had been en­list­ed at UC San Diego to in­ves­ti­gate why fla­vanol had bi­o­log­i­cal ef­fects. To emerge from that re­search claim­ing to find a new hu­man hor­mone is bold, par­tic­u­lar­ly with­out pub­lish­ing the work. Re­searchers have long stud­ied fla­vanol for its car­dio­vas­cu­lar im­pact with­out ar­riv­ing at sim­i­lar con­clu­sions. The hor­mone would be the first mi­to­chon­dr­i­al steroid in 50 years, they said.
But the pair con­duct­ed 11 proof-of-con­cept tri­als on 110 pa­tients and say they saw pro­found re­sults that ap­peared to work along each of the three well known mi­to­chon­dr­i­al path­ways. They didn't fol­low up on the di­a­bet­ic my­opa­thy pa­tients long term, but they walked and stood bet­ter and that, com­bined with his mus­cle slides, was over­whelm­ing.
"This told us that while every­one clas­si­fies fla­vanol as an an­tiox­i­dant, that couldn't be true," said Dugar.
The two set up the pa­ra­me­ters for a hu­man equiv­a­lent that must op­er­ate along the same meta­bol­ic path as fla­vanoid, and soon found it. Cox said that in ear­ly meet­ings, in­vestors were mys­ti­fied by Epir­i­um's pre­sen­ta­tion, but even­tu­al­ly came around.
"Of course, they all went to google it, and couldn't find a pub­li­ca­tion on it and said 'how can that damn be?'" he said.
Epir­i­um will start out with a clin­i­cal tri­al on Beck­er's mus­cu­lar dy­s­tro­phy pa­tients, one of the groups they stud­ied in the ear­ly proof-of-con­cepts. Beck­er's is akin to a less dev­as­tat­ing form of Duchenne. When pa­tients' mus­cles fire, they re­lease tox­ins that kill mi­to­chon­dria and de­plete over­all mus­cle tis­sue. Cox said their hor­mone should be able to slow or even re­verse that mus­cle loss.
Beck­er's may seem an odd start­ing point giv­en the gene ther­a­pies near­ing mar­ket for mus­cu­lar dy­s­tro­phy, but Cox said that their hor­mone might be used in com­bi­na­tion with the flashier ap­proach. For the com­pa­ny as a whole, though, rare dis­eases are pri­mar­i­ly places they al­ready have da­ta and think they might place a foothold for a much larg­er project, one that in­cludes neu­rode­gen­er­a­tion and oth­er age-re­lat­ed dis­or­ders.
Mi­to­chon­dria de­plete as we age. Epir­i­um says they've found a way to make them grow, a chem­i­cal ex­er­cise.
"I'm not say­ing I want to call it an­ti-ag­ing," said Dugar. "But the ques­tion is, if you can re­al­ly have a sep­a­ra­tion be­tween your bi­o­log­i­cal age and your chrono­log­i­cal age, then, hey – 80 years olds who have healthy mi­to­chon­dria, will look like they were 60 years old or act like they were 60 years old. Maybe that's what an­ti-ag­ing is."