A year after new Arena $ARNA CEO Amit Munshi began a painful makeover involving deep staff cuts and a deal to eventually offload its rights to a disappointing weight drug, the company is making the case that it's on track with a new drug for pulmonary arterial hypertension.
After the market closed on Monday, Arena said its PAH drug ralinepag scored on a key endpoint in a Phase II study of the disease, sending its shares rocketing up more than 40%. Comparing the drug against a placebo, investigators reported a success on pulmonary vascular resistance. Their conclusion:
Ralinepag improved median PVR by 163.9 dyn.s.cm-5 from baseline compared to a 0.7 dyn.s.cm-5 worsening from baseline in the placebo arm (P=0.02). Patients treated with ralinepag had a 29.8% improvement in PVR compared to the placebo arm (P=0.03) and a 20.1% improvement in PVR compared to baseline.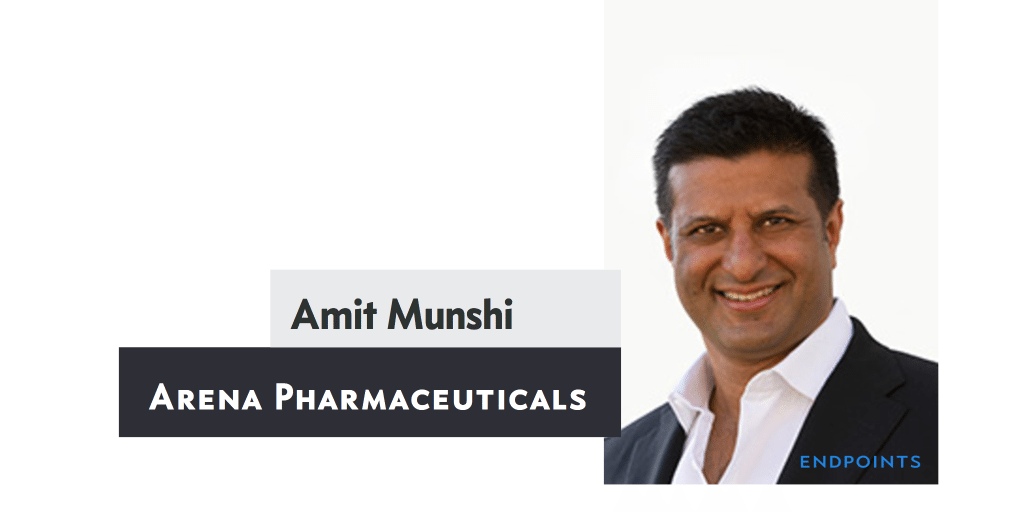 The drug will now shift into Phase III as Arena continues down what it hopes is a comeback trail. The biotech was one of three developers to score on an approval for a weight loss drug several years ago. But Belviq proved to be a flop on the market. Eisai owns it all now.
Their top clinical program is for etrasimod (APD334), which Munshi describes as the "second S1P modulator behind Receptos (ozanimod)," bought out by Celgene for more than $7 billion. Phase II data is due in late 2017. Ralinepag (ADP811) will deliver mid-stage data on pulmonary arterial hypertension later in the year. And their cannabinoid 2 receptor agonist for Crohn's pain wraps the in-house pipeline. Nelotanserin, a 5-HT2A inverse agonist, is partnered with Axovant for dementia a"The positive outcome of this Phase II trial in a contemporary PAH patient population is an important milestone in the development of ralinepag for the treatment of patients suffering from this grievous illness," noted Arena chief medical officer Preston Klassen. "It is exciting to see the positive nonclinical pharmacological profile translating into potentially the first oral prostacyclin therapy that may approach consistent therapeutic levels without the complexity of parenteral (IV) therapy. These data give us confidence to move expeditiously toward a Phase 3 clinical program."
---
The best place to read
Endpoints News

? In your inbox.

Comprehensive daily news report for those who discover, develop, and market drugs. Join 51,000+ biopharma pros who read Endpoints News by email every day.

Free Subscription
---
---
---