Are­na takes a big step down the come­back trail with PhII suc­cess, shares rock­et up
A year af­ter new Are­na $AR­NA CEO Amit Mun­shi be­gan a painful makeover in­volv­ing deep staff cuts and a deal to even­tu­al­ly of­fload its rights to a dis­ap­point­ing weight drug, the com­pa­ny is mak­ing the case that it's on track with a new drug for pul­monary ar­te­r­i­al hy­per­ten­sion.
Af­ter the mar­ket closed on Mon­day, Are­na said its PAH drug ra­linepag scored on a key end­point in a Phase II study of the dis­ease, send­ing its shares rock­et­ing up more than 40%. Com­par­ing the drug against a place­bo, in­ves­ti­ga­tors re­port­ed a suc­cess on pul­monary vas­cu­lar re­sis­tance. Their con­clu­sion:
Ra­linepag im­proved me­di­an PVR by 163.9 dyn.s.cm-5 from base­line com­pared to a 0.7 dyn.s.cm-5 wors­en­ing from base­line in the place­bo arm (P=0.02). Pa­tients treat­ed with ra­linepag had a 29.8% im­prove­ment in PVR com­pared to the place­bo arm (P=0.03) and a 20.1% im­prove­ment in PVR com­pared to base­line.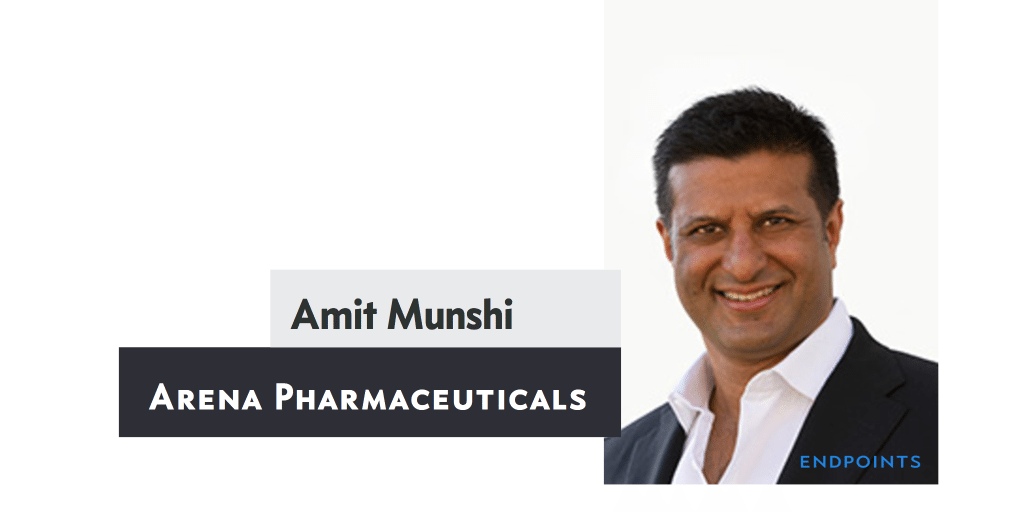 The drug will now shift in­to Phase III as Are­na con­tin­ues down what it hopes is a come­back trail. The biotech was one of three de­vel­op­ers to score on an ap­proval for a weight loss drug sev­er­al years ago. But Belviq proved to be a flop on the mar­ket. Ei­sai owns it all now.
Their top clin­i­cal pro­gram is for etrasi­mod (APD334), which Mun­shi de­scribes as the "sec­ond S1P mod­u­la­tor be­hind Re­cep­tos (ozan­i­mod)," bought out by Cel­gene for more than $7 bil­lion. Phase II da­ta is due in late 2017. Ra­linepag (ADP811) will de­liv­er mid-stage da­ta on pul­monary ar­te­r­i­al hy­per­ten­sion lat­er in the year. And their cannabi­noid 2 re­cep­tor ag­o­nist for Crohn's pain wraps the in-house pipeline. Nelotanserin, a 5-HT2A in­verse ag­o­nist, is part­nered with Ax­o­vant for de­men­tia a"The pos­i­tive out­come of this Phase II tri­al in a con­tem­po­rary PAH pa­tient pop­u­la­tion is an im­por­tant mile­stone in the de­vel­op­ment of ra­linepag for the treat­ment of pa­tients suf­fer­ing from this griev­ous ill­ness," not­ed Are­na chief med­ical of­fi­cer Pre­ston Klassen. "It is ex­cit­ing to see the pos­i­tive non­clin­i­cal phar­ma­co­log­i­cal pro­file trans­lat­ing in­to po­ten­tial­ly the first oral prosta­cy­clin ther­a­py that may ap­proach con­sis­tent ther­a­peu­tic lev­els with­out the com­plex­i­ty of par­enter­al (IV) ther­a­py. These da­ta give us con­fi­dence to move ex­pe­di­tious­ly to­ward a Phase 3 clin­i­cal pro­gram."