Armed with a $47M round, Gates-backed Vis­ter­ra aims at a PhI­Ib flu drug study
At the time Vis­ter­ra made a bid ear­ly this year to go pub­lic, the tim­ing was off. The boom of 2014 was long gone and the cur­rent bumper crop of IPOs had yet to de­vel­op. So now they've topped up their C round and closed it with $46.7 mil­lion in ven­ture cash — enough to steer their lead pro­gram through a Phase IIb while get­ting an­oth­er ther­a­py through Phase I.
The lead pro­gram is for VIS410, de­signed to fight in­fluen­za A with tech out of MIT that cen­ters on epi­topes com­mon across all strains of a virus. Tar­get­ing that im­mutable spot on the ever-chang­ing flu virus with tech in­sights out of the lab of MIT's Ram Sasisekha­ran could lead to a durable rem­e­dy for large num­bers of pa­tients.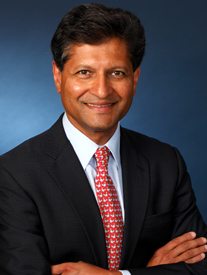 Bri­an JG Pereira
In­ves­ti­ga­tors are get­ting ready to read out a Phase IIa study lat­er in the year on am­bu­la­to­ry pa­tients, with a IIb com­ing up that will re­al­ly put it to the test for hos­pi­tal­ized cas­es. Their an­ti­body VIS649 is in de­vel­op­ment for the treat­ment of IgA nephropa­thy and has wrapped an­i­mal stud­ies for the dis­ease.
"Tim­ing is every­thing," Vis­ter­ra CEO Bri­an JG Pereira tells me. And when the time is right, they'll take a look at dust­ing off their S-1 and tak­ing an­oth­er shot.
The added time as a pri­vate com­pa­ny could help.
Next year Pereira and his team of 45 will have three ther­a­pies in the clin­ic, and if the Phase IIb da­ta that they get from their lead pro­gram is dra­mat­ic enough, they could see how re­cep­tive the FDA is to the idea of an ac­cel­er­at­ed ap­pli­ca­tion.
Ei­ther way, Cam­bridge, MA-based Vis­ter­ra has a $204 mil­lion con­tract with BAR­DA that gives them an op­tion on fund­ing the late-stage study.
In the mean­time, they have an ex­pand­ed syn­di­cate fund­ing the work. This new round, which brings the to­tal to $117.5 mil­lion, brought back the Bill & Melin­da Gates Foun­da­tion, MRL Ven­tures Fund, Ver­tex Ven­ture Hold­ings Ltd, Po­laris Part­ners, Flag­ship Pi­o­neer­ing, Omega Funds, Cy­cad Group, and Alexan­dria Ven­ture In­vest­ments. Some new in­vestors — Serum In­sti­tute of In­dia, CTI Life Sci­ences and Al­leghe­ny Fi­nan­cial Group — al­so stepped in.