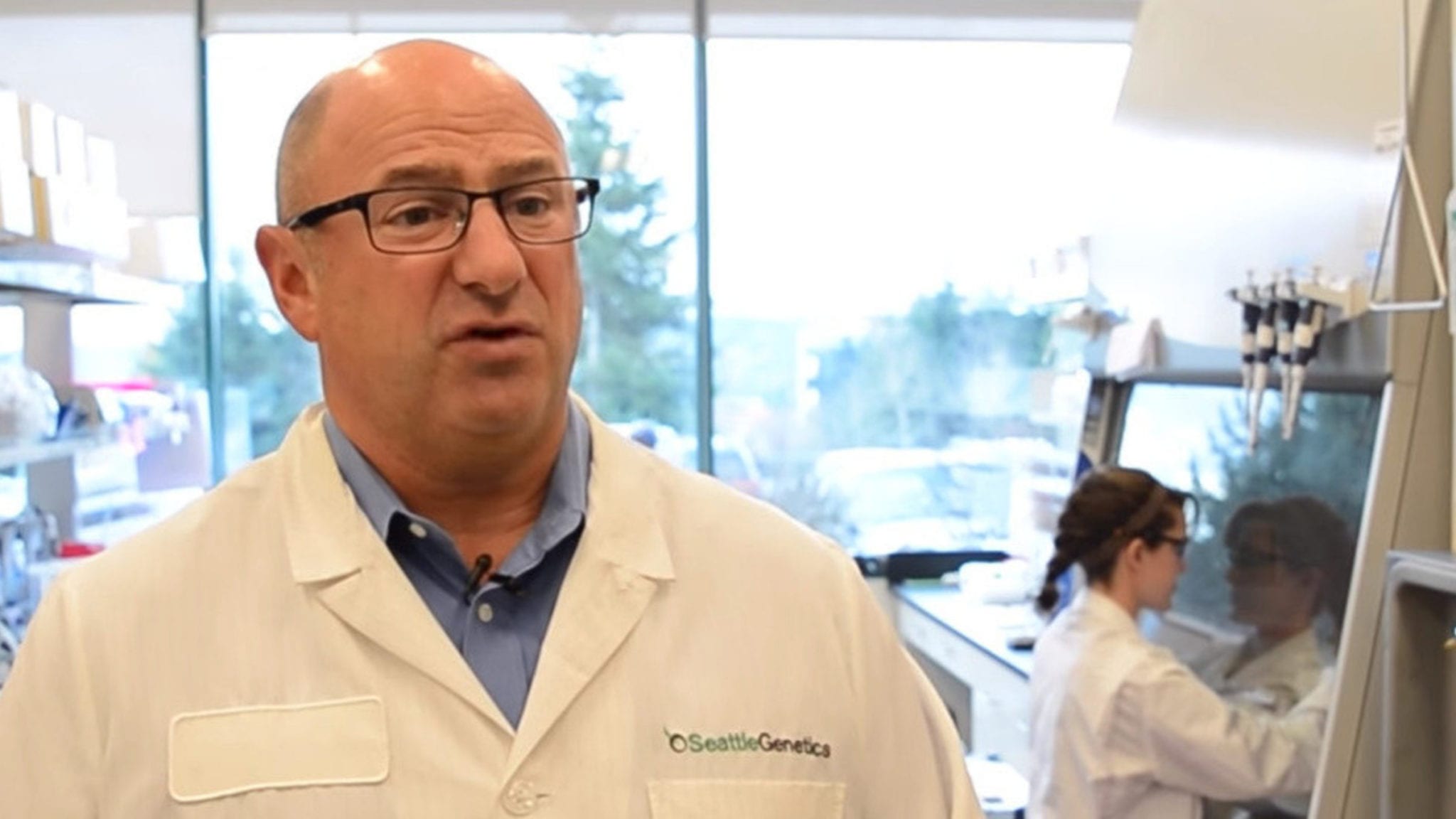 Clay Siegall, Seagen CEO (Life Science Washington via YouTube)
UP­DAT­ED: Ar­rest re­port, court docs out­line mul­ti­ple spouse abuse al­le­ga­tions against Seagen founder Clay Sie­gall
New in­for­ma­tion has emerged de­tail­ing the events that led to the April 23 ar­rest of Seagen CEO Clay Sie­gall and a May 2 tem­po­rary re­strain­ing or­der against him, ac­cord­ing to doc­u­ments ob­tained by End­points News.
Around 3 a.m. lo­cal time on April 23, Sie­gall's wife and a wit­ness called po­lice af­ter he al­leged­ly pushed her to the ground, and he was brought to jail hours lat­er on a charge of fourth de­gree do­mes­tic vi­o­lence gross mis­de­meanor, per po­lice records from that morn­ing. The records, as well as a re­strain­ing or­der and jail call logs, lay out the al­le­ga­tions against one of the high­est-pro­file CEOs in biotech, who found­ed Seagen in the late 1990s and has built it in­to a $22 bil­lion drug de­vel­op­er that led the ADC R&D field. Sie­gall was al­so one of the most rich­ly com­pen­sat­ed phar­ma ex­ec­u­tives in 2021, pulling in $18.1 mil­lion.
Sie­gall's lawyer did not im­me­di­ate­ly re­spond to an email and phone call re­quests for com­ment. This sto­ry will be up­dat­ed ac­cord­ing­ly.
The de­tails come to light af­ter Seagen said Mon­day that Clay Sie­gall was placed on leave for do­mes­tic vi­o­lence al­le­ga­tions, which the com­pa­ny said he de­nied. Seagen's board al­so launched its own in­ves­ti­ga­tion in­to the mat­ter.
Umo­ja Bio­phar­ma, a pri­vate­ly held biotech that Sie­gall chaired, said Wednes­day af­ter mar­ket close that he agreed to the start­up's re­quest to re­sign from the board, ef­fec­tive im­me­di­ate­ly. Pub­licly trad­ed Nurix Ther­a­peu­tics, an­oth­er biotech that Sie­gall is on the board of, told End­points in an emailed state­ment: "Sie­gall's sta­tus at Nurix is un­changed. We con­tin­ue to mon­i­tor the sit­u­a­tion, and we will be guid­ed by our com­mit­ment to the high­est eth­i­cal stan­dards as sum­ma­rized by Nurix's Code of Busi­ness Con­duct & Ethics."
"Seagen has high stan­dards for em­ploy­ee con­duct and con­demns do­mes­tic vi­o­lence in all its forms. We are treat­ing these al­le­ga­tions with the ut­most se­ri­ous­ness. Dr. Sie­gall re­mains on a leave of ab­sence while the com­pa­ny's Board of Di­rec­tors, led by a com­mit­tee of in­de­pen­dent di­rec­tors, con­ducts a thor­ough in­ves­ti­ga­tion with the as­sis­tance of an in­de­pen­dent law firm. The Board's fu­ture de­ci­sions will be in­formed by the out­come of the in­ves­ti­ga­tion," a com­pa­ny spokesper­son said in an emailed state­ment to End­points on Wednes­day.
In a 58-page po­lice doc­u­ment de­tail­ing the April 23 ar­rest at the cou­ple's home in the Seat­tle area, Clay Sie­gall and his wife were out to din­ner with six oth­ers be­fore they all re­turned to the cou­ple's home. Four of the oth­ers left be­fore the al­leged in­ci­dent oc­curred.
Per a wit­ness ac­count in­clud­ed in the po­lice re­port, Clay Sie­gall pushed his wife to the ground, and grabbed and pulled her by her arms. Sie­gall then went to bed and the in­di­vid­ual called the po­lice on their dri­ve home. Sie­gall's wife al­so called the po­lice, the re­port said.
Dur­ing his wife's call with the po­lice dis­patch­er, she said to "erase the phone call" and that she "did not mean to call." She asked for the po­lice not to come.
"Please don't send any­one, I messed up by call­ing, he'll kill me if he know I called … I ac­ci­den­tal­ly picked up the phone and pressed 9-1-1 and shouldn't have," she said, ac­cord­ing to the re­port.
"He pushed me on the floor, he video­taped every­thing," she added.
She de­clined to give po­lice the code to the house's front gate, but the gate was al­ready open and the po­lice en­tered. The of­fi­cers knocked on the door and she let them in. Clay Sie­gall came down­stairs and spoke to the po­lice af­ter re­ceiv­ing a phone call from of­fi­cers try­ing to lo­cate him. Cit­ing the size of the house, the of­fi­cers called sur­round­ing po­lice de­part­ments to as­sist with the search, ac­cord­ing to the records.
Per the re­port, when speak­ing to the of­fi­cers, Sie­gall's wife men­tioned her hus­band's pub­lic vis­i­bil­i­ty as a rea­son not to come.
"[She] said her hus­band will kill her. [She] then added, 'Please leave and go away,' 'He'll go crazy, he's a pub­lic fig­ure,'" ac­cord­ing to the po­lice records.
Ac­cord­ing to an­oth­er of­fi­cer's re­port of the in­ci­dent: "I asked her what hap­pened but she did not want to tell me as she said her hus­band would kill her. I asked if she re­al­ly thought he would or she was just us­ing that lan­guage and she would just kept say­ing [sic] I did not un­der­stand and her hus­band was a pub­lic fig­ure."
Clay Sie­gall de­nied touch­ing his wife, ac­cord­ing to the po­lice re­ports. He was ar­rest­ed and tak­en in­to jail that day. While there, he called his wife mul­ti­ple times and blamed her for his be­ing in jail, and he al­so called a DUI lawyer, ac­cord­ing to the records.
"Clay thanked her for the pos­si­bil­i­ty that he may get fired and that she may have ru­ined his ca­reer," ac­cord­ing to a sum­ma­ry of the call logs from jail.
Days af­ter the in­ci­dent, his wife went to the po­lice sta­tion and said she had bruis­es from the evening of the ar­rest and want­ed them doc­u­ment­ed. An of­fi­cer took pho­tos of bruis­es on her arms, face, legs and hips, ac­cord­ing to the re­ports.
"She didn't re­al­ize how bad she was hurt un­til the fol­low­ing morn­ing when she be­gan see­ing the bruis­es," ac­cord­ing to the re­ports. She dis­cussed hav­ing reg­u­lar "hid­ing" places at their house in an­tic­i­pa­tion of his es­ca­lat­ed moods, and de­scribed Sie­gall as ver­bal­ly abu­sive, ag­gres­sive and con­trol­ling.
Then, on May 2, a lo­cal coun­ty court is­sued a tem­po­rary or­der re­strain­ing Clay Sie­gall from com­ing with­in 100 yards of his wife. The court cit­ed "an emer­gency ex­ists" as rea­son­ing for the or­der, which lasts un­til a hear­ing for the pro­tec­tion or­der pe­ti­tion takes place. The hear­ing is set for next week.
In his wife's pe­ti­tion, she cites years of var­i­ous forms of abuse from Clay Sie­gall at their homes in Wash­ing­ton and Cal­i­for­nia, as well as on busi­ness and va­ca­tion trips. In one in­stance of the phys­i­cal al­ter­ca­tions, she al­leged Clay Sie­gall pulled out one of her drainage tubes while he drove her home af­ter a surgery. Ad­di­tion­al­ly, the night be­fore their wed­ding, se­cu­ri­ty had to be called be­cause of a loud fight, she wrote in the pe­ti­tion. He held her down or against the wall "at least a dozen times," she al­leged.
"He treat­ed me like a beau­ti­ful slave. Arm can­dy that looked nice on his arm when we went out and that cooked, cleaned and took care of him and his fam­i­ly when we were home. I lived day to day walk­ing on eggshells," she wrote in the pe­ti­tion. The cou­ple has al­so gone through ther­a­py, she wrote.
The cou­ple had sep­a­rat­ed in Feb­ru­ary 2021 and ini­ti­at­ed di­vorce pro­ceed­ings in both states. She had been grant­ed a pro­tec­tion or­der in Cal­i­for­nia to pro­tect her from "Clay's an­gry, vi­o­lent, con­trol­ling and threat­en­ing be­hav­ior" at the time.
Then, in June 2021, the cou­ple moved back in to­geth­er and paused the di­vorce pro­ceed­ings. In De­cem­ber 2021, the cou­ple dropped lit­i­ga­tion against each oth­er, per the May 2 pe­ti­tion.
One in three women and one in four men have ex­pe­ri­enced a form of phys­i­cal vi­o­lence by an in­ti­mate part­ner, ac­cord­ing to the CDC. As­sis­tance and sup­port for vic­tims of do­mes­tic vi­o­lence are avail­able at the na­tion­al hot­line: 1-800-799-7233.