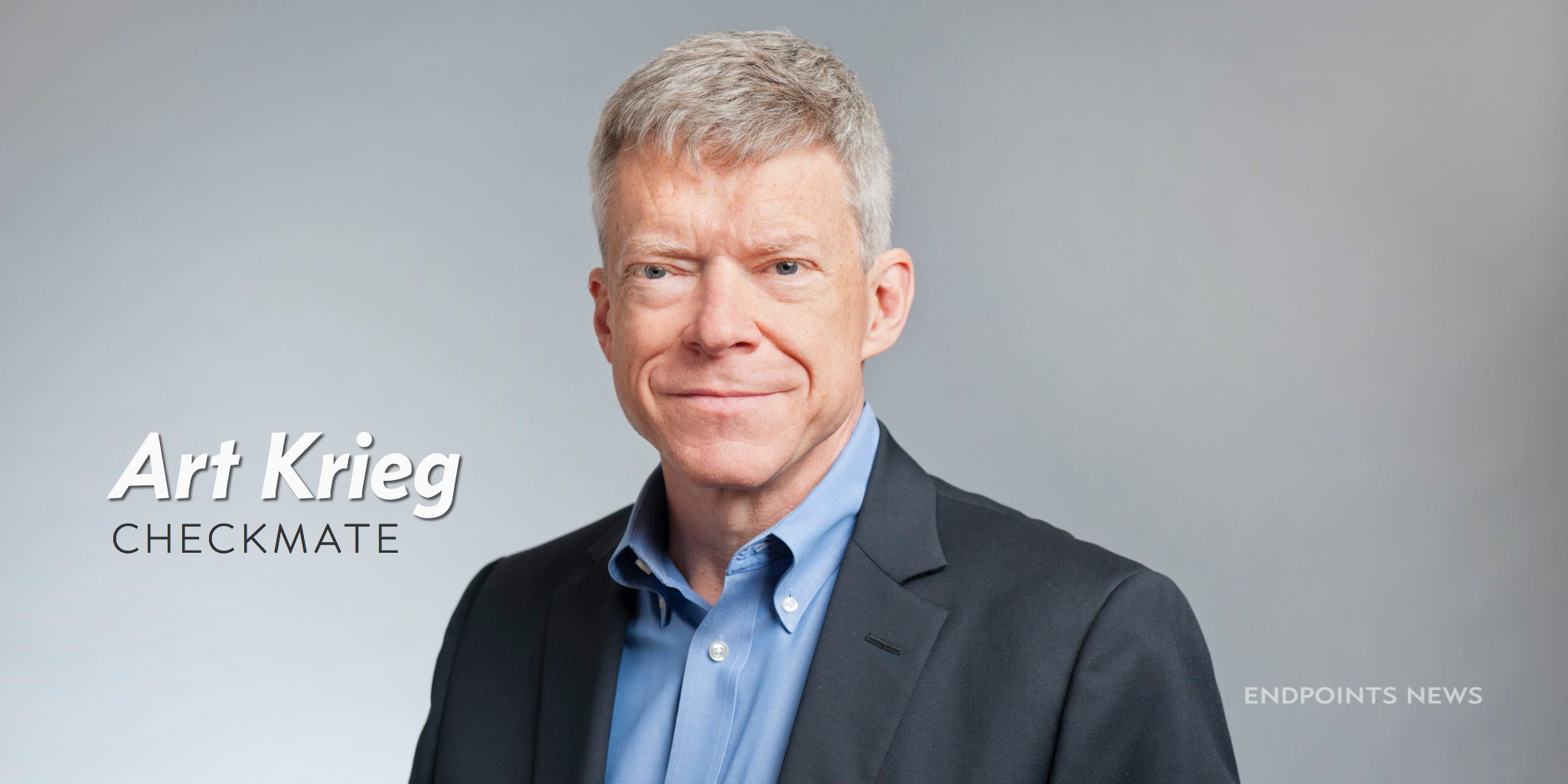 Art Krieg comes down from the moun­tain with a $27M round for Check­mate Phar­ma­ceu­ti­cals
Art Krieg's ski trip to Deer Val­ley in Utah last Feb­ru­ary was good for a lot more than mas­ter­ing the moguls.
Ben Aus­pitz from F-Prime joined the trip or­ga­nized by Krieg's orig­i­nal back­ers at Sofinno­va Ven­tures, and their con­ver­sa­tions on and around the slopes led Aus­pitz and F-Prime to take the lead on a $27 mil­lion B round for Check­mate Phar­ma­ceu­ti­cals, an­nounced Thurs­day evening.
"We weren't in any kind of a hur­ry to raise more mon­ey," Krieg tells me. So it was a re­laxed time to start go­ing over Check­mate's Phase Ib study, now un­der­way and look­ing at its drug's abil­i­ty to help melanoma pa­tients who had failed Keytru­da.
The $27 mil­lion sets Check­mate up for the next 18 months, says the CEO. That will get them well past the point of en­ter­ing an ex­pan­sion phase of the study, with plans to bring in about 100 more pa­tients and start to bet­ter gauge the im­pact of their drug — which ac­ti­vates toll-like re­cep­tor 9 (TLR9) — in dri­ving a T cell re­sponse to can­cer cells.
That's a com­ple­men­tary strat­e­gy to the PD-(L)1 check­point drugs like Keytru­da, which take the brakes off the im­mune sys­tem so T cells can swarm can­cer cells. Krieg ob­tained the drug af­ter Cy­tos had tried, and failed, with it in asth­ma.
Check­mate prob­a­bly won't start talk­ing spe­cif­ic da­ta on its com­bo of their drug with Keytru­da un­til lat­er in the fall of this year, when it gets some­thing to present at a sci­en­tif­ic con­fer­ence. But Krieg tells me that they've al­ready had a chance to track tu­mor re­gres­sion in pa­tients. They're not a pub­lic com­pa­ny, he adds, so there's no need to re­lease lit­tle batch­es of da­ta along the way.
Krieg is very as­set-fo­cused, and he has been work­ing hard to keep the com­pa­ny team small. Check­mate has grown to about 18 staffers now, with most in Cam­bridge, MA. A few are scat­tered around the globe. Check­mate doesn't have a lab and doesn't plan on get­ting one. While Krieg — a long­time biotech vet and RNA ex­pert — ex­pects to add an­oth­er 6 to a dozen staffers with this round, he still doesn't ex­pect to get big at any time.
"The most like­ly out­come down the road is M&A," he says, af­ter the biotech snags more hu­man da­ta. But on the oth­er hand, he has a group of back­ers — which al­so in­cludes his old Pfiz­er boss Corey Good­man at ven­Bio — who have the cash to go in­to piv­otal work and be­yond. They could al­so do an IPO down the road, so no one course has been set yet.
"We will be ap­ply­ing for break­through ther­a­py in the next few months," adds Krieg, who did a short stint as CSO at Sarep­ta be­fore he and then CEO Chris Garabe­di­an had a falling out, 10 months be­fore Garabe­di­an fol­lowed him out the ex­it.
That BTD dis­cus­sion, he says, will al­so give Check­point the chance to start a di­a­logue with the agency about what a reg­is­tra­tion path­way looks like.