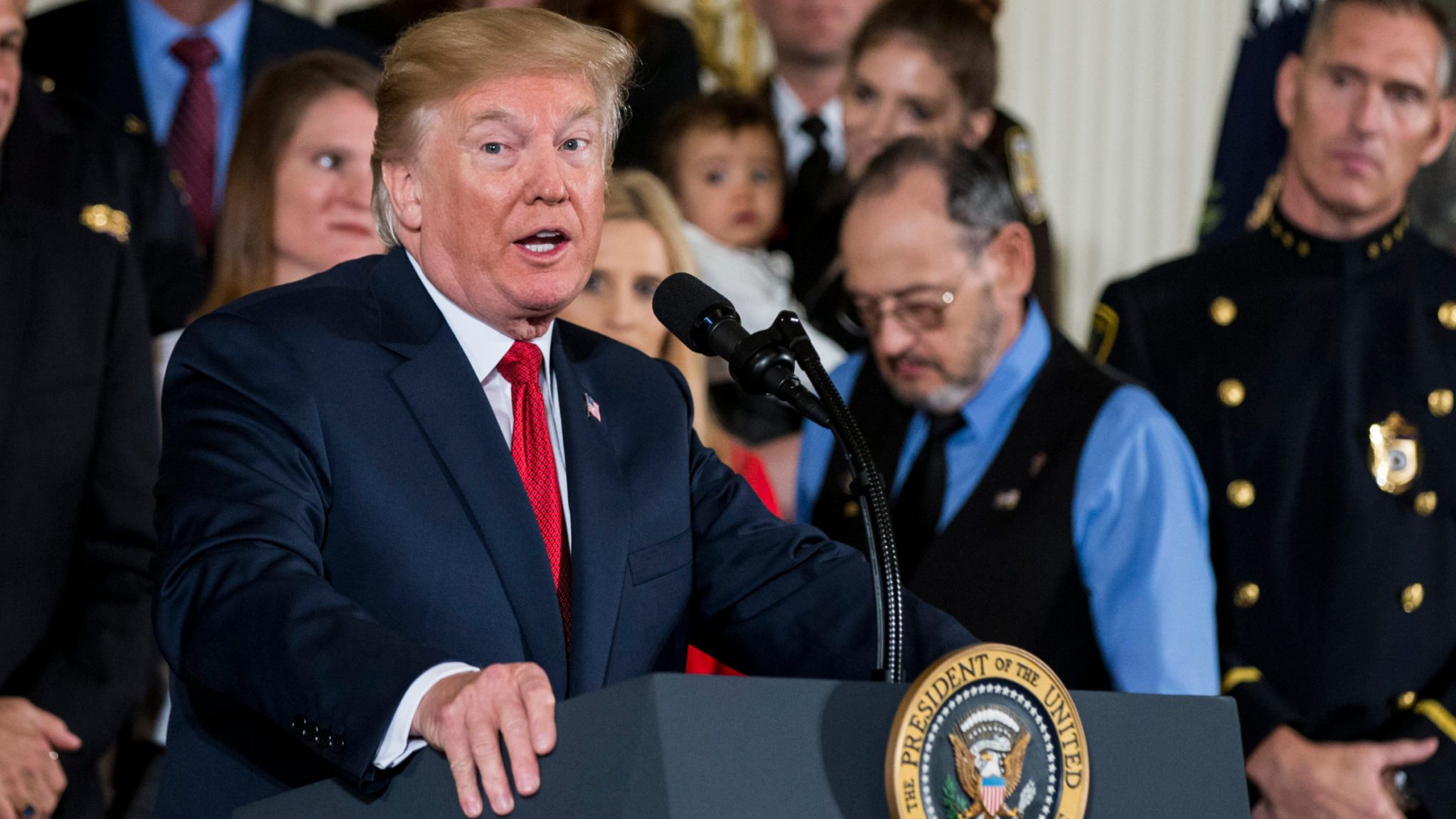 As a promi­nent an­a­lyst pre­dicts (even­tu­al) drug price con­trols, bio­phar­ma braces for a blow while Trump balls his fist

Some­time this week, no one is sure when, Pres­i­dent Don­ald Trump is ex­pect­ed to give his long-await­ed speech on drug pric­ing. And a long line­up of key play­ers in the field has been scratch­ing their heads, anx­ious­ly try­ing to de­ter­mine just how far the na­tion's most un­pre­dictable pres­i­dent could go.
Trump, of course, has been free with his pop­ulist brand of an­ti-in­dus­try rhetoric for more than a year now, af­ter es­tab­lish­ing the base­line with re­peat­ed as­ser­tions that phar­ma com­pa­nies have been get­ting away with mur­der for years.
But there's been lit­tle di­rect ac­tion, be­yond the work at the FDA to hus­tle up new gener­ic ap­provals while try­ing to use the pub­lic spot­light to whip up some fresh com­pe­ti­tion for the price gougers.
FDA com­mis­sion Scott Got­tlieb like­ly tipped the ad­min­is­tra­tion's hand on one point in a pre­view he of­fered on pric­ing last week, in­di­cat­ing that in­dus­try prac­tices in fight­ing a de­lay­ing ac­tion against gener­ics and biosim­i­lars will face some di­rect chal­lenges. But while sig­nif­i­cant, that by it­self won't bend any longterm trends on pric­ing in fa­vor of pay­ers.
Mean­while, pub­lic anger over drug pric­ing is re­peat­ed­ly stoked with an un­end­ing se­ries of high pro­file as­saults on cer­tain play­ers that have used their pric­ing pow­er to jack up rev­enue from old drugs.
Just last night, Mallinck­rodt was back in the spot­light with Ac­thar, which has gone from $40 a vial in 2001 to $40,000, threat­en­ing the ba­sic po­lice and fire ser­vices pro­vid­ed by the town of Rock­ford, IL.
For­mer Rock­ford May­or Lar­ry Mor­ris­sey set the stage for a 60 Min­utes seg­ment with this quote: "'Why is health­care so ex­pen­sive? Be­cause the fix is in. That's the an­swer. That's the short an­swer."
And it's not the kind of an­swer bio­phar­ma wants to hear right now, es­pe­cial­ly on 60 Min­utes.
The in­dus­try is still dis­grun­tled over the ad­min­is­tra­tion's de­ci­sion to get phar­ma to cov­er part of the donut hole in Medicare drug prices. But they can live with that. There's been a steady fo­cus at PhRMA on try­ing to shift the fo­cus from the man­u­fac­tur­ers to the in­sur­ers and PBMs that man­age the ben­e­fit. But it hasn't worked. And re­cent­ly that tac­tic has pro­duced some painful­ly awk­ward sal­lies on so­cial me­dia that tends to at­tract as much spon­ta­neous laugh­ter as dis­cus­sion.
.@pfiz­er's Ian Read: It's not drug pric­ing that's the prob­lem, it's drug af­ford­abil­i­ty – that's the prob­lem. #politi­co­health

— PhRMA (@PhRMA) May 3, 2018
With pub­lic anger per­co­lat­ing at an un­prece­dent­ed rate — a ma­jor­i­ty told Kaiser Health that re­duc­ing drug pric­ing should be a top pri­or­i­ty of pol­i­cy mak­ers — some an­a­lysts be­lieve that what­ev­er Trump comes up with it won't be enough to stop the one strat­e­gy that would make the bio­phar­ma in­dus­try reel: Price con­trols.
Se­nior Wells Far­go an­a­lyst David Maris put it in blunt terms a few days ago.
We be­lieve the US is on a longer-term arc to­ward price con­trols and low­er mar­gins, as there is an up­ris­ing that has been per­co­lat­ing for years against high drug prices. While the caus­es are many and the prob­lem much more com­pli­cat­ed and nu­anced than many oth­ers would lead read­ers to be­lieve, there is a re­bel­lion at hand. Ar­gu­ments about the cost to de­vel­op a drug or how oth­er sup­ply chain con­stituents are to blame are not ap­pre­ci­at­ed by the par­ent stand­ing at a phar­ma­cy counter aban­don­ing their child's pre­scrip­tion be­cause they can­not af­ford it due to an out­ra­geous de­ducible or high co-pay. And ex­am­ples of un­con­scionable drug price in­creas­es have fur­ther hard­ened many con­sumer opin­ions.
That day prob­a­bly won't ar­rive this week. But if that's the path we're on, Trump is faced with ei­ther sat­is­fy­ing the anger with some grand com­pro­mis­es, or stok­ing it by pulling his punch­es.
---
Im­age: Pres­i­dent Don­ald Trump at a speech in Oc­to­ber, 2017. AP IM­AGES