As Covid re­search heats up, J&J re­tires a BAR­DA-fund­ed flu an­tivi­ral they worked on for 7 years
The last eight months have seen a resur­gence in an­tivi­rals as re­searchers, scram­bling for some­thing that might treat Covid-19, re­pur­posed ap­proved HIV drugs and racked the li­braries of small mol­e­cules on phar­ma and biotech's shelves for any that could in­hib­it the nov­el virus. But yes­ter­day, J&J took an an­tivi­ral it had been test­ing for 7 years and for­mal­ly put it back on the shelf.
J&J an­nounced it was end­ing de­vel­op­ment of the ex­per­i­men­tal in­fluen­za drug pi­modi­vir af­ter an in­ter­im analy­sis of a Phase III study showed the drug was "very un­like­ly" to suc­ceed over stan­dard of care. The com­pa­ny halt­ed both that study, in hos­pi­tal­ized in­fluen­za A pa­tients, and an­oth­er one, in out­pa­tients. The de­ci­sions were made in con­sul­ta­tion with BAR­DA, which co-fund­ed the pro­gram.
"While our goal was to de­vel­op an in­no­v­a­tive new treat­ment op­tion for pa­tients at risk of res­pi­ra­to­ry in­fec­tions, un­for­tu­nate­ly these da­ta show that pi­modi­vir does not of­fer a ben­e­fit above the ex­ist­ing stan­dard of care," James Mer­son, J&J's in­fec­tious dis­ease R&D chief, said in a state­ment.
As re­searchers rush to find Covid-19 treat­ments, the set­back is a re­minder of the pit­falls of de­vel­op­ing an­tivi­ral drugs, where progress has been slow out­side chron­ic in­fec­tions like HIV and He­pati­tis C.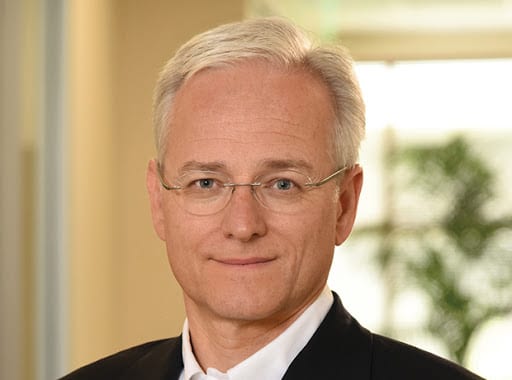 James Mer­son
As re­cent­ly as spring of 2017, then-glob­al R&D chief Bill Hait list­ed pi­modi­vir as one of 14 po­ten­tial block­busters for the phar­ma­ceu­ti­cal gi­ant. But by 2020, it was not ex­act­ly J&J's most-watched as­set. They li­censed the drug from Ver­tex for $30 mil­lion plus mile­stones in 2014, back when the Boston biotech was piv­ot­ing from a small mol­e­cule an­tivi­ral en­gine to a small mol­e­cule cys­tic fi­bro­sis en­gine. But the com­pa­ny said lit­tle about the com­pound be­fore and af­ter Hait's an­nounce­ment. "J&J picked up this one from Ver­tex in 2014," we wrote in a 2017 sto­ry. "Not much has been heard about it since then."
That spring, though, the com­pa­ny was about to an­nounce da­ta from a Phase IIa tri­al test­ing the drug in pa­tients with in­fluen­za. Un­like Tam­i­flu, Re­len­za and the ma­jor­i­ty of ap­proved in­fluen­za drugs, pi­modi­vir tar­get­ed a part of the RNA poly­merase, which the virus us­es to repli­cate, as op­posed to neu­raminidase, which the virus us­es to ex­it cells. Ide­al­ly, it could treat flu virus­es that had evolved re­sis­tance to oth­er drugs, pre­cip­i­tat­ing BAR­DA's in­ter­est in the pro­gram. And the study showed that across about 270 pa­tients, those who re­ceived treat­ment saw low­er vi­ral loads than those on place­bo.
J&J sub­se­quent­ly launched two Phase III tri­als, both of which were ter­mi­nat­ed this week.
This is J&J's sec­ond re­cent fail­ure in an­tivi­ral re­search, a field much of the in­dus­try had been leav­ing for years be­fore Covid-19 struck. In 2014, the phar­ma al­so spent $1.75 bil­lion to ac­quire the an­tivi­ral com­pa­ny Alios. But in 2018, they sus­pend­ed de­vel­op­ment of Alios's lead RSV drug, tak­ing a $630 mil­lion im­pair­ment. In 2019, they wrote off an­oth­er $930 mil­lion, es­sen­tial­ly de­clar­ing the pro­gram a bust.
Late last year, the com­pa­ny al­so re­ceived a CRL on their Vi­iV-part­nered long-act­ing HIV an­tivi­ral, a set­back in a heat­ed race with Mer­ck.
J&J, of course, is now work­ing with BAR­DA on a dif­fer­ent prod­uct: A Covid-19 vac­cine. The ju­ry is still out on the can­di­date but the com­pa­ny has high hopes.