As doubts con­tin­ue to fes­ter, In­ovio gets an­oth­er shove as Roche ex­its col­lab­o­ra­tion
Three years af­ter Roche signed up for a $422 mil­lion col­lab­o­ra­tion pact with In­ovio $INO on a pair of its ear­ly-stage de­vel­op­ment pro­grams, the phar­ma gi­ant is bow­ing out of the last re­main­ing ef­fort in the part­ner­ship. In­ovio says that it will take over the Phase I study for the he­pati­tis B vac­cine INO-1800, which is now fi­nal­ly en­rolling pa­tients.
Roche took con­sid­er­ably less time on INO-5150, its can­cer vac­cine. The com­pa­ny bowed out of that pro­gram in 2014. At the time, In­ovio had said it was start­ing a Phase I on 5150 in 2015. But ac­cord­ing to its pipeline chart, that's where it still sits to­day.
Roche had kicked off the pre­clin­i­cal deal with a mod­est $10 mil­lion up­front.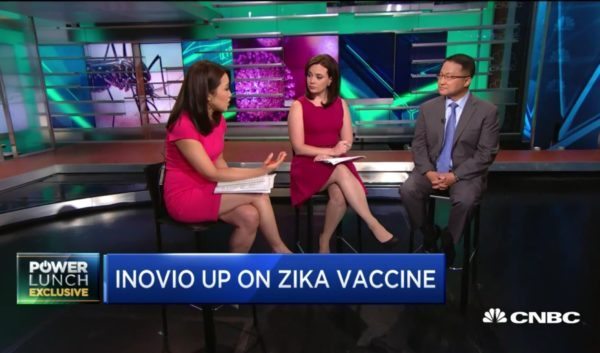 CN­BC's Melis­sa Lee and Meg Tir­rell with In­ovio CEO Joseph Kim.
In­ovio had pur­sued a fa­vorite PR ploy on both drugs, spot­light­ing what it claimed were re­mark­able an­i­mal da­ta that bode well for the hu­man tri­als to come. But over three years, there's ev­i­dent­ly been lit­tle progress as the com­pa­ny con­tin­ues to ramp up new ef­forts for vac­cines against Ebo­la, Zi­ka and more.
In­ovio CEO Joseph Kim has come un­der fire for his fre­quent state­ments hyp­ing the com­pa­ny's pro­grams and po­ten­tial. In a blunt show­down with CN­BC a lit­tle more than a month ago, two re­porters tried to get to the root of the trou­ble. But as I not­ed then, the ques­tions may have been tough, but the an­swers were all soft and fuzzy.
Spread too thin?

Kim: I think our pipeline is very full and very pro­duc­tive.

That yet-to-be-start­ed Phase III piv­otal study for cer­vi­cal dys­pla­sia. The Phase II was wrapped two years ago. Why the de­lay?

Kim: The FDA meet­ing was just a cou­ple of months ago, and be­sides, "it takes a long time to take new, dis­rup­tive tech­nolo­gies for these im­por­tant dis­eases for­ward."

Our CN­BC Ebo­la in­ter­view oc­curred in No­vem­ber, 2014. Do you have the fund­ing and fo­cus nec­es­sary to com­plete the work?

Kim: There are 200 ded­i­cat­ed sci­en­tists and vac­cine de­vel­op­ers.
And lest any­one for­get: "The med­ical prod­uct de­vel­op­ment is a long and ar­du­ous road."
The ever con­fi­dent Kim had this to say in a state­ment about 1800:
While we ac­knowl­edge Roche's strate­gic de­ci­sion in the area of he­pati­tis B, we are op­ti­mistic that our po­tent im­munother­a­py plat­form will make a dif­fer­ence in this glob­al­ly im­por­tant chron­ic vi­ral in­fec­tion, sim­i­lar to what we have demon­strat­ed in HPV-re­lat­ed dis­ease. In­ovio was al­ready man­ag­ing the phase 1 clin­i­cal tri­al so the study will con­tin­ue on track with­out dis­rup­tion.