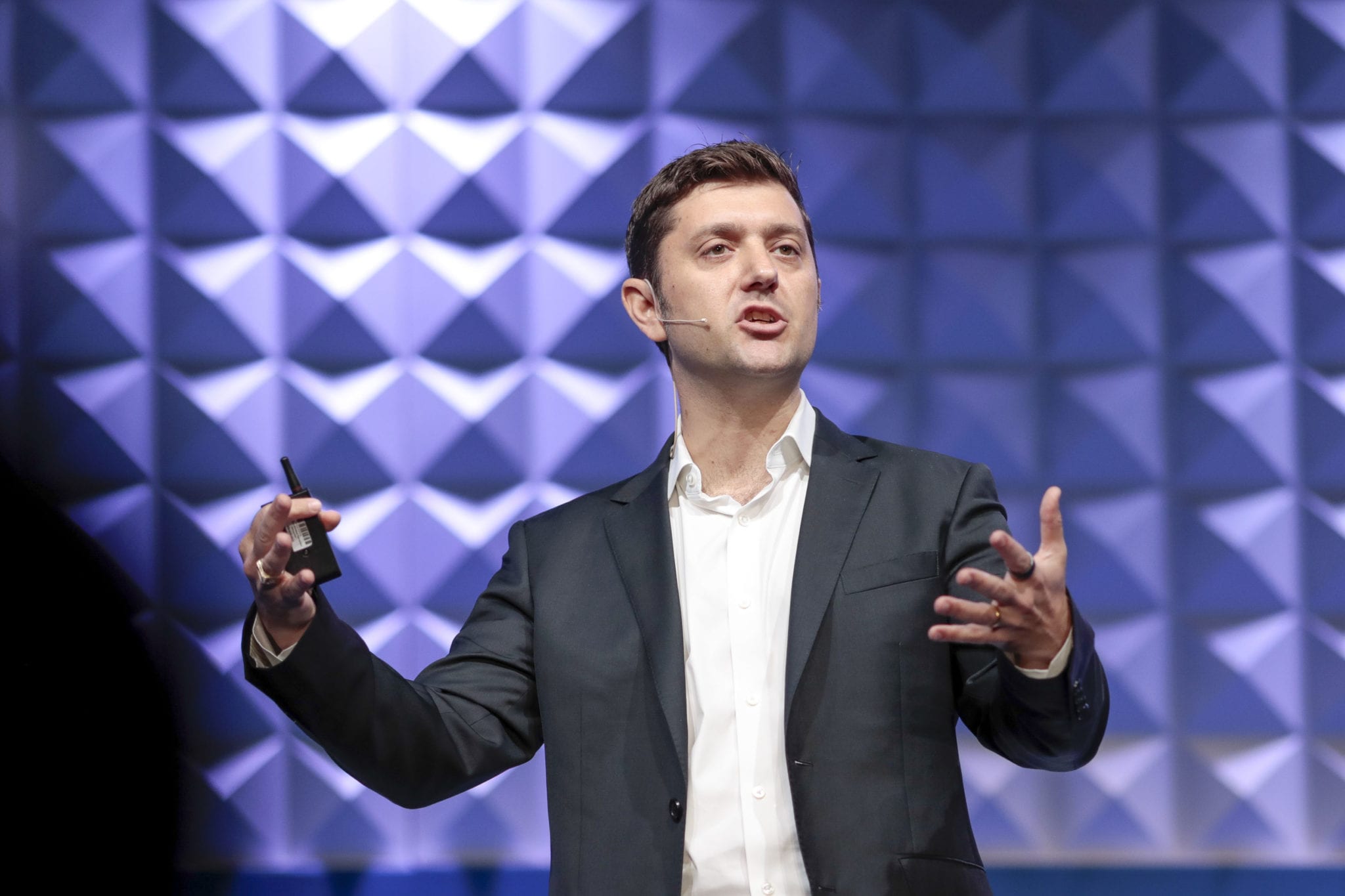 Ginkgo CEO Jason Kelly (Photographer: Kyle Grillot/Bloomberg via Getty Images)
As Gink­go looks to clear its name, the feds have come sniff­ing around on the heels of short sell re­port
A month and a half af­ter a short sell at­tack near­ly brought Gink­go Bioworks' new­ly pub­lic shares to its knees, the com­pa­ny on Mon­day took its largest step to date to­ward clear­ing its name. But it al­so re­vealed it's cur­rent­ly the tar­get of a De­part­ment of Jus­tice probe.
Gink­go re­ceived an "in­for­mal in­quiry" from the DOJ con­nect­ed to the short sell re­port, re­leased last month by hedge fund Scor­pi­on Cap­i­tal, the com­pa­ny said dur­ing Mon­day's third quar­ter earn­ings call. CEO Ja­son Kel­ly told an­a­lysts Gink­go is "co­op­er­at­ing" with reg­u­la­tors, sug­gest­ing the in­ves­ti­ga­tion re­mains on­go­ing.
"Short­ly af­ter the short sell­er re­port comes in, we re­ceived a pre­lim­i­nary in­quiry from the DOJ, in­for­mal," Kel­ly said dur­ing the call, adding lat­er: "There's not too much more I'd add at this point on it."
The dis­clo­sure came in the same breath as Kel­ly say­ing its self-ap­point­ed in­de­pen­dent au­dit found all ac­cu­sa­tions of wrong­do­ing in the re­port to be "un­found­ed." In a fol­low-up email ask­ing for com­ment, a Gingko spokesper­son re­ferred End­points News to Kel­ly's re­marks and the earn­ings press re­lease.
Through spokesper­son Danielle Blevins, the De­part­ment of Jus­tice de­clined to com­ment.
"As a gen­er­al mat­ter, the De­part­ment does not con­firm, de­ny, or oth­er­wise com­ment on the ex­is­tence or non-ex­is­tence of in­ves­ti­ga­tions. We de­cline to com­ment fur­ther," Blevins wrote to End­points in an email.
Though the probe is os­ten­si­bly con­nect­ed to the re­port, it's not yet clear what in­for­ma­tion reg­u­la­tors sought from Gink­go or how broad the scope of the in­quiry is.
Back in Oc­to­ber, Scor­pi­on put out its re­port al­leg­ing Gingko was "a Franken­stein mash-up of the worst frauds of the last 20 years." The hedge fund claimed there was a pat­tern of fraud at Gink­go, with the com­pa­ny fak­ing cus­tomer in­ter­est and over­hyp­ing a plat­form that's seen a his­to­ry of fail­ure with­out any mean­ing­ful IP.
The re­port could not be con­firmed and short sell­ers — and the re­ports they put out — have a cer­tain rep­u­ta­tion about them. At the time, long­time stock com­men­ta­tor Cit­ron Re­search pushed back on the most se­ri­ous claims against Gink­go, say­ing the com­pa­ny us­es "roundtrip trans­ac­tions" to boost rev­enue re­ports but stopped short of call­ing it a "scam."
But it's sim­i­lar to what oc­curred af­ter Scor­pi­on re­leased a sep­a­rate re­port on Berke­ley Lights, send­ing that syn­bio play­er's stock tank­ing as well. And Zymer­gen, the com­pa­ny Scor­pi­on re­ferred to as Gink­go's "Siamese Twin," blew up in spec­tac­u­lar fash­ion ear­li­er this year just months af­ter a mas­sive $500 mil­lion IPO.
Gink­go, too, is fac­ing the re­al­i­ties of be­ing a new­ly pub­lic com­pa­ny, hav­ing tak­en the SPAC route and re­verse merg­ing with Arie Bellde­grun's blank-check com­pa­ny to raise a record $2.5 bil­lion. The deal set Gink­go's mar­ket val­ue at $15 bil­lion, though the stock — trad­ing on Genen­tech's old $DNA tick­er — hasn't moved all that much since the merg­er closed in Sep­tem­ber.
Gink­go shares were down about 2.5% in ear­ly Mon­day trad­ing and are up about 27.5% since the SPAC process wrapped up.
This ar­ti­cle has been up­dat­ed to in­clude Gingko and the De­part­ment of Jus­tice's re­spons­es to End­points' re­quests for com­ment.