In an era where drugmakers and prescription drug managers (PBMs) point fingers at each other when it comes to justifying the reasons behind rising drug prices — the largest US PBM, Express Scripts, on Wednesday released a report indicating that in 2018 employer-sponsored plans paid roughly 6 cents more, on average, for a 30-day prescription (0.4% hike) versus the preceding year, marking the smallest increase in commercial plans in a quarter century.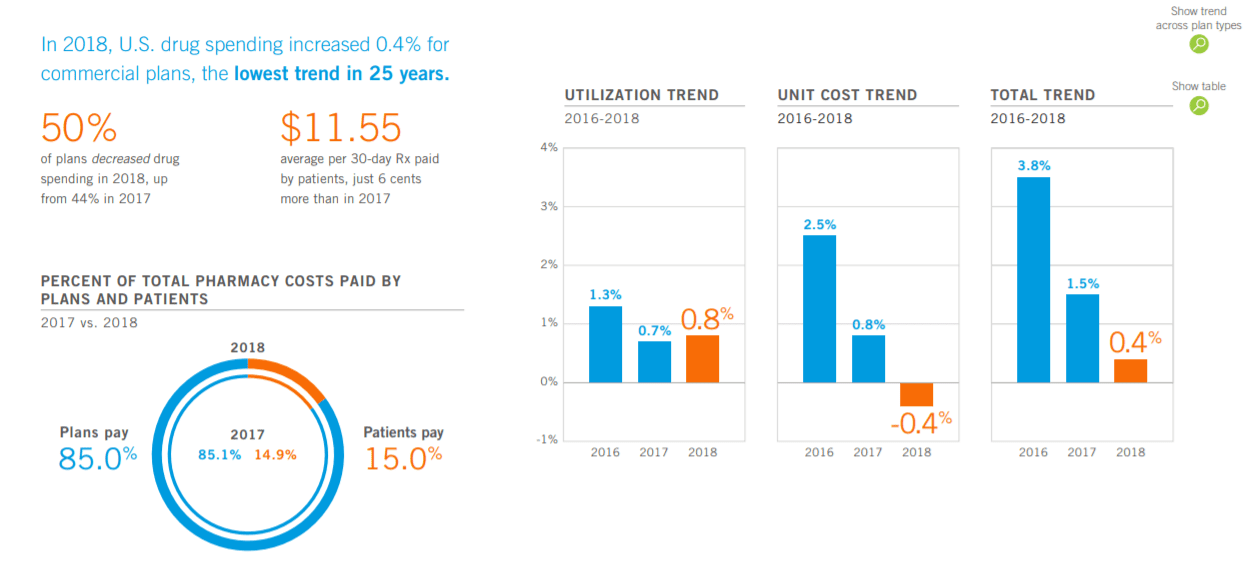 The company analyzed prescription drug use data of roughly 34.2 million members with a pharmacy benefit plan and calculated that it had saved its members $45 billion in prescription drug costs in 2018.
Although spending on traditional, non-specialty medications dipped 5.8%, spending on specialty medications rose 9.4%, Express Scripts said. Drugs for inflammatory conditions such as rheumatoid arthritis and Crohn's disease accounted for the costliest therapy class for the third consecutive year, costing employers $174.45 per member per year in 2018, up 14% from 2017, it added. Globally, AbbVie's inflammatory drug Humira — the world's best-selling medicine — generated nearly $20 billion in 2018 sales.
Diabetes was the second costliest therapy class for employers at $114.85 per member per year, an increase of 4.1% over 2017, the company said, adding that spending on insulin, which accounts for 15.3% of diabetes prescriptions, rose 0.3% in 2018 (a 1.5% decline in unit costs and a 1.8% rise in utilization). Anecdotal reports of diabetics rationing or forgoing life-saving insulin in the United States are on the rise.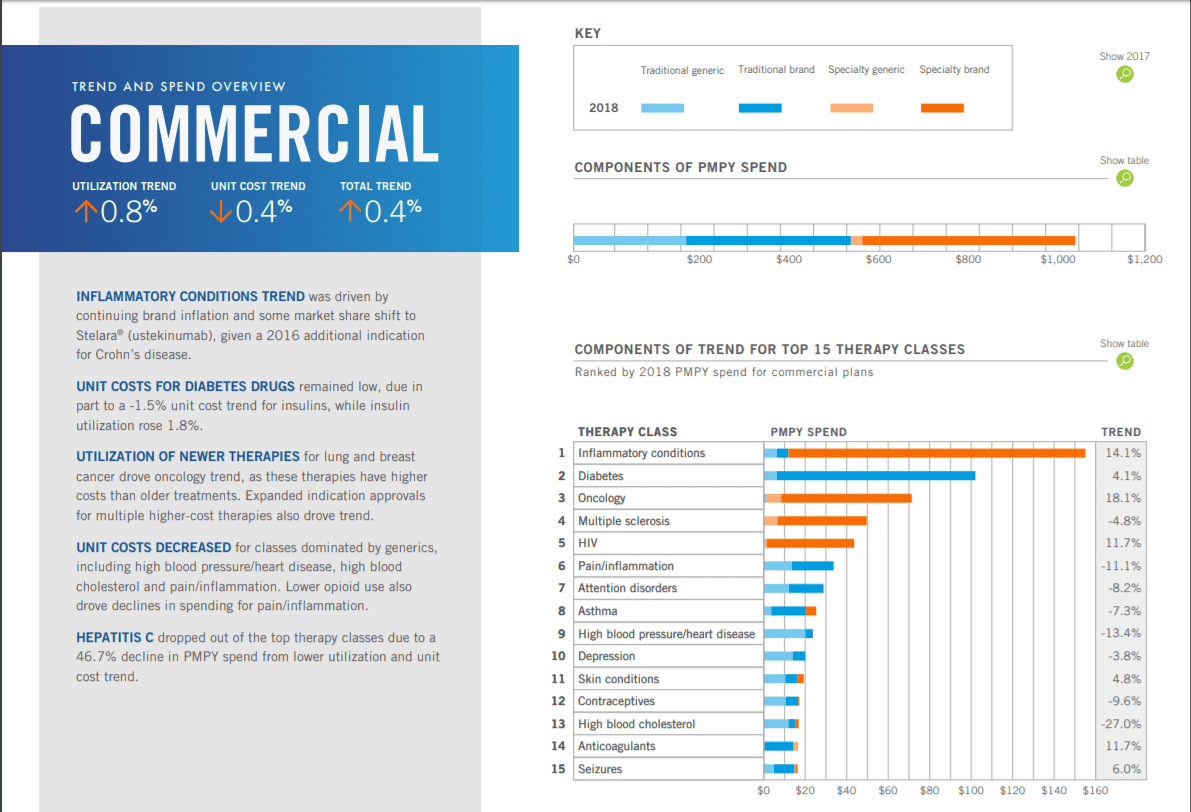 For a long time drugmakers justified their policy of sustained drug price hikes on the heavy cost of innovation. However, as PBMs increasingly threaten to exclude treatments from formularies — unless they manage to negotiate a discount satisfactory to their demands — drugmakers in response have boosted rebates, and in turn hiked prices in order to maintain their cut of sales.
Despite list price inflation of 7.3% for the most commonly used traditional brand medications in 2018, costs for such drugs dipped 6.5% for its employer-sponsored plans, Express Scripts said.
The company has driven a 0.4% decline in drug unit costs by steering members to lower cost therapies, and by securing deeper discounts from manufacturers and pharmacies, it said, adding that about half of commercial plans saw a fall in per member drug spending, and a 0.3% decline across Medicare plans.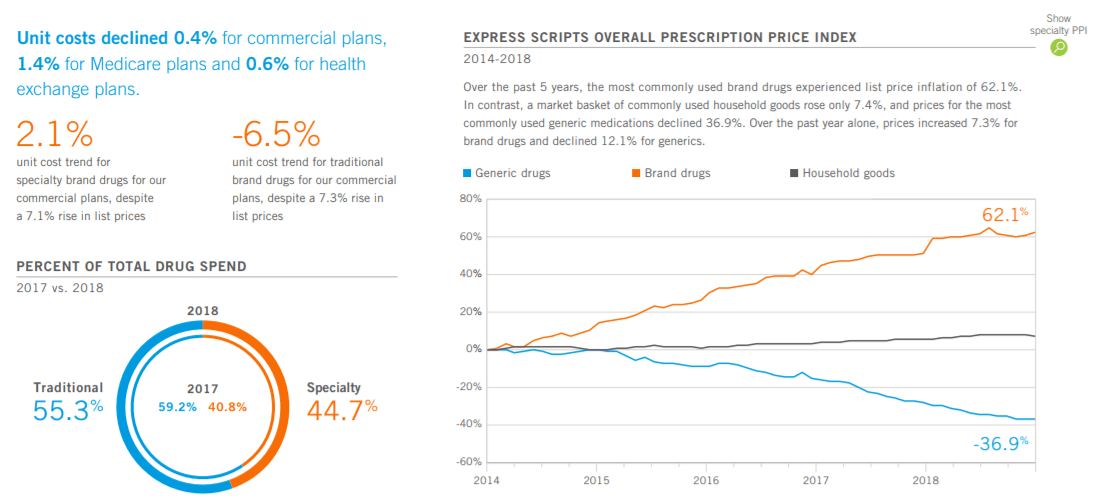 Twenty five years ago, the era of blockbuster drugs was taking off, characterized by mid-to-high-double-digit annual increases in drug spending, the company said, noting that today we are in the age of breakthrough treatments with "break-the-bank pricing."
"We expect manufacturers of high-priced specialty drugs, which currently consume half of all drug spending, to continue to raise prices faster than core inflation. And we expect the contentious public policy debate on how to make prescription medicine, and especially insulin and other biologics, more affordable for the uninsured and underinsured to continue," the company said, forecasting an annual drug trend of 2% for the next three years.
Data increasingly suggest that pricing is contributing to a smaller slice of biopharma growth than ever before. In a note published earlier this week, Leerink's Geoffrey Porges said "positive list pricing has contributed at least two thirds of industry growth in recent years and this contribution appears to be fading, if not disappearing…in many striking cases we are seeing significant absolute reductions in price, which was previously unthinkable for this industry." For example, PCSK9 antibodies by Amgen as well as partners Sanofi and Regeneron have recently seen heavy discounts, while CGRP antibodies from Teva, Lilly as well as partners Amgen and Novartis have taken a largely conservative approach to pricing.
Drug pricing has emerged as a bipartisan issue and a host of lawmakers, including those representing the Trump administration, have proposed a number of solutions to lower the burden of drug costs on consumers.
---
Slides from Express Scripts report
---
The best place to read
Endpoints News

? In your inbox.

Comprehensive daily news report for those who discover, develop, and market drugs. Join 47,100+ biopharma pros who read Endpoints News by email every day.

Free Subscription
---
---
---