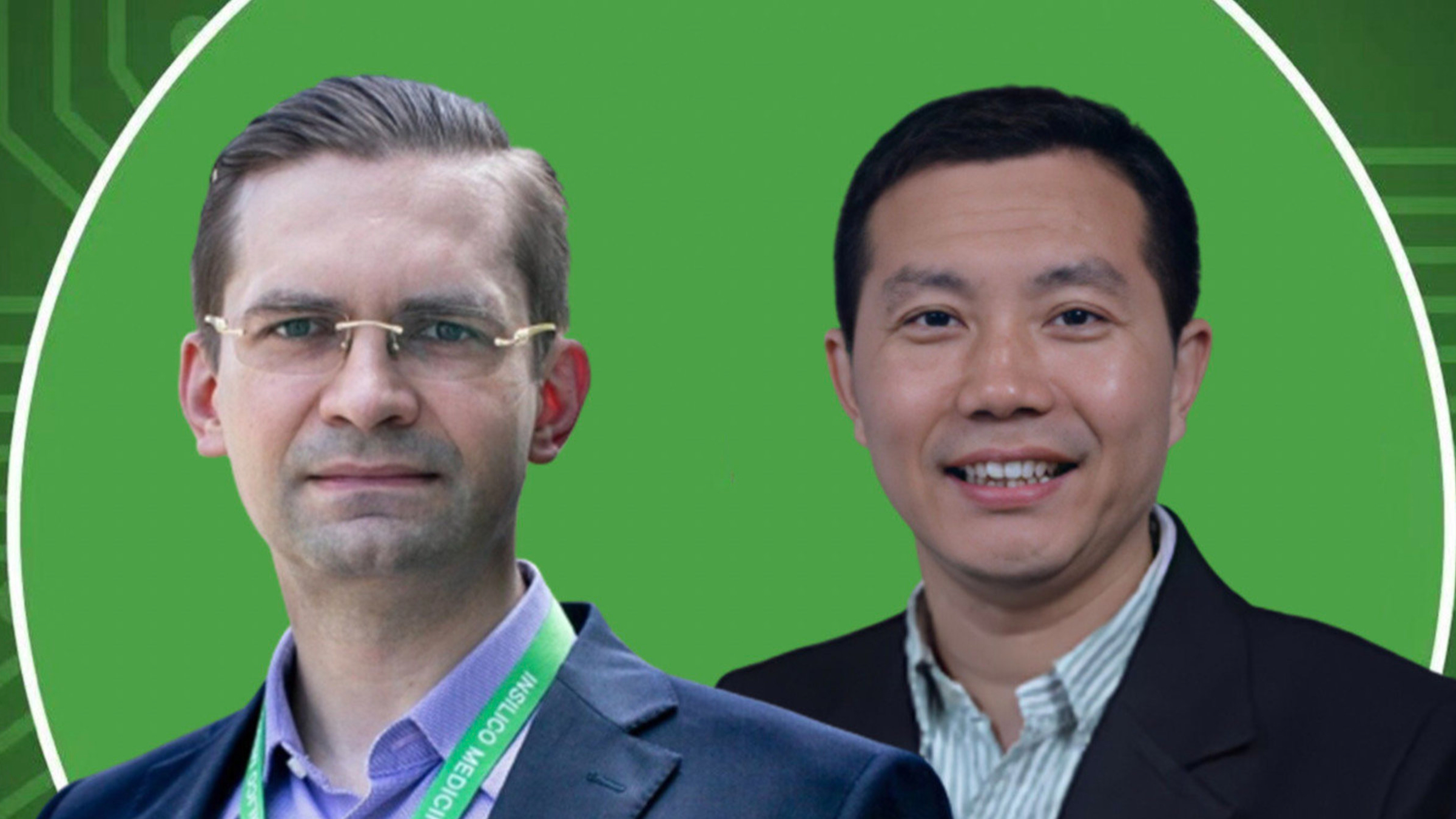 Alex Zhavoronkov and Feng Ren, Insilico co-CEOs
As their first clin­i­cal da­ta test looms, glob­al AI play­er In­sil­i­co bumps up a GSK vet to co-CEO in charge of de­vel­op­ment
Days af­ter top­ping up In­sil­i­co Med­i­cine's cash re­serves with a $60 mil­lion round, the glob­al AI play­er is re­design­ing its ex­ec­u­tive struc­ture with an un­usu­al twist as it shifts from pure drug de­sign and dis­cov­ery and builds out the pipeline with clin­i­cal stage as­sets.
A lit­tle more than a year af­ter step­ping in as the CSO, Feng Ren, the Har­vard grad and GSK vet with ex­pe­ri­ence in Philadel­phia and Shang­hai, is step­ping up to a co-CEO role. He'll be in charge of the de­vel­op­ment work, as they start test­ing more of their drugs in hu­mans and put their promise of a more ef­fi­cient ap­proach to drug hunt­ing to the ul­ti­mate test.
He'll be op­er­at­ing along­side Alex Zha­voronkov, the al­ways out­spo­ken com­pa­ny founder who's cham­pi­oned all things AI, with new ro­bot­ics op­er­a­tions be­ing added to the dis­cov­ery mix as they raised more than $300 mil­lion in new mon­ey over the past year. Zha­voronkov stays in charge of the AI side of things.
He of­fered a thumbs up to his new "co-cap­tain," promis­ing to set new records in speed­ing drugs in­to the clin­ic.
The move comes as In­sil­i­co push­es to­ward a promised Phase II for their fi­bro­sis drug and looks to add more to the pipeline as they ad­vance their pre­clin­i­cal work. Af­ter years of tout­ing the po­ten­tial of AI, the in­dus­try is get­ting to the point where hu­man da­ta will pro­vide hard proof for an in­dus­try niche that has at­tract­ed bil­lions in in­vest­ment. And In­sil­i­co is in the front ranks of that trend, poised to start of­fer­ing an ob­jec­tive grade on their ef­forts.
"We are at a piv­otal mo­ment. We have a clin­i­cal pro­gram, and we are hope­ful that many oth­er pro­grams will soon reach the clin­i­cal stage. We are al­so in the process of es­tab­lish­ing a ful­ly au­to­mat­ed AI-dri­ven ro­bot­ics lab, a cut­ting-edge tech­nol­o­gy to ac­cel­er­ate our drug R&D," says Ren.
That will like­ly leave both CEOs with plen­ty on the to-do list.