AS­CO star, backed by bil­lion­aires, goes to Astel­las in $1.4 bil­lion buy­out
Among the galaxy of on­col­o­gy play­ers that showed up at AS­CO last sum­mer to boast about their progress or lay claims to bright fu­tures, few de­liv­ered the re­al goods as well as overnight star Ganymed.
The lit­tle-known Ger­man biotech grabbed the spot­light at the big con­fer­ence with IMAB362, which wrapped a mid-stage study show­ing it "can sig­nif­i­cant­ly ex­tend me­di­an sur­vival when added to stan­dard chemother­a­py—13.2 months vs. 8.4 months—for pa­tients with ad­vanced gas­tric can­cer." This ther­a­py is the first drug that tar­gets a pro­tein called claudin18.2, and sub­jects in the 161-pa­tient study with the high­est lev­els of claudin18.2 had a sig­nif­i­cant­ly longer me­di­an over­all sur­vival rate: 16.7 months.
To­day, it all be­longs to Astel­las, in­clud­ing the Phase III piv­otal study ahead. The Japan­ese phar­ma has swooped in to buy Ganymed for $460 mil­lion in cash and $937 mil­lion in mile­stones. The Mainz, Ger­many-based com­pa­ny will now be­come a sub­sidiary of Astel­las, which is look­ing to build on its block­buster suc­cess with the prostate can­cer drug Xtan­di, now part­nered with Pfiz­er af­ter its $14 bil­lion buy­out of Medi­va­tion.
Much of that wind­fall from Astel­las will go to iden­ti­cal twin bil­lion­aires Thomas and An­dreas Strüng­mann, who found­ed the big gener­ics com­pa­ny Hexal and sold it to No­var­tis ($NVS) for $7.5 bil­lion. The broth­ers — who have backed a string of Ger­man biotechs with their mon­ey — helped Ganymed raise $60 mil­lion (€45 mil­lion) in a ven­ture round back in 2013, bring­ing the to­tal at the time to $148 mil­lion. MIG Fond and FCPB Gany GmbH al­so put up part of the ven­ture funds.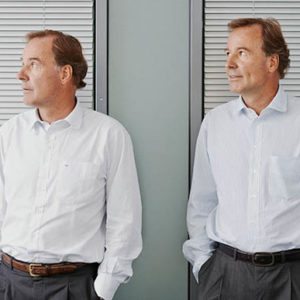 An­dreas and Thomas Strüng­mann (via Te­gernseer­Stimme)
On­col­o­gy has at­tract­ed bil­lions of dol­lars of new in­vest­ments over the last few years, of­ten trig­ger­ing a scram­ble among promi­nent play­ers to hit the same tar­get. But Ganymed has man­aged to emerge in this field as a clear leader.
Claudin18.2 is a mem­ber of a fam­i­ly of pro­teins that plays a cru­cial role in cre­at­ing "tight junc­tions" in cells, gov­ern­ing para­cel­lu­lar bar­ri­ers. In tu­mors, though, these tight junc­tions be­come dis­rupt­ed, scram­bling their cel­lu­lar role. And the same tar­get can be found in oth­er tu­mors, in­clud­ing pan­cre­at­ic, lung, esophageal and ovar­i­an.