#AS­CO18: Bris­tol-My­ers takes an­oth­er stab at a pos­i­tive im­pres­sion for Check­Mate-227
CHICA­GO — Af­ter get­ting snubbed at AACR in its show­down with Mer­ck over front­line lung can­cer, Bris­tol-My­ers Squibb is back at AS­CO with up­dat­ed da­ta on its check­point star Op­di­vo in com­bi­na­tion with chemo as well as a low dose of the CT­LA-4 drug Yer­voy. And it's like­ly to still face an up­hill climb against the skep­tics.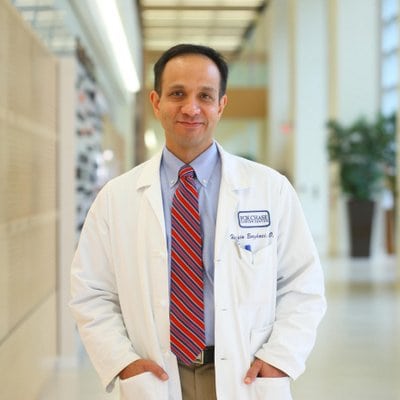 Hos­sein Borghaei
That check­point plus chemo com­bo — where Mer­ck has been reign­ing supreme — came in with a haz­ard ra­tio of 0.74 among pa­tients with less than 1% PD-L1 ex­pres­sion. And the Op­di­vo/Yer­voy com­bo did bet­ter on pro­gres­sion-free sur­vival at this stage of the 1b por­tion of Check­Mate-227 when pa­tients are win­nowed down by the size of their tu­mor mu­ta­tion bur­den.
Us­ing its own de­f­i­n­i­tion for high tu­mor mu­ta­tion bur­den, re­searchers found that 45% of the Op­di­vo/Yer­voy group achieved a one-year cut­off for pro­gres­sion-free sur­vival, fol­lowed by 27% for the chemo com­bo and 8% with chemo. Pa­tients who fell be­low the TMB cut­off did much worse, with 18% and 16% one-year PFS rates.
"Re­sults show Op­di­vo plus chemother­a­py im­proved pro­gres­sion-free sur­vival ver­sus chemother­a­py in first-line lung can­cer pa­tients whose tu­mors do not ex­press PD-L1," said study in­ves­ti­ga­tor Hos­sein Borghaei in a state­ment. "Tak­en to­geth­er with the to­tal­i­ty of Check­Mate – 227 da­ta pre­sent­ed to date, the re­sults re­in­force that TMB sta­tus pro­vides clin­i­cal­ly rel­e­vant in­for­ma­tion for Op­di­vo-based com­bi­na­tions and that Op­di­vo plus low-dose Yer­voy pro­vid­ed durable ef­fi­ca­cy in pa­tients with high TMB."
An­a­lysts, though, have con­tin­ued to cheer on Mer­ck's ri­val Keytru­da ef­fort, pre­fer­ring the check­point/chemo com­bo that now dom­i­nates the treat­ment of front­line can­cer. The idea of adding a test on TMB, ac­cept­ing it as a new qual­i­fi­er for pa­tients, isn't sit­ting well with the key opin­ion lead­ers on the in­vest­ment front. And there's been con­sid­er­able grum­bling over the way that Bris­tol-My­ers has re­designed '227, even though this time the da­ta con­tin­ues to fall in­to the promis­ing cat­e­go­ry.
Bris­tol-My­ers gained an ear­ly edge in the com­pe­ti­tion with Mer­ck. But Mer­ck's re­search team un­der Roger Perl­mut­ter gets top marks for avoid­ing the mis­steps that tripped up Bris­tol-My­ers on lung can­cer, a huge mar­ket for this cat­e­go­ry of drug.