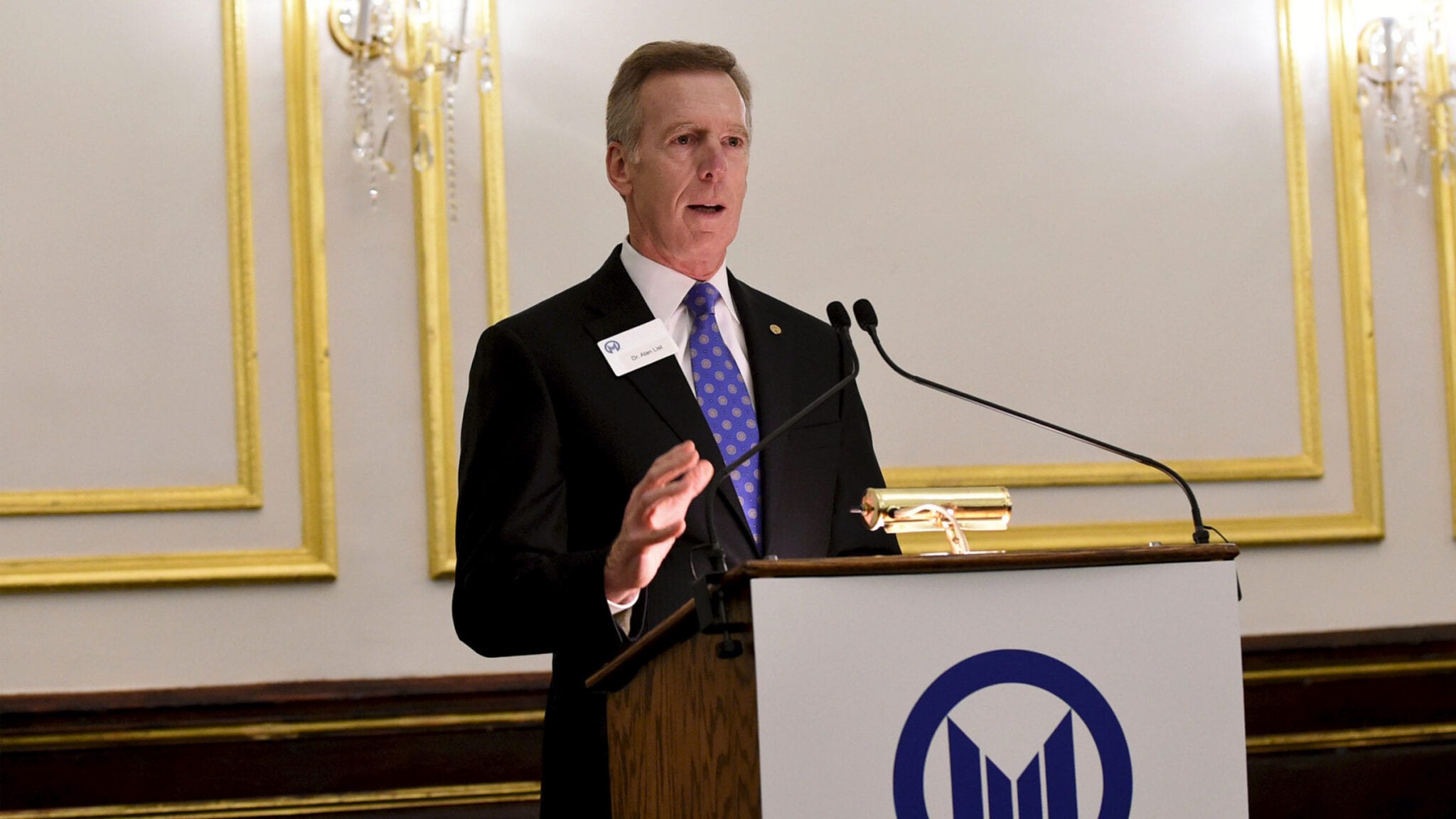 Precision CMO Alan List (Diane Bondareff/AP Images for Moffitt Cancer Center)
ASH: An­oth­er 'off-the-shelf' cell ther­a­py leader shows dura­bil­i­ty is­sues, rais­ing re­newed con­cerns about emerg­ing field
The next gen­er­a­tion of cell ther­a­pies have fo­cused in large part on the de­vel­op­ment of al­lo­gene­ic — bet­ter known as "off-the-shelf — drugs that can cut man­u­fac­tur­ing times and hope­ful­ly evade a pa­tient's im­mune sys­tem. One of the ear­ly play­ers in that race has new da­ta at #ASH21 that show deep re­spons­es but will al­so raise fresh con­cerns about these ther­a­pies' dura­bil­i­ty.
Pre­ci­sion Bio­sciences' PB­CAR0191, a CD19-di­rect­ed al­lo­gene­ic CAR-T cell ther­a­py, post­ed a com­plete re­sponse rate of 59% in 22 heav­i­ly pre­treat­ed pa­tients with var­i­ous forms of re­lapsed or re­frac­to­ry non-Hodgkin's lym­phoma and acute lym­pho­cyt­ic leukemia, six of whom had pre­vi­ous­ly re­ceived an au­tol­o­gous CAR-T be­fore dos­ing, the biotech said.
At a Nov. 16 da­ta cut­off, PB­CAR0191 spurred an over­all re­sponse rate of 73% in that ear­ly Phase I/II cut, well in line with cur­rent-gen­er­a­tion CAR-Ts, but dura­bil­i­ty con­cerns in this da­ta set will like­ly raise eye­brows on Pre­ci­sion's chance to up­set cur­rent CAR-T and re­new con­cerns about the field on the whole.
Among the 17 evalu­able NHL pa­tients in this study, most re­spon­ders re­lapsed be­fore hit­ting the six-month mark, shut­ting down the drug's chances as a one-time in­fu­sion for most pa­tients.
On the safe­ty front, PB­CAR0191 post­ed no se­ri­ous cy­tokine re­lease syn­drome events and just one Grade 3 neu­ro­tox­i­c­i­ty side ef­fect. There was one in­fec­tious death that in­ves­ti­ga­tors said was pos­si­bly re­lat­ed to treat­ment.
It's a re­sult that mir­rors read­outs from Pre­ci­sion's near­est com­peti­tors Al­lo­gene and CRISPR Ther­a­peu­tics, both of which pre­vi­ous­ly un­corked da­ta for their own al­lo­gene­ic CAR-Ts show­ing ques­tions over dura­bil­i­ty. Pre­ci­sion did tout da­ta in a small co­hort of pa­tients who had pre­vi­ous­ly re­ceived an au­tol­o­gous CAR-T, say­ing their dura­bil­i­ty of re­sponse was longer than on that pri­or ther­a­py, but it's hard not to see PB­CAR0191's un­der­whelm­ing re­sults as an ap­pe­tiz­er in­to Pre­ci­sion's move in­to even more next-gen tech with a "stealth" CAR-T dubbed PB­CAR19B.
Pre­ci­sion un­corked very ear­ly Phase I da­ta for that drug this week­end too, which us­es gene edit­ing to knock down be­ta-2 mi­croglob­u­lin, an MHC mol­e­cule that trig­gers a graft vs. host re­sponse, and in­sert an HLA-E trans­gene to evade re­jec­tion from pa­tients' nat­ur­al killer cells.
A Phase I study in re­lapsed/re­frac­to­ry NHL is en­rolling now, and Pre­ci­sion ex­pects da­ta by the mid­dle of next year, CMO Alan List said in a state­ment.
Mean­while, this week­end Pre­ci­sion al­so rolled out new da­ta for its al­lo­gene­ic BC­MA-di­rect­ed CAR-T can­di­date PB­CAR269A show­ing the drug couldn't top au­tol­o­gous CAR-T in terms of ef­fi­ca­cy in a Phase I/IIa tri­al. Pre­ci­sion will now push a com­bi­na­tion ap­proach with this drug along­side nirogace­s­tat, a gam­ma sec­re­tase in­hibitor from Spring­Works Ther­a­peu­tics, with da­ta ex­pect­ed by the mid­dle of next year.