#ASH17: Ab­b­Vie, Roche boast stel­lar PhI­II leukemia da­ta for a "break­through" com­bo with block­buster am­bi­tions
Ab­b­Vie and Roche rolled out the full bat­tery of im­pres­sivePhase III da­ta for their com­bi­na­tion of Ven­clex­ta and Rit­ux­an, mak­ing a case at ASH that they've nailed down all the da­ta need­ed to prove it should be used for sec­ond line cas­es of chron­ic lym­pho­cyt­ic leukemia.
And the soon­er the bet­ter.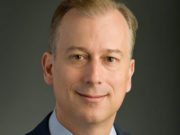 Michael Sev­eri­no
Their matchup hand­i­ly beat out the stan­dard CLL com­bo of ben­damus­tine and Rit­ux­an on both pro­gres­sion-free sur­vival as well as com­plete re­spons­es. The 24-month PFS rate hit 84.9% for the Ab­b­Vie $AB­BV/Roche $RHH­BY com­bo against 36.3% for chemo/Rit­ux­an. And the com­plete re­sponse rate — no sign of the dis­ease — reg­is­tered at 26.8% against 8.2%.
The haz­ard ra­tio was 0.17. The me­di­an PFS rate had not been hit yet when the re­view com­mit­tee opt­ed to un­blind the re­sults.
That all fits with Ge­of­frey Porges' the­o­ry that the com­bo is on a short path to break­ing out of a small, bio­mark­er de­fined set of pa­tients for the full sec­ond-line set­ting. (Fur­ther down the road the phar­ma part­ners hope to add front­line ap­proval for CLL.) Leerink's Porges is look­ing for a 2018 OK and $690 mil­lion in 2019 sales, with Eval­u­ate peg­ging con­sen­sus peak es­ti­mates at around $3 bil­lion.
This is all good news for Ab­b­Vie, which is in the busi­ness of build­ing new fran­chise ther­a­peu­tics that can even­tu­al­ly with­stand gener­ic com­pe­ti­tion in the US to Hu­mi­ra — though that ap­pears to still be a few years away. Roche has more im­me­di­ate is­sues with gener­ics that will be helped by its part­ner­ship with Ab­b­Vie.
"The da­ta from the MU­RA­NO tri­al rep­re­sents the next evo­lu­tion in a po­ten­tial treat­ment op­tion for pa­tients with re­lapsed/re­frac­to­ry CLL, an in­di­ca­tion for which we re­ceived Break­through Ther­a­py Des­ig­na­tion," said Michael Sev­eri­no, ex­ec­u­tive vice pres­i­dent, re­search and de­vel­op­ment, and chief sci­en­tif­ic of­fi­cer, Ab­b­Vie. "We are proud to present these find­ings at the ASH an­nu­al meet­ing and are work­ing close­ly with reg­u­la­to­ry au­thor­i­ties to bring this com­bi­na­tion ther­a­py to ap­pro­pri­ate pa­tients as soon as pos­si­ble."