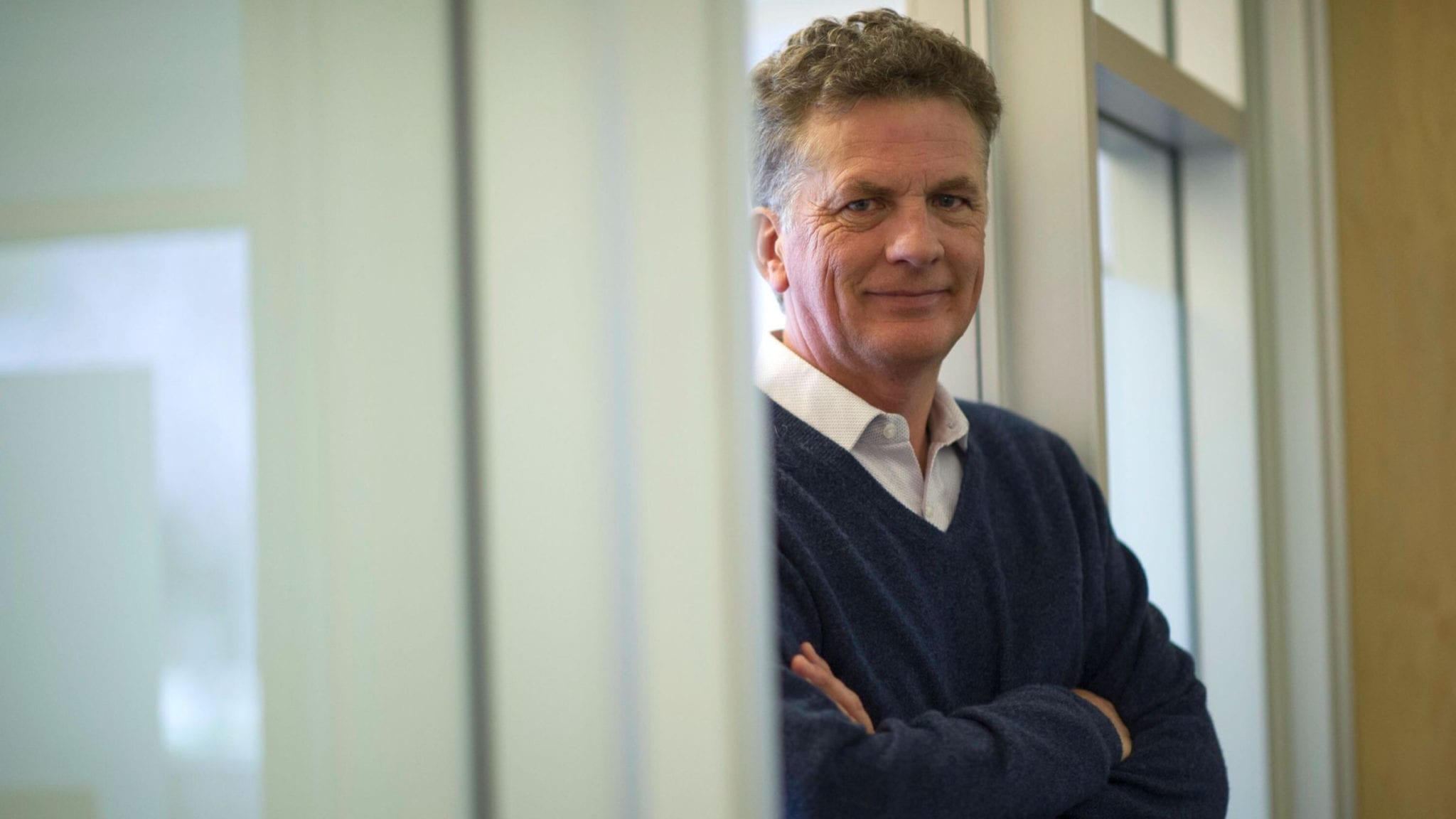 John McHutchison, Assembly Biosciences CEO (Getty Images)
As­sem­bly Bio's he­pati­tis B pro­gram flops as a po­ten­tial cure in PhII, send­ing shares spi­ral­ing
Look­ing for a he­pati­tis B cure, As­sem­bly Bio­sciences $ASMB has struck out in a Phase II.
The South San Fran­cis­co-based com­pa­ny an­nounced Thurs­day af­ter­noon that its lead ex­per­i­men­tal drug ve­bi­corvir, in com­bi­na­tion with nu­cle­o­side ther­a­py, could not keep pa­tients dis­ease-free af­ter stop­ping treat­ments. In to­tal, 39 of the 41 in­di­vid­u­als in the open-la­bel study re­lapsed, as the reg­i­men failed to achieve a mean­ing­ful sus­tained vi­ro­log­ic re­sponse.
In­vestors did not take too kind­ly to the news, ham­mer­ing the biotech's share prices af­ter the bell. As­sem­bly's stock dropped as much as 40% on Thurs­day evening but has since lev­eled off to down about 35%.
The He­pati­tis B pa­tients in­volved in As­sem­bly's Phase II gen­er­al­ly re­quire treat­ments for the rest of their lives. As­sem­bly's the­o­ry went that if they could show enough of a pro­longed re­sponse af­ter tak­ing pa­tients off the pro­gram, which is sep­a­rate­ly be­ing stud­ied as a chron­ic sup­pres­sive ther­a­py, then it could ef­fec­tive­ly func­tion as a cure.
In or­der to find that out, As­sem­bly treat­ed their pa­tients with the com­bi­na­tion ther­a­py for 12 to 18 months. Fol­low­ing that pe­ri­od, re­searchers stopped the treat­ments and eval­u­at­ed the 41 pa­tients every four weeks to see whether or not the com­bo was ef­fec­tive enough at pre­vent­ing a re­lapse af­ter an ex­tend­ed pe­ri­od of time.
But 33 of the 41 pa­tients saw their he­pati­tis B re­turn af­ter the first four-week eval­u­a­tion. By the 16-week mark, an­oth­er six pa­tients re­lapsed. As­sem­bly had been look­ing for an SVR rate of at least 15% af­ter 24 weeks, but Thurs­day's re­sults equate to a rate of less than 5%.
Though Thurs­day's re­sults are in­deed a neg­a­tive, As­sem­bly's com­bo still has po­ten­tial as a chron­ic ther­a­py, Baird's Bri­an Sko­r­ney wrote in a note to in­vestors. See­ing that the near-term cure play is now "off the ta­ble," Sko­r­ney says As­sem­bly can ef­fec­tive­ly piv­ot to­ward that path, but notes the up­side is much more lim­it­ed.
"Al­though the busi­ness op­por­tu­ni­ty for a chron­ic ther­a­py for He­pati­tis B is much less at­trac­tive than a cu­ra­tive reg­i­men, we still see it as a rea­son­able busi­ness," Sko­r­ney wrote.
Should As­sem­bly take that route, Sko­r­ney pre­dicts the ther­a­py could reach any­where be­tween $500 mil­lion and $1 bil­lion in an­nu­al sales.
As­sem­bly has pre­vi­ous­ly tak­en steps to turn that in­to a re­al­i­ty, ink­ing a $540 mil­lion deal with BeiGene in Ju­ly to take the ve­bi­corvir and nu­cle­o­side com­bo in­to a Phase III for chron­ic sup­pres­sion of He­pati­tis B. The tri­al is ex­pect­ed to be­gin some­time in the first half of next year, and will in­clude a group of pa­tients who have seen on­ly par­tial vi­ral sup­pres­sion af­ter a year or more of nu­cle­o­side monother­a­py.
The com­pa­ny is al­so look­ing in­to whether ve­bi­corvir could still cure he­pati­tis B in a triple ther­a­py con­coc­tion. In Au­gust, As­sem­bly hooked on­to a deal with Ar­bu­tus Bio­phar­ma and plans to launch the first Phase II next year that com­bines ve­bi­corvir, nu­cle­o­side treat­ment and Ar­bu­tus' RNAi ther­a­peu­tic for the dis­ease. Sko­r­ney notes the com­pa­nies are still in the ear­ly de­vel­op­men­tal stages, how­ev­er.