As­traZeneca ax­es an­oth­er R&D track on dur­val­um­ab af­ter once again falling be­hind ri­vals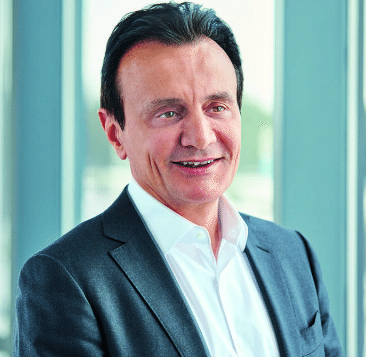 As­traZeneca CEO Pas­cal So­ri­ot
It's not easy be­ing fourth.
The R&D team at As­traZeneca had thought that its sin­gle-arm study for its Phase II tri­al of the PD-L1 check­point dur­val­um­ab might have of­fered a short­cut to an ap­proval for sec­ond-line head and neck can­cer. But Mer­ck eas­i­ly beat them to the mar­ket with Keytru­da for head and neck with a nod in Au­gust and now Bris­tol-My­ers is breath­ing down its neck in the hope that they can cat­a­pult ahead — which would be wel­come af­ter the em­bar­rass­ing lung can­cer de­ba­cle.
So now As­traZeneca says it is scrap­ping plans to file for an ear­ly ap­proval in the in­di­ca­tion, un­like­ly to find reg­u­la­tors in­ter­est­ed in speed­ing an OK. Da­ta are ex­pect­ed this quar­ter, but don't look for any quick pub­lic dis­cus­sion of what in­ves­ti­ga­tors found. The da­ta will be for in­ter­nal dis­cus­sion on­ly, and in "due course," ac­cord­ing to As­traZeneca's Q3 wrap-up.
That leaves As­traZeneca play­ing catch-up with three com­bi­na­tion stud­ies in head and neck can­cer, adding the CT­LA-4 treat­ment treme­li­mum­ab with dur­val­um­ab. But the R&D team has run in­to a de­lay here as well af­ter the FDA opt­ed to drop a par­tial hold on the com­bos a cou­ple of weeks ago.
The par­tial hold was in­sti­tut­ed af­ter in­ves­ti­ga­tors tracked bleed­ing events in the Phase III pro­gram. But the com­pa­ny cau­tions that all oth­er stud­ies in oth­er can­cers are pro­ceed­ing as planned, not­ing that such bleed­ing events are not un­usu­al in head and neck can­cer.
That said, As­traZeneca can ill af­ford any de­lays in the de­vel­op­ment of dur­val­um­ab/treme­li­mum­ab now. The com­pa­ny al­ready de­layed its de­vel­op­ment time­line for the check­point in­hibitor to al­low for com­bi­na­tion stud­ies, which As­traZeneca is count­ing on to make a splash with a late ar­rival in the field.
Now its chief hope in the field lies in get­ting its com­bo ap­proach to reg­u­la­tors for first-line non-small cell lung can­cer, ahead of a com­bi­na­tion of Op­di­vo and Yer­voy from Bris­tol-My­ers. The first piv­otal late-stage da­ta are ex­pect­ed in H1 2017.
It's been a rough year for As­traZeneca, which has suf­fered a string of set­backs in 2016. And it's not get­ting any eas­i­er. Mer­ck, Bris­tol-My­ers and Roche all beat the com­pa­ny to the mar­ket with im­pres­sive check­points, and the Pfiz­er/Mer­ck KGaA team is al­so play­ing catch-up as well.
As­traZeneca al­so out­lined the lat­est round of pro­grams to get cut out of the pipeline to­day. The scrap heap list in­clud­ed inebi­lizum­ab, its an­ti-CD19 an­ti­body, for dif­fuse large B cell lym­phoma, ME­DI3617 — a se­lec­tive an­giopoi­etin-2 in­hibitor — for sol­id tu­mors and cedi­ranib for PSR ovar­i­an can­cer. Back in Sep­tem­ber As­traZeneca pulled its ap­pli­ca­tion at the EMA for cedi­ranib, say­ing that reg­u­la­tors had some dif­fer­ing opin­ions on the drug's safe­ty/ben­e­fit ra­tio.
As­traZeneca CEO Pas­cal So­ri­ot prefers to sweep away set­backs in foot­notes, re­serv­ing the head­line treat­ment for new pipeline ad­vances. To­day, though, the im­pact of gener­ic com­pe­ti­tion con­tin­ued to sav­age the phar­ma gi­ant's rev­enue num­bers, set­ting a bleak back­ground for So­ri­ot's trade­mark R&D bull­ish­ness. The com­pa­ny has scored sig­nif­i­cant progress with two new can­cer drugs, Tagris­so and Lyn­parza, but the com­pa­ny is not mak­ing near­ly the progress it promised in­vestors when So­ri­ot fend­ed off a takeover at­tempt by Pfiz­er. As­traZeneca al­so post­ed $674 mil­lion in rev­enue from ex­ter­nal­iza­tion deals done on as­sets that have ei­ther failed to mea­sure up in the clin­ic or no longer fit the com­pa­ny's com­mer­cial/R&D fo­cus, which leans heav­i­ly on dur­val­um­ab.