As­traZeneca bets cau­tious­ly on on­colyt­ic virus dis­cov­ery pro­gram, out­lin­ing $13M deal with Trans­gene
Mount­ing a pre­lim­i­nary ef­fort to catch up with oth­er phar­ma gi­ants in the on­colyt­ic virus space, As­traZeneca has found a part­ner in France's Trans­gene.
In the deal, the biotech — which is al­ready al­lied with Bris­tol-My­ers Squibb and Pfiz­er/Mer­ck KGaA on com­bi­na­tion pro­grams with its in-house ther­a­peu­tic vac­cines — will come up with five new armed on­colyt­ic vac­cinia virus can­di­dates. As­traZeneca is start­ing small with $10 mil­lion up­front and just $3 mil­lion in pre­clin­i­cal suc­cess mile­stones, but promis­es an undis­closed li­cense fee for each clin­i­cal can­di­date they ul­ti­mate­ly de­cide to co-de­vel­op.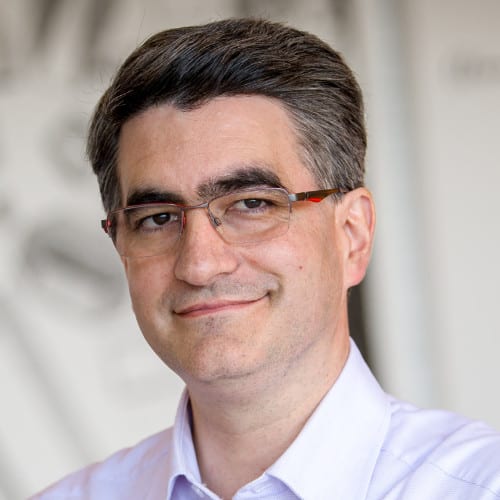 Jean-Charles So­ria
The phar­ma gi­ant $AZN will al­so be able to choose the trans­genes to be en­cod­ed with­in the virus, a key ad­di­tion that pro­vides added fire­pow­er to the im­mune sys­tem against the tu­mor.
Long rec­og­nized as a tool to di­rect­ly kill can­cer cells, on­colyt­ic virus­es gained trac­tion in re­cent years af­ter re­search sug­gests that by burst­ing can­cer cells and re­leas­ing anti­gens with­in, they can al­so trig­ger an im­mune re­sponse. That makes them a po­tent im­munother­a­pies on its own as well as an ide­al pair­ing agent for the next gen­er­a­tion of I/O com­bos.
As­traZeneca first got its hands on an on­colyt­ic virus in 2015 when it inked a li­cens­ing agree­ment with Om­nis Phar­ma­ceu­ti­cals (now Vyr­i­ad), but it told Bio­Cen­tu­ry that "there are cur­rent­ly no on­go­ing AZ-spon­sored clin­i­cal tri­als of the can­di­date."
Jean-Charles So­ria, SVP of As­traZeneca's new­ly named on­col­o­gy unit, added they have "an ex­cit­ing port­fo­lio of mol­e­cules that we be­lieve may aug­ment on­colyt­ic virus ac­tiv­i­ty."
Oth­er big play­ers such as Mer­ck, J&J, Pfiz­er and Boehringer have each bagged or seed­ed their own on­colyt­ic virus projects on the foot­steps of Am­gen's T Vec, along­side biotech play­ers like PsiOxus, un­der­scor­ing the mo­men­tum of the next wave.
Mean­while, Trans­gene will con­tin­ue plough­ing on its in-house pipeline and promis­es to send a few more drugs to the clin­ic in 2020.