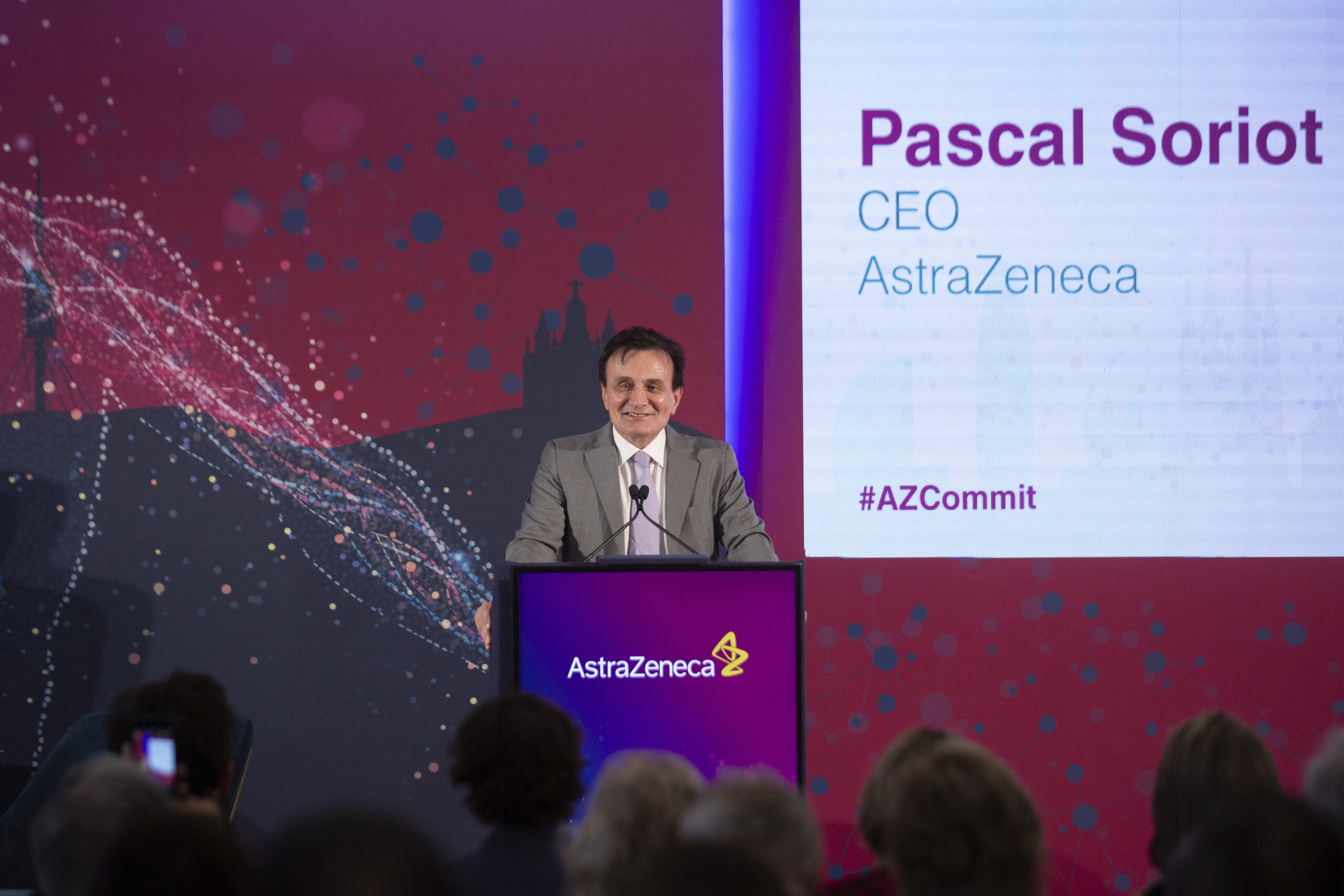 Pascal Soriot, AstraZeneca CEO (David Zorrakino/Europa Press via AP)
As­traZeneca CEO Pas­cal So­ri­ot aims for 15 new drug launch­es by 2030
As­traZeneca CEO Pas­cal So­ri­ot on Thurs­day un­veiled am­bi­tious plans to launch 15 new drugs by 2030 — and he's wast­ing no time, with 30 Phase III tri­al ini­ti­a­tions planned this year.
So­ri­ot spies block­buster po­ten­tial in 10 of those pro­grams, he said on the com­pa­ny's quar­ter­ly earn­ings call, in­clud­ing the com­pa­ny's oral SERD camizes­trant in ER+/HER2- breast can­cer and Cin­Cor's bax­dro­stat in hy­per­ten­sion.
"While the port­fo­lio has a rel­a­tive­ly low ex­po­sure to loss of ex­clu­siv­i­ty com­pared to peers, we take a very proac­tive ap­proach, which starts many years in ad­vance," he added.
As­traZeneca's sales were $44.3 bil­lion last year, with rev­enue and earn­ings per share com­ing in at the high­er end of a range that So­ri­ot not­ed was "up­grad­ed twice dur­ing the year."
How­ev­er, those gains were par­tial­ly off­set by slip­ping Covid sales, in­clud­ing from the com­pa­ny's vi­ral vec­tor vac­cine Vaxzevria, which fell more than 50% in 2022. Mak­ing mat­ters worse, the FDA yanked its emer­gency use au­tho­riza­tion for As­traZeneca's an­ti­body com­bo treat­ment Evusheld last month, based on find­ings that it works on few­er than 10% of cir­cu­lat­ing vari­ants.
Covid sales
So­ri­ot ex­pects that Covid prod­uct sales will con­tin­ue to de­cline sig­nif­i­cant­ly this year, "with min­i­mal rev­enue from Vaxzevria." That's fac­tor­ing in some po­ten­tial sales from its next-gen­er­a­tion an­ti­body for im­muno­com­pro­mised kids and adults, AZD3152, which is still in test­ing but could launch in the sec­ond half of this year if all goes well.
Mean­while, As­traZeneca re­port­ed "strong dou­ble-dig­it growth" in Q4 for a slate of can­cer drugs in­clud­ing Tagris­so, Lyn­parza, Imfinzi and Imju­do, and Calquence, de­spite those drugs com­ing in just be­low con­sen­sus, ac­cord­ing to a note from SVB Se­cu­ri­ties an­a­lysts. En­her­tu sales were up 224% in Q4, ac­cord­ing to Dave Fredrick­son, ex­ec­u­tive VP of As­traZeneca's on­col­o­gy unit, achiev­ing "ap­prox­i­mate­ly 50% new pa­tient share in sec­ond line HER+ metasta­t­ic breast can­cer and over 40% of HR+/HER2-low post-chemo new pa­tient share."
For Imfinzi, Fredrick­son not­ed "strong ini­tial de­mand" for the Imju­do com­bo fol­low­ing re­cent ap­provals in the US for first-line non-small cell lung can­cer and Japan for he­pa­to­cel­lu­lar car­ci­no­ma. The drug raked in $752 mil­lion last quar­ter, up 19% from the year pri­or, ac­cord­ing to As­traZeneca's re­sults.
Calquence brought in $588 mil­lion in Q4, up near­ly 50%.
"In the US we saw de­stock­ing in the quar­ter, which re­duced by half the third quar­ter in­ven­to­ry build fol­low­ing the launch of the maleate tablet for­ma­tion. We ex­pect this in­ven­to­ry build to be ful­ly de­plet­ed by the end of the first quar­ter this year," Fredrick­son said.
There are a few pro­grams that So­ri­ot won't be tak­ing along for the ride, in­clud­ing two ear­ly-stage can­cer drugs and a mid-stage can­di­date for chron­ic ob­struc­tive pul­monary dis­ease. As­traZeneca al­so re­vealed on Thurs­day that it's cut­ting some tri­als for Fasen­ra and an ex­per­i­men­tal IL-33 an­ti­body.