As­traZeneca chief is bet­ting the com­pa­ny's fu­ture on a sin­gle roll of the dice
Bioreg­num
The view from
End­points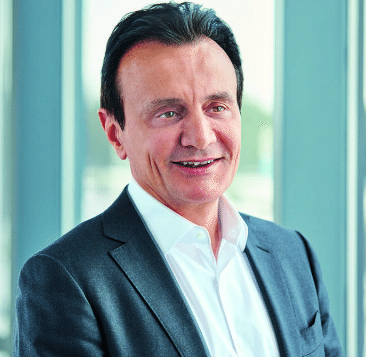 As­traZeneca CEO Pas­cal So­ri­ot
Near­ly five years in­to his stint at the helm of As­traZeneca, CEO Pas­cal So­ri­ot has now reached his year of liv­ing dan­ger­ous­ly.
This morn­ing the phar­ma chief out­lined a steadi­ly de­clin­ing rate of rev­enue. Core EPS is ex­pect­ed to slide in the low to mid teens as gener­ics con­tin­ue to chop away at their Crestor fran­chise. All their old block­busters are be­ing dis­en­fran­chised, in a man­ner of speak­ing.
So­ri­ot, not known to wa­ver in times of a cri­sis, wasn't about to break down now. He an­nounced: "It is an ex­cit­ing time as we rapid­ly ap­proach the in­flec­tion point for our an­tic­i­pat­ed re­turn to long-term growth, built on the sol­id foun­da­tions of a sci­ence-led pipeline."
In­vestors weren't very ex­cit­ed by the num­bers, though, send­ing the com­pa­ny's shares down by close to 3% this morn­ing.
Af­ter a whole slate of clin­i­cal set­backs in 2016, the fi­nan­cial ero­sion at As­traZeneca has fo­cused an un­wa­ver­ing spot­light on the com­pa­ny's com­bi­na­tion study for the PD-L1 check­point dur­val­um­ab and treme­li­mum­ab, a CT­LA-4, dubbed MYS­TIC.
A late­com­er to the check­point in­hi­bi­tion field, As­traZeneca is mak­ing a high-risk at­tempt at cut­ting in­to the line of heavy­weights com­pet­ing on lung can­cer, look­ing for ev­i­dence that they have a com­bo that can ri­val the ad­vanc­ing for­tunes of Mer­ck's Keytru­da/chemo com­bi­na­tion, now un­der re­view.
As­traZeneca re­cent­ly tweaked MYS­TIC, adding months to the time­line as the phar­ma com­pa­ny awaits pro­gres­sion-free sur­vival da­ta this year and over­all sur­vival da­ta in 2018. And the move was wide­ly viewed as sig­nal­ing some un­der­ly­ing con­cerns about how the fi­nal da­ta read­out will look.
De­lays of any kind, though, are poi­son to As­traZeneca, as faster com­pa­nies con­tin­ue to cap­i­tal­ize on the first wave of check­points and more com­pa­nies mus­cle in along­side them. Pfiz­er, al­lied with Mer­ck KGaA, al­so has a check­point now un­der re­view at the FDA. Mer­ck, Bris­tol-My­ers and Roche are al­ready well in­to the mar­ket, with their own fol­low-up plans. And Bris­tol-My­ers' de­ci­sion not to pur­sue an ac­cel­er­at­ed ap­proval for Op­di­vo (PD-1)/Yer­voy (CT­LA-4) in lung can­cer raised even more doubts about the ap­proach at As­traZeneca.
The stakes for As­traZeneca keep get­ting high­er, cre­at­ing a re­mark­able high-wire act for a Big Phar­ma play­er.
Not on­ly does As­traZeneca have to gain an ap­proval now, the com­pa­ny al­so has to be rec­og­nized as a leader in the field, po­si­tioned to grab bil­lions of dol­lars in new sales. Just falling short of ex­pec­ta­tions will be enough to quash hopes for the near-term turn­around that As­traZeneca needs.
"Rarely has a sin­gle tri­al re­sult been so cru­cial to a com­pa­ny the size of As­traZeneca," said Mick Coop­er of Trin­i­ty Delta.
And how.
Rev­enue in 2016 hit $23 bil­lion in 2016, down from $24.7 bil­lion. But So­ri­ot promised $45 bil­lion in rev­enue by 2023, now just six years away. The com­pa­ny has al­ready start­ed back­ing away from that num­ber, blam­ing cur­ren­cy val­u­a­tions. But even their new goals will rapid­ly evap­o­rate with­out a big score on the I/O front.