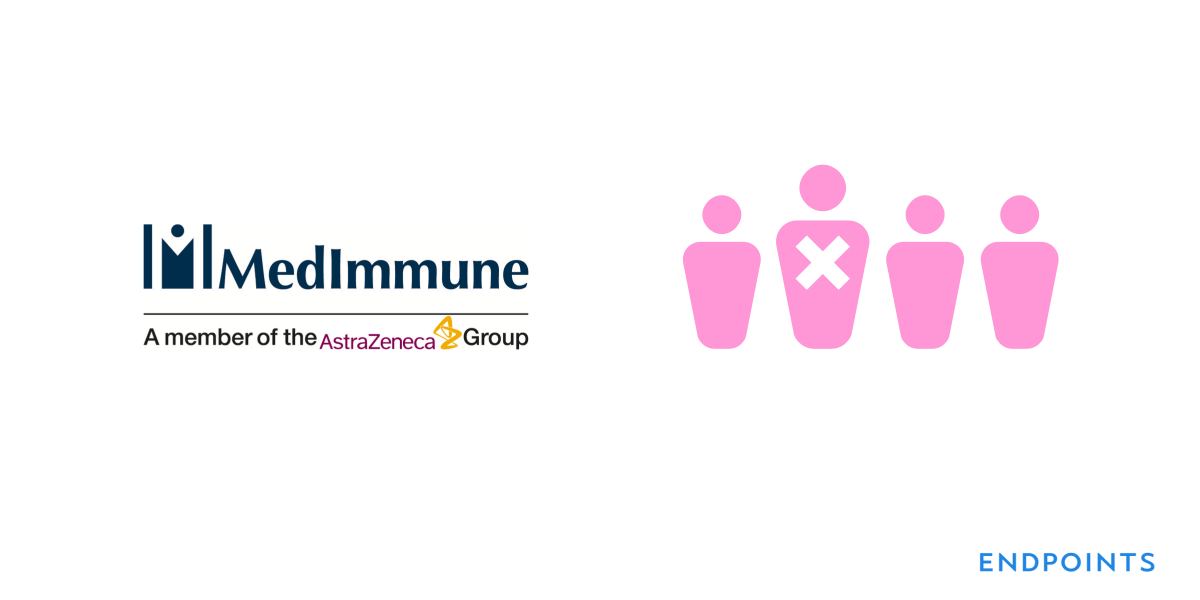 AstraZeneca's big U.S. subsidiary MedImmune, with 2200 employees, is pruning its workforce as it adds a greater emphasis on its oncology R&D work–but it's not specifying just many staffers are involved.
Here's the statement:
In April, AstraZeneca announced the sharpening of our focus on our main therapy areas to prioritize our pipeline and improve efficiency and productivity across the organization.  This will see the company allocate additional investment to core areas, particularly oncology. This is a natural progression of our strategy and reflects increased pipeline productivity, as well as the evolving shape of the overall company portfolio with a growing proportion of specialty-care medicines.

Our pipeline has become arguably one of the best in the industry—MedImmune's Phase II pipeline success rate is almost double the industry average. Biologics represent 50 percent of the overall AstraZeneca pipeline and includes 17 Phase III biologics trials currently underway and 19 Phase II trials.

Given this backdrop, we're sharpening the focus on the main therapy areas, prioritizing the pipeline, and driving greater productivity and efficiency across the organization. As a normal course of business, we have shifted some resources and have had minimal staffing reductions, while hiring for critical roles in key areas such as oncology.
Derek Lowe at In the Pipeline – a regular source of information about pending layoffs — reported earlier today about hearing chatter about the cuts.
These ongoing R&D cuts have become a standard feature in Big Pharma R&D circles, as Merck demonstrated just a few days ago. Even after top-to-bottom overhauls, which AstraZeneca initiated several years ago during a seemingly unending reorganization effort, the big outfits often go back to tailor staff and facilities to fit a new focus or concentrate researchers in the biggest hubs. Or they have to cut back in the wake of poor productivity or declining revenue, which drove big changes at GSK and Biogen recently.
The latest move comes as AstraZeneca fights a last-ditch battle against generic competition in the U.S. market to Crestor, which provided $5 billion of its $23 billion in 2015 revenue.
AstraZeneca bought MedImmune 9 years ago for $15.6 billion. Initially, the acquisition proved to be a disappointment, spurring considerable complaints that the pharma giant had paid too much. But in recent years, since Pascal Soriot took over as CEO of AstraZeneca, the group has made some big strides in oncology R&D under Bahija Jallal, who runs MedImmune.
Soriot designated MedImmune as the company's center for biologics research in the reorganization that followed his arrival at the helm.
AstraZeneca scored a big approval for Tagrisso (AZD-9291) recently and is hopeful that its checkpoint inhibitor can carve out a significant piece of a fast-growing market. But it's also experienced setbacks along the way, like its decision to offload brodalumab at a discount price and the recent rejection of ZS-9, a drug it bought for $2.7 billion after Phase III.
---
The best place to read
Endpoints News

? In your inbox.

Comprehensive daily news report for those who discover, develop, and market drugs. Join 47,200+ biopharma pros who read Endpoints News by email every day.

Free Subscription
---
---
---