As­traZeneca is pay­ing In­nate Phar­ma at least $242M in near-term cash to sew up rights to mon­al­izum­ab-plus
Just 2 days af­ter rolling out a pos­i­tive snap­shot of ac­tiv­i­ty for its NKG2A im­mune check­point in­hibitor mon­al­izum­ab at ES­MO, In­nate Phar­ma SA (Eu­ronext: $IPH) has struck a rich add-on col­lab­o­ra­tion deal with As­traZeneca, which is bulk­ing up its I/O pipeline in a deal that in­cludes $170 mil­lion in up­front pay­ments, a $72 mil­lion eq­ui­ty deal plus bil­lions in added mile­stone pay­ments cov­er­ing a range of de­vel­op­ment pro­grams.
With $242 mil­lion in cash on the ta­ble this year and next, and an­oth­er $100 mil­lion in near-term cash on the ta­ble for piv­ot­ing in­to a late-stage study, As­traZeneca is mak­ing an un­usu­al­ly big pay­out rel­a­tive to its track BD record over the last few years, clear­ly in­di­cat­ing that it sees a big fu­ture for these In­nate ther­a­pies. And they're get­ting $50 mil­lion back by out-li­cens­ing US and EU rights to a new­ly ap­proved drug in the port­fo­lio, al­low­ing In­nate to be­gin com­mer­cial­iza­tion work in the US.
Shares of In­nate rock­et­ed up 29% on the news.
Let's break it down.
The jew­el in this crown is mon­al­izum­ab, which promis­es to re­store an im­mune re­sponse by NK and T cells, half of the heart of the I/O ap­proach, where As­traZeneca sees a big fu­ture for Imfinzi, its PD-L1 check­point that al­lows a more ef­fec­tive as­sault by im­mune cells, tak­ing the brakes off the sys­tem.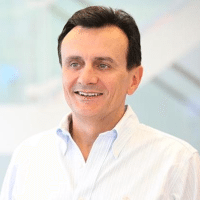 Pas­cal So­ri­ot
As­traZeneca is pay­ing $100 mil­lion in up­front cash for the on­col­o­gy rights to the ther­a­py, with $100 mil­lion due at the start of Phase III with $825 mil­lion due on a full slate of mile­stones. As­traZeneca will pay 70% of the late-stage de­vel­op­ment cost with In­nate cov­er­ing a capped 30% fig­ure. In­nate has an op­tion on co-pro­mo­tion rights in Eu­rope.
Why mon­al­izum­ab? In Mu­nich in­ves­ti­ga­tors un­veiled ear­ly da­ta on a com­bi­na­tion of mon­al­izum­ab and ce­tux­imab for squa­mous cell car­ci­no­ma of the head and neck.
The da­ta, says the com­pa­ny, re­flect­ed:
(T)he over­all re­sponse rate was 27.5% (by RE­CIST) in­clud­ing 1 con­firmed com­plete re­sponse (2.5%) and 10 par­tial re­spons­es (25%). Dis­ease con­trol rate at 24 weeks (DCR) was 35%. Me­di­an pro­gres­sion-free sur­vival (PFS) and over­all sur­vival (OS) reached 5.0 and 10.3 months, re­spec­tive­ly. In ad­di­tion, there were 3 (18%) re­spon­ders among the 17 pa­tients who had been pre­vi­ous­ly treat­ed with PD-1/L1 an­ti­bod­ies.
Then there's IPH5201, CD39.
As­traZeneca is pay­ing $50 mil­lion for an op­tion on the rights to the drug, with $835 mil­lion in mile­stone mon­ey. If As­traZeneca takes the op­tion up, they will cov­er the Phase III un­less In­nate steps in on 50% of the cost in ex­change for co-pro­mo­tion rights in Eu­rope.
As­traZeneca is pay­ing $20 mil­lion on op­tions for 4 ad­di­tion­al pre­clin­i­cal pro­grams, with $355 mil­lion in mile­stones on each. Then there's $72 mil­lion go­ing in­to the ac­qui­si­tion of 9.8% of In­nate's eq­ui­ty.
In­nate, mean­while, agreed to pay $50 mil­lion for Lu­mox­i­ti, the new­ly ap­proved drug for rare cas­es of third-line hairy cell leukemia that As­traZeneca has planned to sell for $150,000 cov­er­ing 6 treat­ment cy­cles.
That all amounts to an un­usu­al big-mon­ey deal for As­traZeneca, which has been sell­ing as­sets re­cent­ly to help cov­er costs as Pas­cal So­ri­ot bets big on new can­cer drugs like Lyn­parza and Tagris­so and Imfinzi to turn things around at the phar­ma gi­ant. With those drugs ac­cel­er­at­ing on the mar­ket, he's now adding a drug with hu­man da­ta to start back­ing up its promise.
So­ri­ot said that the deal al­lows his com­pa­ny to "fur­ther strength­en our lead­er­ship in im­muno-on­col­o­gy, and to ex­plore the po­ten­tial of next gen­er­a­tion im­muno-on­col­o­gy path­ways, to­geth­er with the world-class sci­en­tif­ic team of In­nate."