As­traZeneca of­fers some mixed PhI­II re­sults for se­vere asth­ma, while Roche ri­val floun­ders
As­traZeneca post­ed some mixed — though gen­er­al­ly pos­i­tive — da­ta from two big Phase III stud­ies of ben­ral­izum­ab, its IL-5 con­tender in the high­ly com­pet­i­tive mar­ket for se­vere asth­ma. A high place­bo re­sponse se­ri­ous­ly erod­ed one set of late-stage da­ta. But the ther­a­py ap­pears head­ed to an ap­proval — even as Roche was prac­ti­cal­ly giv­en the kiss of death for a ri­val late-stage drug.
As­traZeneca put ben­ral­izum­ab through two Phase III stud­ies that col­lec­tive­ly re­cruit­ed more than 2,500 pa­tients. In the first of those, the CAL­I­MA tri­al with 1,306 pa­tients, 30 mg of ben­ral­izum­ab in­ject­ed every 4 and 8 weeks was able to re­duce ex­ac­er­ba­tion by 28% to 36% com­pared to a place­bo. In the sec­ond study, SIROC­CO with 1,209 pa­tients, the ex­ac­er­ba­tion rate dropped by a more com­pet­i­tive 48% to 51%.
As­traZeneca's ben­ral­izum­ab tar­gets the IL-5 re­cep­tor rather than the mol­e­cule it­self, a dis­tinc­tion that the phar­ma gi­ant be­lieves will help it com­pete against the re­cent­ly ap­proved Nu­cala (Glax­o­SmithK­line's mepolizum­ab) and Cinqair (Te­va's reslizum­ab). The ju­ry is still out on that score, though.
Nu­cala was ap­proved on its abil­i­ty to re­duce ex­ac­er­ba­tions in asth­ma by tack­ling eosonophils, a prime bio­mark­er for risk in the tar­get­ed pop­u­la­tion. But GSK did not prove that the drug im­proved lung func­tion, while As­traZeneca's team claims they did track amped up lung per­for­mance.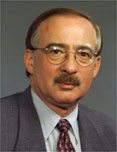 Eu­gene Bleeck­er MD
Pro­fes­sor Eu­gene Bleeck­er from the Cen­ter for Ge­nomics and Per­son­al­ized Med­i­cine, Wake For­est School of Med­i­cine, and lead au­thor of the SIROC­CO tri­al, had this to say:
Two drugs are cur­rent­ly ap­proved for the treat­ment of se­vere, un­con­trolled asth­ma (mepolizum­ab and reslizum­ab) but both tar­get the IL-5 mol­e­cule di­rect­ly, rather than the re­cep­tor. By tar­get­ing the IL-5 re­cep­tor, ben­ral­izum­ab de­pletes eosinophils di­rect­ly, and our stud­ies show that eosinophil counts were near­ly com­plete­ly de­plet­ed by week 4 of treat­ment.
The re­sults were pub­lished in The Lancet Res­pi­ra­to­ry Med­i­cine, which al­so con­clud­ed that Roche's two Phase III stud­ies for le­brik­izum­ab fell far short of the bar on ef­fi­ca­cy. A sum­ma­ry con­demns the drug with slight crit­i­cism:
The find­ings sug­gest that the drug, which blocks IL-13, may not be suf­fi­cient to pro­vide clin­i­cal­ly mean­ing­ful im­prove­ments in re­duc­ing asth­ma ex­ac­er­ba­tions.
Roche con­clud­ed back in Feb­ru­ary that it had one suc­cess and one flop in Phase III, which amounts to a se­vere set­back on this high­ly com­pet­i­tive front.
There's al­so plen­ty of com­pe­ti­tion ahead for all the re­main­ing play­ers. Re­gen­eron and Sanofi are in a Phase III asth­ma pro­gram for dupilum­ab, a po­ten­tial IL-4/IL-13 megablockuster head­ed for a like­ly ap­proval for use against atopic der­mati­tis. And No­var­tis re­cent­ly tout­ed mid-stage da­ta on an­oth­er eosinophilic drug, fe­vip­iprant,which is de­signed as an oral drug that could con­quer the whole mar­ket through an eas­i­er route of ad­min­is­tra­tion than these first-gen drugs.