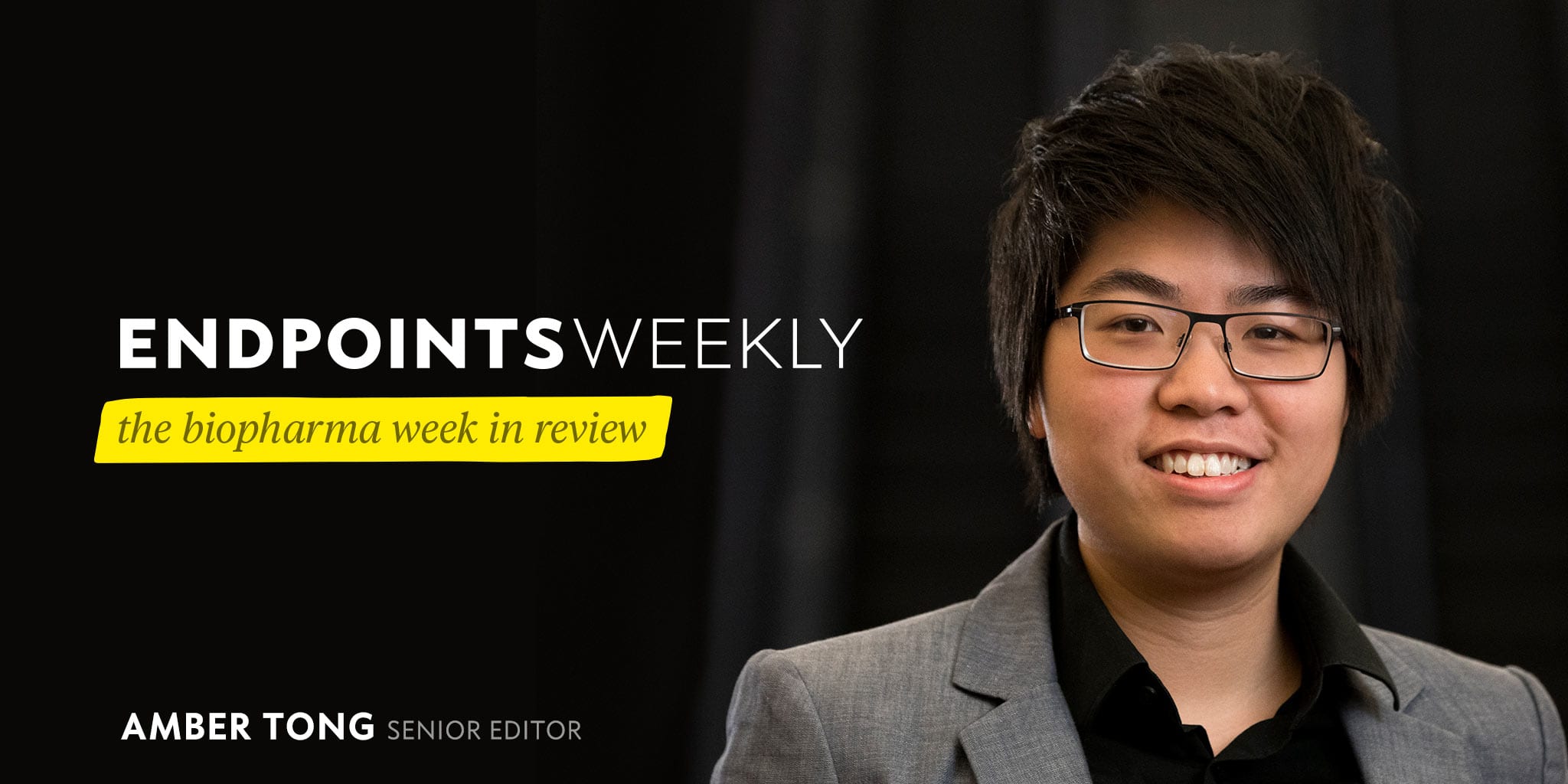 As­traZeneca's Covid-19 vac­cine woes, Mon­cef Slaoui re­signs over sex­u­al ha­rass­ment claims, FDA acts tough, and more
Wel­come back to End­points Week­ly, your re­view of the week's top bio­phar­ma head­lines. Want this in your in­box every Sat­ur­day morn­ing? Cur­rent End­points read­ers can vis­it their read­er pro­file to add End­points Week­ly. New to End­points? Sign up here.
You know the week has been over­flow­ing with news when sto­ries that you thought were huge on Mon­day get large­ly buried by Wednes­day and full news cy­cles get wrapped in­to one re­port. It may be a good idea to sit down for this edi­tion — it's go­ing to take a while.
José Basel­ga's shock­ing death and lega­cy
The sud­den death at 61 of José Basel­ga, the bril­liant on­col­o­gy R&D chief at As­traZeneca and a tow­er­ing fig­ure in can­cer drug de­vel­op­ment who had ear­li­er been chief med­ical of­fi­cer at Memo­r­i­al Sloan Ket­ter­ing, shook the in­dus­try be­fore the week even be­gan. The out­pour­ing of trib­utes and farewells from col­leagues and for­mer col­lab­o­ra­tors re­flect­ed the breadth of his lega­cy. Basel­ga suc­cumbed to Creutzfeldt-Jakob dis­ease, a rapid­ly pro­gres­sive and lethal but ex­treme­ly rare neu­rode­gen­er­a­tive ail­ment. His daugh­ter launched a fundrais­er to sup­port re­search in­to the con­di­tion, which you can see here.
As­traZeneca tries to put out fire
As­traZeneca con­fi­dent­ly de­clared a 79% ef­fi­ca­cy fig­ure for its Covid-19 vac­cine in a US tri­al, as­sum­ing it had a straight path to­ward an EUA. Lit­tle did it know it was steer­ing straight in­to a storm, as the NIH is­sued a mid­dle-of-the-night state­ment just hours lat­er rais­ing con­cerns about the da­ta they chose to dis­close. As it turned out, the Da­ta and Safe­ty Mon­i­tor­ing Board over­see­ing the tri­al blast­ed As­traZeneca for cher­ry-pick­ing the most fa­vor­able num­ber rather than more com­plete and re­cent re­sults — an act that they said would erode pub­lic trust. The com­pa­ny tried to put out the fire with a pri­ma­ry cut of the more up-to-date num­bers, sug­gest­ing the vac­cine is 76% ef­fec­tive — al­though the fullest pic­ture may not emerge un­til the FDA re­views the full dataset.
Mon­cef Slaoui ac­cused of sex­u­al ha­rass­ment
Mon­cef Slaoui — whom Glax­o­SmithK­line ter­mi­nat­ed as the board chair at its bio­elec­tron­ics joint ven­ture Gal­vani fol­low­ing al­le­ga­tions of sex­u­al ha­rass­ment and in­ap­pro­pri­ate con­duct from an em­ploy­ee that GSK said was "sub­stan­ti­at­ed" in an in­ves­ti­ga­tion — has of­fi­cial­ly cut all pro­fes­sion­al ties with his res­ig­na­tion from the VC firm Medicxi. The long­time GSK ex­ec had been im­mers­ing back in­to bio­phar­ma af­ter wrap­ping a stint as the vac­cine czar of Op­er­a­tion Warp Speed. Rep­ri­mand­ed by Em­ma Walm­s­ley in a com­pa­ny-wide let­ter, Slaoui had of­fered an "un­re­served" apol­o­gy to the em­ploy­ee in­volved and stepped down from two biotech boards.
FDA takes Pfiz­er to task over tanezum­ab
The fu­ture isn't look­ing bright for Pfiz­er and Eli Lil­ly's an­ti-NGF os­teoarthri­tis drug tanezum­ab. Fol­low­ing an in-depth re­view from the FDA that raised a litany of con­cerns about sig­nif­i­cant safe­ty risks, an ad­vi­so­ry com­mit­tee vot­ed al­most unan­i­mous­ly to rec­om­mend against its ap­proval. Per the reg­u­la­tors' as­sess­ment, the 41 tri­als Pfiz­er has run over 15 years of­fered "sub­stan­tial ev­i­dence of ef­fec­tive­ness" but the pro­posed risk eval­u­a­tion and mit­i­ga­tion strat­e­gy may not be enough to as­suage fears of joint-re­lat­ed prob­lems. Out­side ex­perts agreed, with many ask­ing for long-term fol­lowup stud­ies and at least one go­ing fur­ther to say the drug didn't seem any bet­ter than as­pirin or ibupro­fen, or even place­bo.
Bio­phar­ma's di­ver­si­ty prob­lem
Among the many is­sues that the Covid-19 pan­dem­ic has ex­posed is the trou­bling un­der­rep­re­sen­ta­tion of mi­nor­i­ty groups in clin­i­cal tri­als. But how did the in­dus­try get here, and what are some ways to break those struc­tur­al bar­ri­ers to in­clu­sion? In­vest­ing in com­mu­ni­ties, build­ing trust and fos­ter­ing di­ver­si­ty from the top down are go­ing to be cru­cial, Nicole De­Feud­is writes. And if Mod­er­na's move in its vac­cine tri­al is any sig­nal of what's to come, the in­dus­try could be head­ed for a tip­ping point.
Can bet­ter la­bel­ing avert a dis­as­ter?
A con­sor­tium of phar­ma and tech com­pa­nies is com­ing to­geth­er to solve a seem­ing­ly es­o­teric but po­ten­tial­ly dead­ly prob­lem: how drug­mak­ers ac­tu­al­ly keep track of where a pa­tients' cells are go­ing. "We are beg­ging for stan­dard­iza­tion wher­ev­er pos­si­ble," an ex­pert told Kyle Blanken­ship, and la­bel­ing and iden­ti­ty of cells are one of the most im­por­tant ar­eas for that. Oth­er­wise, "some­one is go­ing to make a ma­jor mis­take, and we are rac­ing against time," said Amy DuRoss, whose com­pa­ny, Vineti, is of­fer­ing an open source track­ing sys­tem.
---
PRE­MI­UM
Lon­nie Moul­der aims glob­al
You haven't heard much from him, but Lon­nie Moul­der hasn't been idle in the two years since he closed the $5 bil­lion sale of Tesaro to Glax­o­SmithK­line. And he's fi­nal­ly ready to take the lime­light as in­ter­im CEO of Zenas Bio­Phar­ma, a biotech start­up with roots in Chi­na and the US for which he has as­sem­bled a pipeline with sev­en drugs. Eu­rope will soon be added to the frame as he pur­sues glob­al deals that will set him up to pur­sue all three of the world's top phar­ma mar­kets. This time, though, the can­cer-ori­ent­ed Moul­der is jump­ing in­to new are­nas, au­toim­mune con­di­tions and rare dis­eases.
Bridge­Bio clears ear­ly hur­dle with NIH help
Mike Collins, an NIH re­searcher and di­vi­sion chief who spe­cial­izes in bone and min­er­al me­tab­o­lism, gave Bridge­Bio's Cal­ci­lytix team the idea to treat a rare ge­net­ic dis­ease called ADH1 with a cal­ci­um sens­ing re­cep­tor (CaSR) an­tag­o­nist. Two years lat­er, the biotech — with the help of a prin­ci­pal in­ves­ti­ga­tor from the NIH — has laid out a clear set of da­ta from a tiny, 6-per­son Phase II study show­ing how the drug they se­lect­ed did ex­act­ly what they want­ed it to: rais­ing the lev­el of cal­ci­um in the blood to nor­mal lev­els while whit­tling back the over­abun­dance of cal­ci­um in urine. The big­ger test, though, is still ahead.
---
PEO­PLE
---
FDA+
---
R&D
---
DIS­COV­ERY
A pair of vet­er­ans of George Church's lab tracked the poop of 200 wild an­i­mals over the last four years. Now, they say they've gath­ered a vast trove of ge­net­ic in­for­ma­tion that could be mined for new drugs on a long list of dis­eases — with back­ing from an Is­raeli bil­lion­aire.
Can a "su­per-sea­son­al" flu shot of­fer­ing pro­tec­tion for three to five years bridge the gap be­tween cur­rent and uni­ver­sal vac­cines? The NIH and the Uni­ver­si­ty of Wash­ing­ton are tak­ing a shot in­to the clin­ic this April af­ter pub­lish­ing an­i­mal da­ta sug­gest­ing broad re­sponse to their nanopar­ti­cle tech­nol­o­gy.
---
REG­U­LA­TO­RY
---
CORO­N­AVIRUS
---
START­UP
A group be­hind the tech­nol­o­gy lead­ing to J&J's Covid-19 vac­cine has scored some $47 mil­lion to test out a new kind of pre­ven­ta­tive prod­uct: a nasal spray that can pro­tect peo­ple from broad virus fam­i­lies tem­porar­i­ly. It's ear­ly days, but a look un­der the hood was ev­i­dent­ly enough to get GV, F-Prime and some sea­soned an­tivi­ral ex­perts ex­cit­ed.
RA Cap­i­tal's low-pro­file small mol­e­cule in­cu­ba­tor has spawned a neu­ro up­start, with $80 mil­lion to go af­ter hy­per­ex­citabil­i­ty dis­or­ders from chron­ic pain to epilep­sy to de­pres­sion. "It's a lot about ex­e­cu­tion," CEO Bob Azel­by said, which is where the ex­pe­ri­enced C-suite comes in.
Mi­crosoft and Sam Alt­man are back­ing a self-pro­fessed AI en­thu­si­ast's take at a com­pu­ta­tion­al drug dis­cov­ery plat­form, with am­bi­tions span­ning oph­thal­mol­o­gy, in­fec­tious dis­ease, neu­rol­o­gy, im­munol­o­gy and ag­ing.
---
PHAR­MA
No­var­tis' top ranks are ea­ger to sep­a­rate the com­pa­ny from its trou­bled past — but le­gal records are keep­ing them ground­ed. In an un­usu­al state­ment, the Swiss drug­mak­er pushed back on com­ments from chair­man Jo­erg Rein­hardt claim­ing they nev­er bribed doc­tors, call­ing it "in­ac­cu­rate and in­con­sis­tent" with what they ad­mit­ted in court.
Thanks to a $150 mil­lion en­dow­ment from Er­ic and Wendy Schmidt, the Broad In­sti­tute is open­ing a new cen­ter to ex­plore what di­rec­tor Todd Gol­ub calls the dual rev­o­lu­tions of bi­ol­o­gy and ma­chine learn­ing. A few phar­ma part­ners have al­ready gath­ered at its wings.
Ab­b­Vie is on the of­fen­sive over Hu­mi­ra two years be­fore the first biosim­i­lars to the megablock­buster are ex­pect­ed to hit the mar­ket, tak­ing one Ice­landic de­vel­op­er to court over al­le­ga­tions it stole trade se­crets to cre­ate its copy­cat ver­sion.
Con­tin­u­ing its fight against a Trump-era rule to al­low drug im­ports from Cana­da, in­dus­try group PhRMA has now pe­ti­tioned the FDA to re­ject New Mex­i­co's im­port plan be­cause of miss­ing de­tails that may make the im­port­ed drugs un­safe and not cost-ef­fec­tive.
---
FI­NANC­ING
---
MAN­U­FAC­TUR­ING
To rise up to the chal­lenge of mass-pro­duc­ing mR­NA vac­cines — at a cost and scale pre­vi­ous­ly un­thought of — the head of de­sign at Gink­go Bioworks drew in­spi­ra­tion from the project he was work­ing on be­fore the pan­dem­ic: mak­ing syn­thet­ic meat.
With sales of Zol­gens­ma flag­ging, No­var­tis is shut­ter­ing the Long­mont, CO man­u­fac­tur­ing plant it leased from As­traZeneca just a year ago. The de­par­ture leaves 400 em­ploy­ees with­out jobs, as the phar­ma gi­ant con­cen­trates pro­duc­tion of cur­rent and fu­ture gene ther­a­pies in two oth­er sites and con­tract net­works.
Set out to be a cen­tral play­er in the cell ther­a­py 2.0 move­ment, Lyell is prepar­ing to open a $65 mil­lion man­u­fac­tur­ing cen­ter in the Seat­tle area — one de­signed in a way that they "wouldn't be fit­ting a square peg in­to a round hole in the fu­ture."
---
DON'T MISS