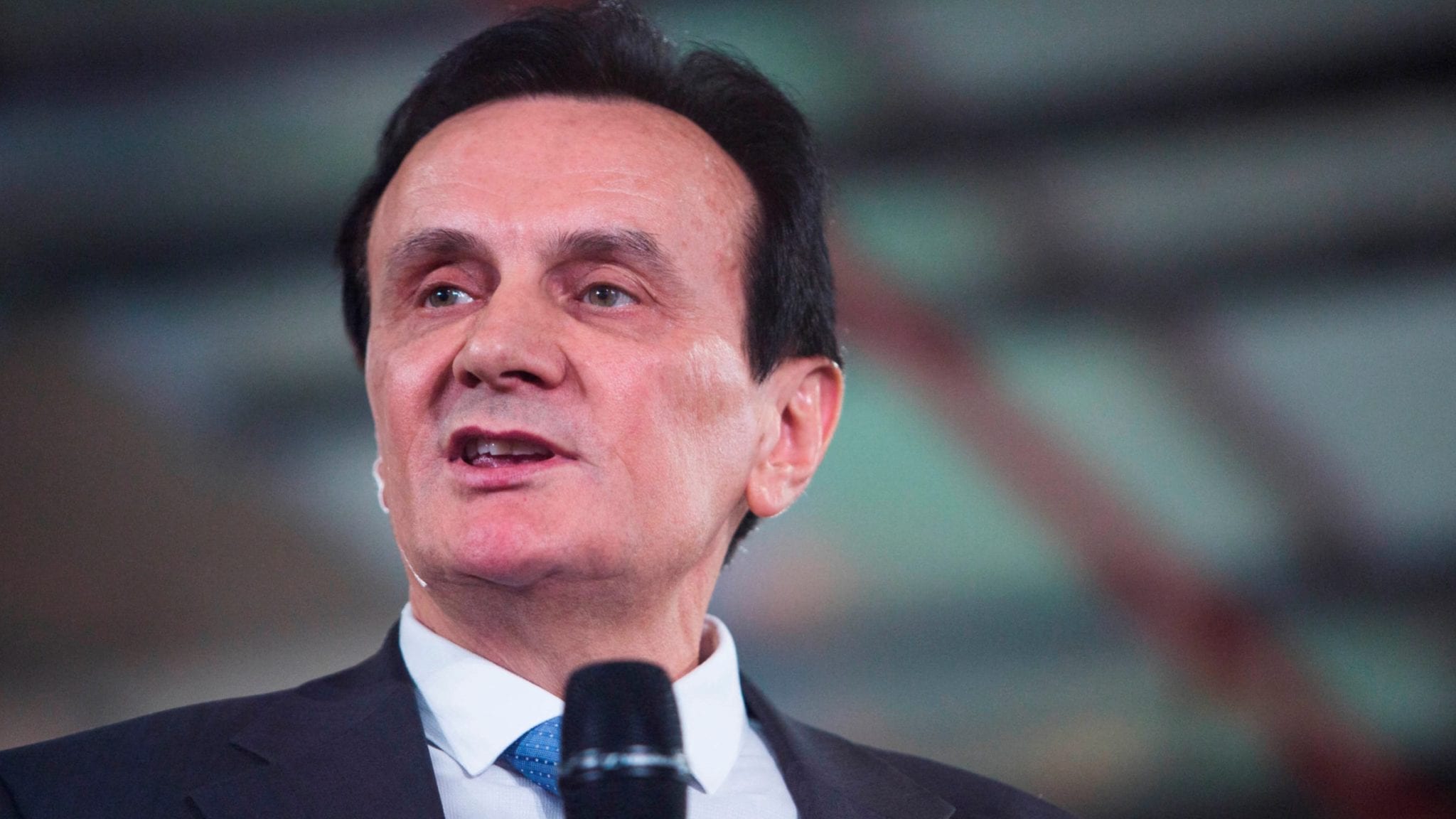 Pascal Soriot, AstraZeneca CEO (Raphael Lafargue/Abaca/Sipa USA; Sipa via AP Images)
As­traZeneca's non-prof­it vac­cine is, for now, cost­ing them mon­ey
For the first earn­ings re­port of the year, As­traZeneca in­vent­ed a new met­ric: the prof­it they'd have if you didn't count their Covid-19 vac­cine costs.
When As­traZeneca an­nounced last year that they would de­vel­op Ox­ford's Covid-19 can­di­date, they said they would sell it on a not-for-prof­it ba­sis dur­ing the pan­dem­ic. The terms ful­filled the vac­cine's aca­d­e­m­ic in­ven­tors' de­sire to see their shot de­ployed cheap­ly around the world, while al­so al­low­ing the drug­mak­er to do some good and, po­ten­tial­ly, se­cure a mas­sive PR coup.
The PR coup they want­ed would turn in­to a PR night­mare over the last 8 months, as the Swedish-British phar­ma pre­sent­ed what ex­perts de­scribed as mot­tled da­ta and missed man­u­fac­tur­ing tar­gets to the point the EU filed a law­suit. Con­cerns al­so arose over a rare but se­ri­ous side ef­fect as­so­ci­at­ed with the shot.
Now, it looks like the vac­cine is cost­ing As­traZeneca mon­ey too. Al­though the com­pa­ny did not break down pre­cise­ly what they spent on their vac­cine in their Q1 earn­ings, they said the costs were the first of three fac­tors that cut their gross prof­it by 3%. The oth­er two fac­tors were re­duced re­im­burse­ments from Chi­na and changes in their prof­it-shar­ing agree­ment with Mer­ck on the block­buster can­cer drug Lyn­parza.
"If you ex­clude the im­pact of our Covid-19 vac­cine, our rev­enue grew by 7%," CEO Pas­cal So­ri­ot told in­vestors on a con­fer­ence call. "There will be ups and downs — small ones quar­ter to quar­ter — with this vac­cine."
As­traZeneca ex­pects their cost and rev­enue for the in­oc­u­la­tion will even­tu­al­ly even out, but at the mo­ment, the com­pa­ny has faced sig­nif­i­cant de­vel­op­ment, man­u­fac­tur­ing and de­ploy­ment costs. Go­ing for­ward, they will al­so ac­crue costs for track­ing the vac­cine's re­al-world safe­ty and ef­fec­tive­ness. At the same time, with the com­pa­ny fac­ing man­u­fac­tur­ing de­lays in Eu­rope and reg­u­la­to­ry de­lays in the US, they re­main sig­nif­i­cant­ly be­hind sched­ule in glob­al sales of the vac­cine.
The com­pa­ny so far has sold 68 mil­lion dos­es, they dis­closed in fil­ings, for $275 mil­lion in rev­enue. The fig­ure con­firms ear­li­er re­port­ing that the com­pa­ny would sell the vac­cine for about $4 to $6 per dose.
Al­though 68 mil­lion dos­es were dis­trib­uted di­rect­ly by As­traZeneca, the com­pa­ny's vac­cine has al­ready had a larg­er im­pact, with its part­ners around the globe dis­trib­ut­ing 300 mil­lion dos­es, So­ri­ot said. That in­cludes the 48 mil­lion dos­es that In­dia's Serum In­sti­tute de­liv­ered to the CO­V­AX ini­tia­tive for low- and mid­dle-in­come coun­tries — vir­tu­al­ly the en­tire sup­ply of Covid-19 vac­cine the ini­tia­tive has re­ceived thus far.
The new dis­clo­sures al­so make clear just how much As­traZeneca has fore­gone in elect­ing to sell their vac­cine on a non-prof­it ba­sis. Mod­er­na and Pfiz­er, by con­trast, be­lieve they will make $18.4 bil­lion and $15 bil­lion this year through their Covid-19 vac­cines, de­spite plans to pro­duce few­er over­all dos­es.
Out­side of vac­cine news, As­traZeneca al­so un­veiled a small hand­ful of busi­ness and pipeline up­dates. Most no­tably, they will pay around $3 bil­lion over the next three years for the last 45% of stock in Ac­er­ta, the can­cer biotech they ac­quired in 2015 for $2.5 bil­lion up­front. The key mile­stones in that deal hinged on the progress of the BTK in­hibitor Calquence. The last op­tion was trig­gered up­on its No­vem­ber ap­proval in the Eu­ro­pean Union.
Ad­di­tion­al­ly the com­pa­ny slashed a cou­ple of ear­ly stage pro­grams, in­clud­ing the asth­ma can­di­date AZD8154 and ME­DI2228, an an­ti­body drug con­ju­gate for mul­ti­ple myelo­ma. The lat­ter change re­flects a grow­ing shift in the mul­ti­ple myelo­ma field, as new and ef­fec­tive bis­pe­cif­ic an­ti­bod­ies and cell ther­a­pies come on the mar­ket.