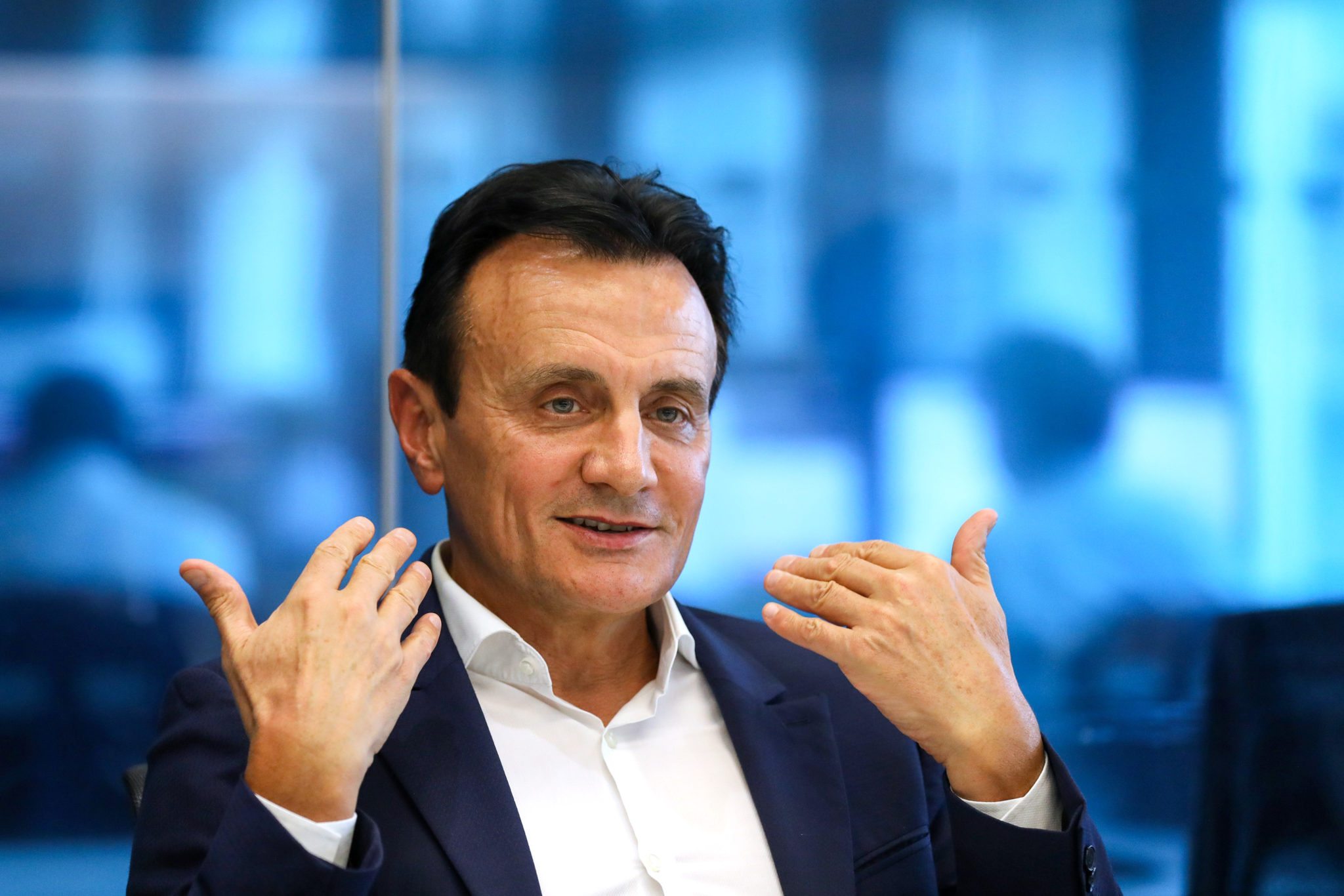 Pascal Soriot, AstraZeneca CEO (Chris Ratcliffe/Bloomberg via Getty Images)
As­traZeneca's Pas­cal So­ri­ot says Covid-19 boost­ers may not be for every­one — re­port
As­traZeneca CEO Pas­cal So­ri­ot re­port­ed­ly thinks that Covid-19 boost­er shots for young and healthy peo­ple may not be wise.
So­ri­ot told the UK Tele­graph re­search sug­gests that vac­cines give healthy peo­ple pro­tec­tion against se­vere dis­ease for a "long time," mean­ing most will not need a boost­er jab to avoid se­vere com­pli­ca­tions from the virus. He al­so not­ed gov­ern­ments buy­ing boost­er shots wouldn't be a good use of tax­pay­er mon­ey.
De­spite So­ri­ot's com­ments, the sci­en­tif­ic con­sen­sus re­mains that boost­er shots are safe and ef­fec­tive, re­gard­less of age or co­mor­bidi­ties.
"Peo­ple who are oth­er­wise healthy — es­pe­cial­ly if they are young, have been vac­ci­nat­ed, have had a boost al­ready — boost­ing them again, I'm just not sure it's re­al­ly a good use of re­sources," he added in the Tele­graph in­ter­view.
Over the com­ing month, the UK will pro­vide boost­er shots to peo­ple over 50, front­line work­ers, and peo­ple with the un­der­ly­ing con­di­tion who are at high risk of de­vel­op­ing se­vere symp­toms. The UK will use Pfiz­er and Mod­er­na's bi­va­lent boost­er shots, and not As­traZeneca's shots.
Ac­cord­ing to So­ri­ot, most of the peo­ple who have been giv­en a shot de­vel­op "foun­da­tion­al im­mu­ni­ty" against se­vere dis­ease, and he thinks it is un­clear whether "boost­ing peo­ple every year is that crit­i­cal."
"I'm not sure it's a re­al­ly good use of mon­ey be­cause most of the peo­ple now who catch it will just have symp­toms if they get Covid, and that's it," he added in the in­ter­view.
While As­traZeneca was a part of the rat race to de­vel­op vac­cines against the Covid-19 virus, prof­its were much less than Pfiz­er, whose vac­cine was based on a new, more ex­pen­sive mR­NA tech­nol­o­gy. As­traZeneca al­so faced de­vel­op­ment de­lays, with NI­AID di­rec­tor An­tho­ny Fau­ci at one point lob­bing crit­i­cism over da­ta sub­mis­sions, and saw ten­sion with sev­er­al Eu­ro­pean coun­tries who ac­cused the com­pa­ny of fail­ing to meet de­liv­ery promis­es.
Both As­traZeneca and Pfiz­er de­liv­ered sim­i­lar lev­els of vac­cines in 2021. While Pfiz­er made $37 bil­lion in rev­enues from vac­cine sales last year, at a prof­it of $22 bil­lion, As­traZeneca — which pledged to de­liv­er the vac­cines at cost dur­ing the pan­dem­ic — gen­er­at­ed $3.9 bil­lion in rev­enues from its vac­cines and made a prof­it of $115 mil­lion in 2021, ac­cord­ing to the Tele­graph.
Mean­while, So­ri­ot's com­ments come at a time when As­traZeneca fore­casts sales of its Covid-19 an­ti­body treat­ment, Evusheld, will rise amid a de­cline in vac­cine sales. In the US, Evusheld was ap­proved in De­cem­ber 2021 for im­muno­com­pro­mised pa­tients.
As­traZeneca has re­ceived gov­ern­ment con­tracts for Evusheld in the US, EU, Cana­da, Latin Amer­i­ca, south­east Asia, Aus­tralia, and Chi­na.
The UK said that it will not pur­chase the an­ti­body com­bo, cit­ing "in­suf­fi­cient da­ta" on the du­ra­tion of pro­tec­tion it pro­vides against Omi­cron and its sub­vari­ants.