As­traZeneca's res­pi­ra­to­ry group scores FDA OK for a block­buster se­vere asth­ma drug
This was the year that an­a­lysts had fixed on As­traZeneca's first hur­dle in a com­bi­na­tion study for lung can­cer as the big cat­a­lyst of the year, which would show whether or not CEO Pas­cal So­ri­ot was on track to fi­nal­ly turn the phar­ma gi­ant around af­ter five long years at the helm.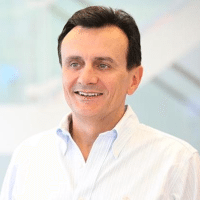 Pas­cal So­ri­ot
As­traZeneca missed that goal, caus­ing con­sid­er­able fret­ting about its fu­ture. But it didn't end there. Events have con­spired to pro­vide As­traZeneca with a se­ries of H2 wins, capped to­day with an FDA ap­proval for its asth­ma drug ben­ral­izum­ab.
The drug will now be sold as Fasen­ra for eosinophilic asth­ma, a par­tic­u­lar­ly vir­u­lent form of the dis­ease. As­traZeneca $AZN won the ap­proval based on da­ta demon­strat­ing a 51% re­duc­tion in ex­ac­er­ba­tions each year com­pared to a place­bo.
A spokesper­son for the com­pa­ny says the drug will come with a $38,000 whole­sale cost for the first year — which re­quires a heav­ier dos­ing sched­ule — and then $28,000 to $33,000 each year af­ter. The step down will place the cost be­low ri­vals for se­vere asth­ma, adds the spokesman.
Jef­feries an­a­lysts have pegged peak sales po­ten­tial at $1.5 bil­lion, and As­traZeneca's com­mer­cial op­er­a­tions will be pressed hard to make that block­buster pro­jec­tion a re­al­i­ty. So­ri­ot's own es­ti­mate for this drug was $2 bil­lion, a fig­ure he of­fered when the CEO was push­ing hard to per­suade in­vestors to re­ject a takeover at­tempt by Pfiz­er.
The drug is de­signed to latch on to the IL-5α re­cep­tor on an eosinophil and beck­on nat­ur­al killer cells to fin­ish them off. It will now go head-to-head against Glax­o­SmithK­line's Nu­cala and Te­va's Cinqair in a very com­pet­i­tive field.
Sig­nif­i­cant­ly for As­traZeneca, which has been rack­ing up some big ap­provals in the on­col­o­gy are­na, this ap­proval marks an ad­vance for one of its res­pi­ra­to­ry drugs. And So­ri­ot high­light­ed the fact on a state­ment:
This is the first ap­proval from our res­pi­ra­to­ry bi­o­log­ics port­fo­lio and the lat­est in a se­ries of sig­nif­i­cant mile­stones for our com­pa­ny as we de­liv­er on our pipeline-dri­ven trans­for­ma­tion.
As­traZeneca un­der So­ri­ot has been speed­i­ly de­vel­op­ing the mar­kets for Lyn­parza and Tagris­so, with its new check­point dur­val­um­ab grad­u­al­ly ex­tend­ing its reach in­to var­i­ous can­cer nich­es. An ear­ly ap­proval for Calquence helped bur­nish their prospects in the all-im­por­tant can­cer field. But out­side of can­cer As­traZeneca has strug­gled, marked by a flop for tralok­inum­ab.