As­traZeneca's shares spike on a sur­prise coup in PhI­II lung can­cer da­ta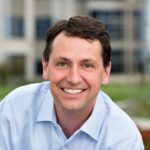 Sean Bo­hen, As­traZeneca
As­traZeneca $AZN shares popped more than 7% this morn­ing on pos­i­tive Phase III pro­gres­sion-free sur­vival da­ta for Imfinzi (dur­val­um­ab) in treat­ing ad­vanced, in­op­er­a­ble and chemo-re­sis­tant non-small cell lung can­cer.
An­a­lysts did a quick dou­ble take and im­me­di­ate­ly cheered it as a re­mark­able – and com­plete­ly un­ex­pect­ed – hit.
That's the right tar­get for As­traZeneca, which re­cent­ly won its first ap­proval for the world's fifth check­point in­hibitor. On Wednes­day Mer­ck moved to the front of that field with an ap­proval to use a com­bi­na­tion of Keytru­da with chemo as a first-line ther­a­py on NSCLC, putting it on top of the heap of ri­vals look­ing to carve out a big piece of the block­buster mar­ket.
This As­traZeneca tri­al wasn't the big study an­a­lysts have been wait­ing for.
As­traZeneca has been bet­ting heav­i­ly on MYS­TIC, us­ing a com­bi­na­tion of dur­val­um­ab and the CT­LA-4 drug treme­li­mum­ab for NSCLC. That would cre­ate some ma­jor mar­ket op­por­tu­ni­ties for the phar­ma gi­ant, which has been mak­ing a rep for it­self in the on­col­o­gy field in re­cent years — even as it's plagued by prat­falls and dis­ap­point­ments in oth­er ar­eas of R&D.
As­traZeneca bad­ly needs every shred of good news that it can find, and there were some high fives in the or­ga­ni­za­tion on this pos­i­tive read­out, which helps the com­pa­ny dis­tin­guish it­self in the most in­tense­ly com­pet­i­tive field in bio­phar­ma.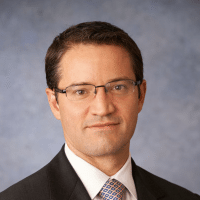 Sea­mus Fer­nan­dez, Leerink
Sea­mus Fer­nan­dez at Leerink gave it a big thumbs up, not­ing:
This news comes as an ear­ly up­side sur­prise, as we do not cur­rent­ly have fore­casts for this in­di­ca­tion in our mod­el nor do we be­lieve this op­por­tu­ni­ty is wide­ly ap­pre­ci­at­ed by in­vestors. Im­por­tant­ly, this puts AZN square­ly in the IO fight in with a unique NSCLC in­di­ca­tion for monother­a­py PD1/PDL1 agents not cur­rent­ly shared by oth­er mem­bers of the class. AZN es­ti­mates that it is at least 2-3 years ahead of oth­er com­peti­tors, and our search­es on­ly un­cov­ered rel­a­tive­ly small sin­gle-arm Ph 2 stud­ies un­der­way for po­ten­tial com­peti­tors.
Oth­er an­a­lysts at Deutsche Bank were al­so im­pressed, of­fer­ing some block­buster num­bers for As­traZeneca on this one in­di­ca­tion.
Look for the da­ta to make the short trip to reg­u­la­tors as As­traZeneca seeks to cap­i­tal­ize on fore­casts that this drug could be worth more than $2 bil­lion a year for the com­pa­ny.
Said R&D chief Sean Bo­hen:
We look for­ward to work­ing with reg­u­la­to­ry au­thor­i­ties around the world to bring Imfinzi to lung can­cer pa­tients as soon as pos­si­ble. Along­side this, we con­tin­ue to ex­plore Imfinzi's full po­ten­tial as monother­a­py as well as in com­bi­na­tion with treme­li­mum­ab and oth­er med­i­cines in ar­eas of con­tin­ued un­met need across mul­ti­ple types of can­cer.
At a time when the check­point can­cer mar­ket would seem to be ripe for ma­tur­ing, with 5 ap­proved, there's in­stead been a se­ries of star­tling re­ver­sals and ad­vances. Bris­tol-My­ers Squibb made the move to the lead, then blew it with a bad­ly de­signed Phase III on front­line use. Mer­ck leapfrogged its ri­val and then, just days ago, Roche's Tecen­triq failed a con­fir­ma­to­ry Phase III in blad­der can­cer, af­ter it had been giv­en an ac­cel­er­at­ed ap­proval.
Big sur­pris­es are be­com­ing the or­der of the day in check­point in­hi­bi­tion, a field worth tens of bil­lions of dol­lars.