Avro­bio shares blast­ed af­ter tri­al up­date sours out­look on gene ther­a­py for Fab­ry dis­ease
Avro­bio made the leap on­to Nas­daq a few months ago and then pro­ceed­ed to run the ta­ble large­ly on a snap­shot of ef­fi­ca­cy for its lead gene ther­a­py to treat Fab­ry dis­ease. On Mon­day, though, an up­dat­ed look at a key da­ta point sent in­vestors run­ning, col­laps­ing the share price.
By the end of the day on Mon­day Avro­bio's stock $AVRO had been beat­en down 52%, wip­ing out hun­dreds of mil­lions of dol­lars in mar­ket cap.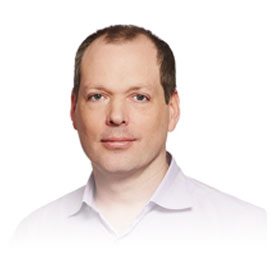 Ge­off MacK­ay
On the sur­face, Avro­bio's press re­lease in­di­cat­ed noth­ing less than con­tin­ued suc­cess with AVR-RD-01, with CEO Ge­off MacK­ay say­ing he was "en­cour­aged" by the ther­a­peu­tic ef­fect re­searchers were see­ing in sev­er­al pa­tients. Their lentivi­ral treat­ment ap­peared to be do­ing the job it was de­signed to do — in­sert­ing healthy copies of the GLA gene that en­codes for a de­fi­cient en­zyme in Fab­ry dis­ease and see­ing a rise in en­zyme ac­tiv­i­ty.
But the slide show for the day al­so in­clud­ed a dis­turb­ing sight, with the vec­tor copy num­bers in pe­riph­er­al blood drop­ping in 4 out of 4 cas­es over a span of any­where from 1 to 18 months.
The VCN is a key mark­er for the trans­fer of healthy genes in­to cells. And as any­one who fol­lows blue­bird bio can tell you, if the VCN isn't right, then no­body's hap­py. Blue­bird went back to the draw­ing board af­ter track­ing VCN num­bers of 0.3 and 0.6 in the first gen­er­a­tion of its gene ther­a­py for be­ta-tha­lassemia, herald­ing a spike to 1.5 and 2.1 for two pa­tients in a Lenti-Glo­bin study. And blue­bird knows full well that a high­er, or ris­ing, VCN breeds con­fi­dence.
So what spooked in­vestors Mon­day? Here are the de­tails:
Pa­tient #1 start­ed ther­a­py with a VCN of 0.7 and then re­searchers tracked a steady drop to 0.1 18 months post-treat­ment. Pa­tient #2 dropped from 1.4 to 0.4 in 6 months. Pa­tient #3: 0.8 to 02 in 1 month. And pa­tient #4 went from 0.7 to 0.5 in a few months.
In gene ther­a­py, com­pa­nies are push­ing to cre­ate new once-and-done treat­ments. Any in­di­ca­tion that their prod­uct can't stand up over time plays hav­oc with the busi­ness mod­el. So in­vestors bailed on the stock.
Avro­bio still has plen­ty of op­por­tu­ni­ties to do bet­ter. But next time you can ex­pect a lot of peo­ple to move straight to the VCN as the com­pa­ny talks about ther­a­peu­tic ef­fects.