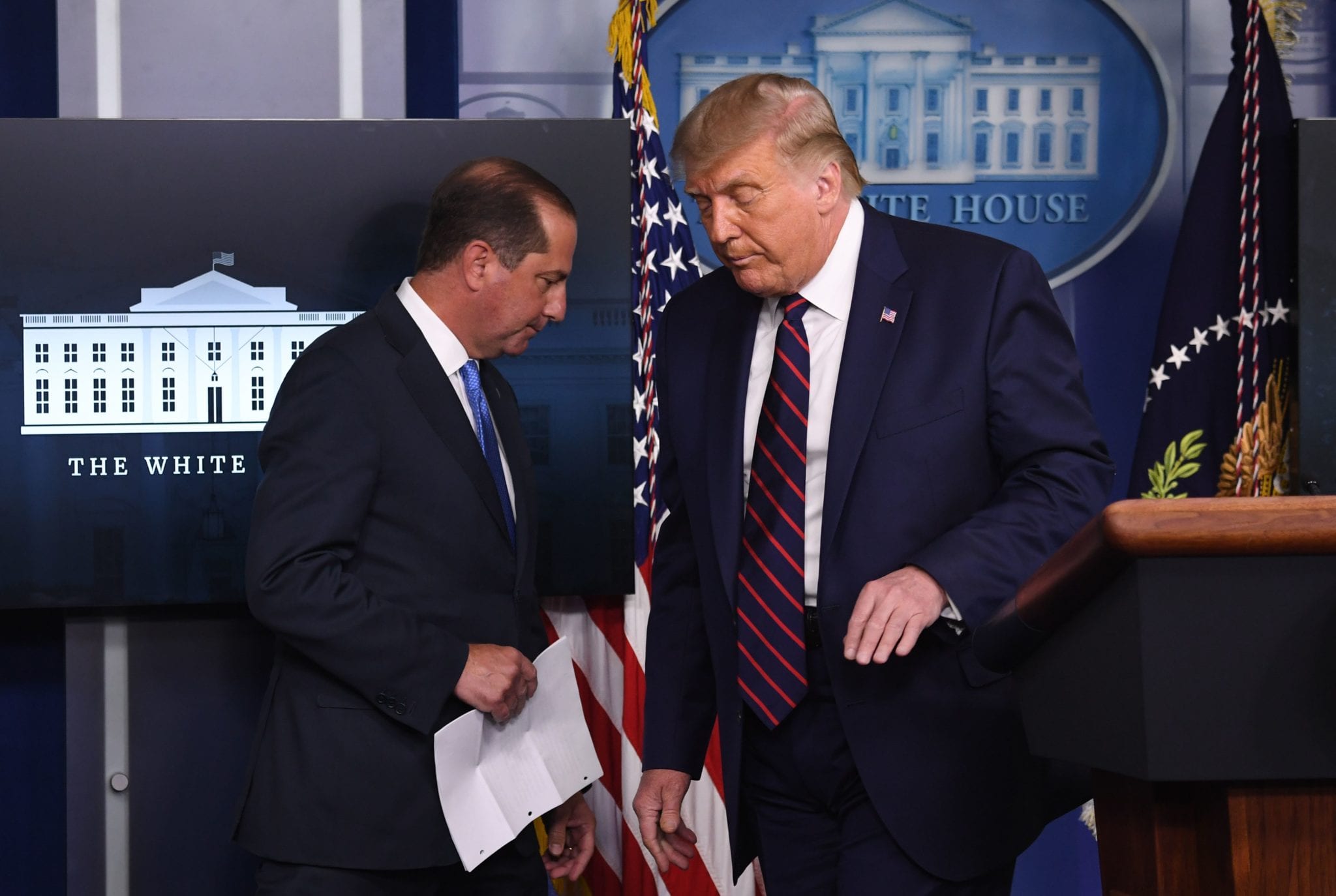 President Trump walks past HHS secretary Alex Azar (Getty Images)
Azar falls in line un­der Trump again. Ex­perts say he's re­in­forc­ing a dark sig­nal sent to the FDA
In the lat­est in­ci­dent where Alex Azar has stead­fast­ly tak­en the side of Pres­i­dent Don­ald Trump over that of the FDA, the HHS sec­re­tary was non­com­mit­tal this morn­ing when asked if he sup­ports the at­tempt by his sub­or­di­nates at the FDA to strength­en guide­lines for a vac­cine EUA.
Ap­pear­ing on NBC's To­day Show, the HHS sec­re­tary mud­died the wa­ters, stat­ing that the guid­ance that mat­ters is the one that is "ac­tu­al­ly al­ready out there."
His full re­marks:
Alex Azar: The guid­ance that mat­ters is ac­tu­al­ly al­ready out there. We put it out over a month and a half ago at the FDA. What FDA is look­ing at is ac­tu­al­ly just some ad­di­tion­al guide­lines for the man­u­fac­tur­ers who might come in for emer­gency ap­proval, it's a fair­ly tech­ni­cal doc­u­ment…

Sa­van­nah Guthrie: Do you sup­port it?

Alex Azar: Well we'll look at it and de­ter­mine if it's ap­pro­pri­ate but the guid­ance that mat­ters is out there, and FDA's gonna call these balls and strikes ac­cord­ing to clear stan­dards that FDA has. That is out there, the man­u­fac­tur­ers know what's ex­pect­ed, the sta­tis­ti­cal re­quire­ments, the safe­ty, the ef­fi­ca­cy.
Hours be­fore Trump took to a White House podi­um yes­ter­day and un­der­cut FDA com­mis­sion­er Stephen Hahn — call­ing the move to strength­en EUA rules as "ex­treme­ly po­lit­i­cal" — Azar was re­port­ed to have spo­ken with the pres­i­dent. Politi­co re­ports the new stan­dards passed muster at HHS on Tues­day and there was an ex­pec­ta­tion that it would get a green light from the White House.
It's still pos­si­ble Trump gives his bless­ing to Azar to al­low the FDA to is­sue the strin­gent new rules. And some ob­servers note that FDA can tell spon­sors what's re­quired with­out pub­lish­ing the guid­ance, mak­ing it pub­lic lat­er. But with in­tense glob­al scruti­ny on these tri­als, and the names of the lead­ing vac­cine mak­ers firm­ly im­plant­ed in the pres­i­dent's lex­i­con, it's un­like­ly the FDA could do so with­out at­tract­ing Trump's ire. And with each pass­ing in­ci­dent where Azar clear­ly picks the side of the pres­i­dent over the very pub­lic wish­es of FDA, he risks new episodes that could fur­ther weak­en the agency's cred­i­bil­i­ty and its abil­i­ty in the eyes of the Amer­i­can pub­lic to vet the safe­ty and ef­fi­ca­cy of Covid-19 vac­cines ar­riv­ing at Warp Speed.
Im­pacts of the Azar memo
This all comes on the heels of Azar's stun­ning memo last week that stripped the agency of its rule­mak­ing pow­ers, de­clar­ing all of that "is re­served for the Sec­re­tary." HHS of­fi­cials re­peat­ed­ly claim the memo was sim­ply a mea­sure of "good-gov­er­nance" that would have no im­pact on drugs or vac­cines, but help pro­tect against law­suits.
Ex­perts, though, say that while tech­ni­cal­ly cor­rect, HHS's state­ment be­lies a more com­pli­cat­ed re­al­i­ty and that their jus­ti­fi­ca­tion for the memo is flim­sy at best.
The memo doesn't for­mal­ly change who has pow­er over vac­cine and drug ap­proval, but it re­in­forces a sig­nal giv­en through­out the pan­dem­ic: "That Sec­re­tary Azar wants to be very clear that he has fi­nal word on de­ci­sions com­ing out of the FDA," Mic­ah Berman, a for­mer FDA ad­vi­sor and a pro­fes­sor of pub­lic health and law at Ohio State Uni­ver­si­ty, told End­points News.
Al­though the FDA has his­tor­i­cal­ly op­er­at­ed as a large­ly in­de­pen­dent agency, HHS legal­ly has fi­nal say on its de­ci­sions. HHS sec­re­taries have rarely ex­er­cised that au­thor­i­ty, but Azar did so last month, strip­ping the agency of its abil­i­ty to reg­u­late lab-de­vel­oped Covid-19 tests.
The tim­ing of the memo and its form could have sig­nif­i­cant rip­ple ef­fects on the agency and its em­ploy­ees, two for­mer FDA of­fi­cials told End­points.
For­mer as­so­ciate com­mis­sion­er Pe­ter Pitts de­fend­ed Azar's ra­tio­nale, call­ing it an un­der­stand­able move for ac­count­able and stream­lined gov­ern­ment but one that was timed bad­ly, guar­an­teed to sow con­fu­sion and feed pre-ex­ist­ing con­cerns about the Trump ad­min­is­tra­tion med­dling in the agency.
"From a tim­ing per­spec­tive, it on­ly adds grist to the mill that the FDA is politi­cized, which is in­cor­rect fac­tu­al­ly and un­fair per­son­al­ly," Pitts said.
'A slap in the face to the peo­ple at the FDA'
In an in­ter­view, Pe­ter Lurie, who now runs the Cen­ter for Sci­ence in the Pub­lic In­ter­est, said the memo wouldn't im­pact guide­lines or de­ci­sions — the main way the FDA has in­flu­ences on Covid-19 pol­i­cy — on­ly more mi­nor reg­u­la­tions. But these de­ci­sions al­ready get cleared through the FDA rungs, he said, even if a low­er lev­el of­fi­cial gives the sig­na­ture.
"Imag­ine putting out a big rule with­out telling the sec­re­tary? It's just pre­pos­ter­ous," Lurie told us. "I think this is a slap in the face to the peo­ple at the FDA. I think the ad­min­is­tra­tion's dis­dain for pub­lic em­ploy­ees is ap­par­ent in this."
Func­tion­al­ly, the memo changes long­stand­ing prac­tice at the agency, where low­er lev­el of­fi­cials can sign off on rule changes with­out the sig­na­tures of the FDA com­mis­sion­er or HHS sec­re­tary. HHS says the memo "min­i­mizes lit­i­ga­tion risk," an ap­par­ent ref­er­ence to ar­gu­ments ad­vanced by con­ser­v­a­tive groups that po­ten­tial­ly thou­sands of FDA rules are il­le­gal be­cause, they claim, the Con­sti­tu­tion's ap­point­ments clause on­ly al­lows of­fi­cers di­rect­ly ap­point­ed by the gov­ern­ment to sign reg­u­la­tions.
In the case of Moose Jooce, et al. v. FDA, et al., the va­p­ing com­pa­ny ar­gued that the FDA's 2016 reg­u­la­to­ry frame­work for va­p­ing de­vices was un­con­sti­tu­tion­al be­cause it was signed by the FDA's Leslie Kux as op­posed to the FDA com­mis­sion­er. Got­tlieb signed it in 2019, adding in a note that said the sig­na­ture did not mean it had pre­vi­ous­ly been il­le­gal.
A fed­er­al court, though, de­cid­ed against Moose Jooce ear­li­er this year and de­nied their mo­tion for ex­pe­dit­ed ap­peal. And the for­mer of­fi­cials said if HHS was con­cerned about it, they could have act­ed years ear­li­er, and they could have made the pol­i­cy that the FDA com­mis­sion­er, who is al­so di­rect­ly ap­point­ed by the pres­i­dent, signs off on all rules.
"As far as I know, none of that lit­i­ga­tion has been suc­cess­ful," Berman said. "It's not clear that it was a le­gal threat in the first place."
So what will this mean lo­gis­ti­cal­ly in­side the FDA? It's not clear yet. Pass­ing every rule through Azar could cause an ad­min­is­tra­tive headache, as for­mer FDA com­mis­sion­er Mark Mc­Clel­lan has warned. Lurie, though, not­ed that the rules aren't signed on a dai­ly ba­sis, so it may not prove a sig­nif­i­cant bur­den.
There was al­so con­cern that the memo would val­i­date Moose Jooce's ar­gu­ment and po­ten­tial­ly in­val­i­date thou­sands of FDA rules, though Berman said that would re­quire in­di­vid­ual chal­lenges to each rule. Moose Jooce, mean­while, is car­ry­ing on with their ap­peal. They gave oral ar­gu­ments at the DC Cir­cuit Court of Ap­peals on Wednes­day.
Jonathan Wood, who is ar­gu­ing the case for the Pa­cif­ic Le­gal Foun­da­tion, said he wel­comed the memo. But he too was won­der­ing about the tim­ing and said he had his own the­o­ry.
"This has been an is­sue HHS has known about for years, at the very least since we filed the com­plaint sev­er­al years ago and through­out the process of lit­i­gat­ing this case, they've said this is to­tal­ly fine, we're not go­ing to stop it, con­tin­ue to have em­ploy­ees is­sue rules," he told End­points. "Maybe it's a co­in­ci­dence that they sud­den­ly changed the prac­tice one week be­fore the DC Cir­cuit heard oral ar­gu­ments?"