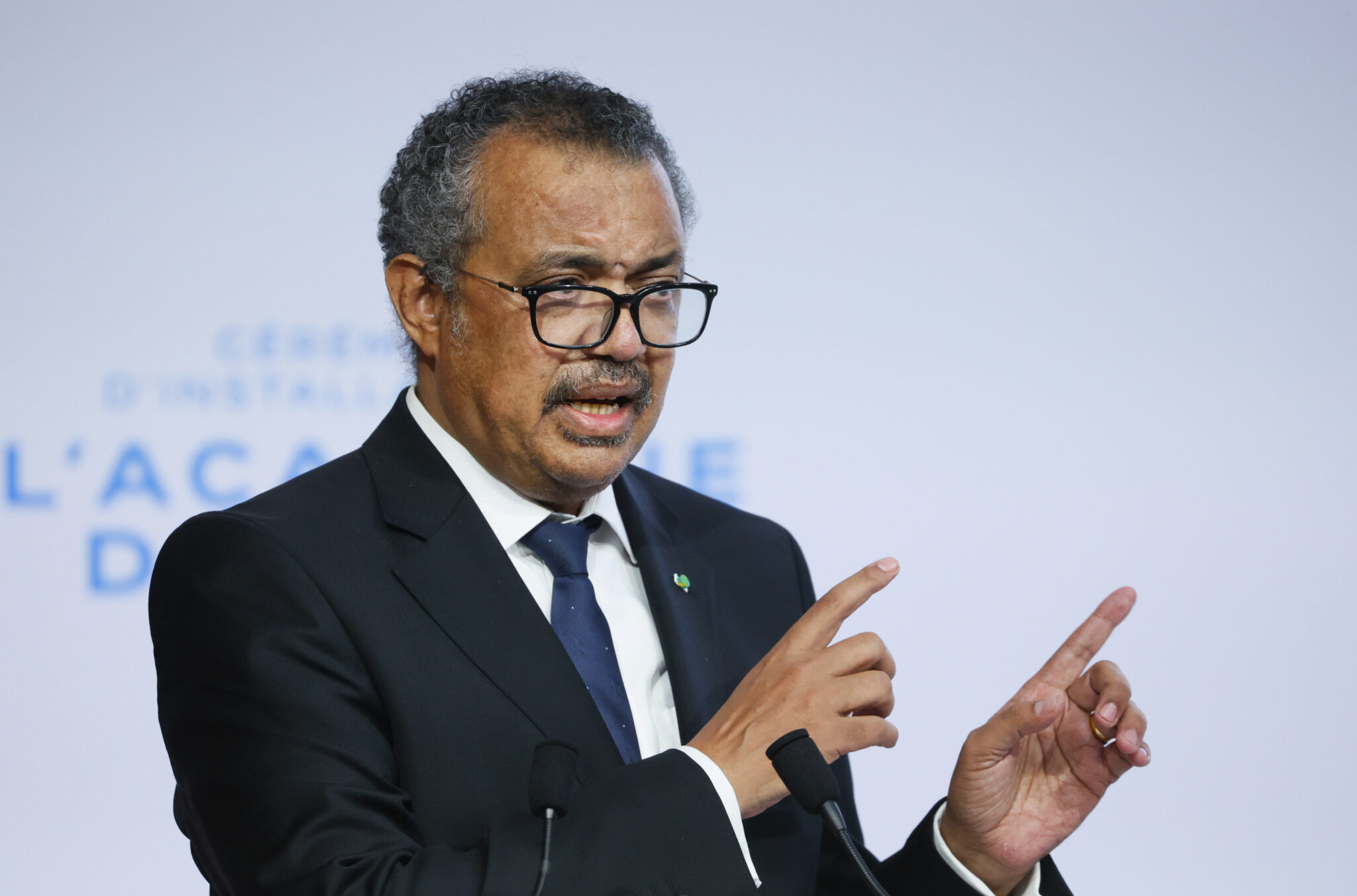 Tedros Adhanom Ghebreyesus, Director General of the WHO (Denis Balibouse/Pool Photo via AP Images)
Bavar­i­an Nordic nabs EU ap­proval for mon­key­pox vac­cine as WHO de­clares glob­al health emer­gency
As the WHO de­clared the mon­key­pox out­break to be a glob­al health emer­gency, Bavar­i­an Nordic ob­tained an ex­pand­ed Eu­ro­pean la­bel for its small­pox vac­cine to in­clude the surg­ing virus.
The move comes rough­ly a month af­ter the biotech filed for a la­bel ex­pan­sion, and af­ter sev­er­al coun­tries on the con­ti­nent, and else­where, se­cured their own sup­ply deals for the shot. Bavar­i­an Nordic has said it's seen "over­whelm­ing" in­ter­est in the vac­cine, and its stock price $BVRNY has fol­lowed in short or­der — shares are up 124% since the first mon­key­pox case was de­tect­ed on May 6.
Mon­day's ap­proval will like­ly help boost sup­ply of the vac­cine across Eu­rope just a few days af­ter the WHO raised the mon­key­pox alert lev­el to its high­est clas­si­fi­ca­tion Sat­ur­day, of­fi­cial­ly de­clar­ing the out­break a glob­al health emer­gency. There had been more than 17,000 cas­es around the world as of Sat­ur­day, rough­ly a 50% in­crease over the last week, with cas­es in over 75 coun­tries.
"WHO's as­sess­ment is that the risk of mon­key­pox is mod­er­ate glob­al­ly and in all re­gions, ex­cept in the Eu­ro­pean re­gion where we as­sess the risk as high," WHO di­rec­tor-gen­er­al Tedros Ad­hanom Ghe­breye­sus said in a state­ment Sat­ur­day. "There is al­so a clear risk of fur­ther in­ter­na­tion­al spread, al­though the risk of in­ter­fer­ence with in­ter­na­tion­al traf­fic re­mains low for the mo­ment."
The de­c­la­ra­tion was a re­ver­sal from WHO's pre­vi­ous stance a month ago, when the WHO de­clined to el­e­vate the out­break's sta­tus.
Last week, Eu­rope se­cured an­oth­er sup­ply deal for Bavar­i­an Nordic's shot, or­der­ing 54,000 dos­es to bring its to­tal stash to 160,000. An ini­tial or­der of 110,000 shots came in late June, pro­vid­ing more ac­cess to the vac­cine on the con­ti­nent where in­di­vid­u­als had strug­gled to get it.
Oth­er coun­tries, too, have been or­der­ing the jab. Cana­da signed a $56 mil­lion con­tract last month and Bavar­i­an Nordic has pre­vi­ous­ly said it's been in dis­cus­sions with coun­tries in Asia, Eu­rope, South Amer­i­ca and the Mid­dle East as well.
BAR­DA, mean­while, bought 2.5 mil­lion dos­es for the US na­tion­al stock­pile ear­li­er this month, and has said it ex­pects to de­liv­er 1.6 mil­lion dos­es by the end of the year.