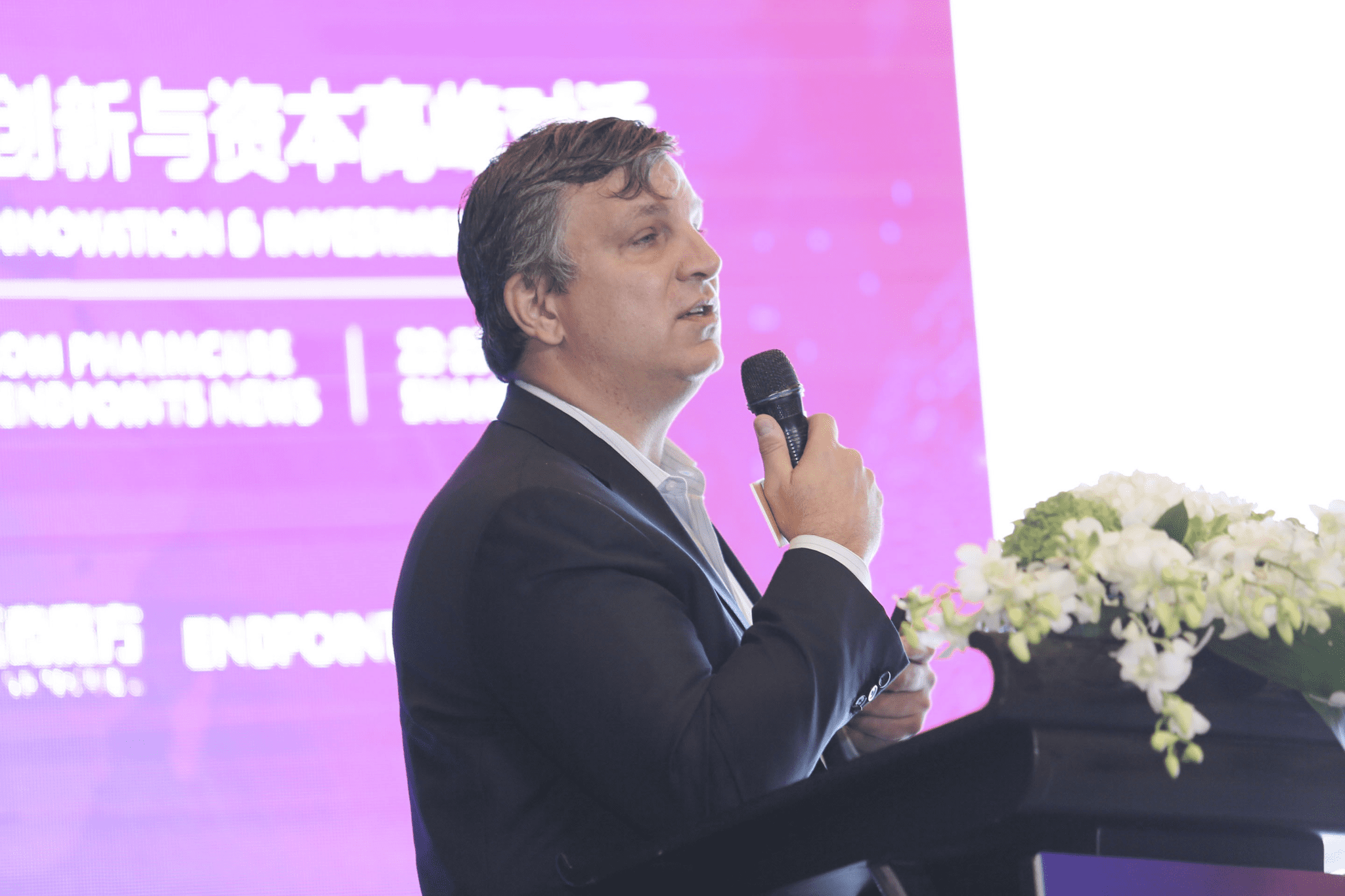 John Oyler, BeiGene CEO (Endpoints News, PharmCube)
BeiGene dives in on nat­ur­al killer cells with dis­cov­ery pact for small biotech's stem cell-based plat­form
Chi­na's BeiGene has been busy on the on­col­o­gy front in re­cent years, look­ing to keep up with the pack with one late-stage PD-1 on the way to a fil­ing and a slate of small deals flesh­ing out the pipeline. Now, with its eyes on the hori­zon, the drug­mak­er has snared an ear­ly-stage pact for a clutch of next-gen cell ther­a­pies.
BeiGene will shell out $45 mil­lion in cash and an undis­closed amount in fu­ture biobucks and roy­al­ties for up to four of Shore­line Bio­sciences' in­duced pluripo­tent stem cell-based nat­ur­al killer ther­a­pies for can­cer, the part­ners said Wednes­day.
The mul­ti-year pact will ini­tial­ly tar­get four po­ten­tial ther­a­pies with the op­tion to ex­pand in fu­ture years, the com­pa­nies said. BeiGene will lead glob­al clin­i­cal de­vel­op­ment with Shore­line pick­ing up com­mer­cial-scale man­u­fac­tur­ing du­ties. In re­turn for its in­vest­ment, BeiGene will hold glob­al com­mer­cial rights to any ap­proved ther­a­py with Shore­line re­serv­ing the op­tion for US and Cana­di­an rights for two of those tar­gets.
BeiGene al­so re­served the op­tion to buy up an eq­ui­ty stake in Shore­line in the biotech's next fi­nanc­ing round, the com­pa­ny said.
"We are ex­cit­ed to col­lab­o­rate with Shore­line as BeiGene looks to ex­pand our pipeline of trans­for­ma­tive med­i­cines from small mol­e­cule and an­ti­body ther­a­peu­tics to off-the-shelf cell ther­a­pies, a com­pelling area of re­search that has been pri­mar­i­ly out of reach for many of the world's pa­tients," CEO John Oyler said in a state­ment.
Shore­line spe­cial­izes in off-the-shelf ad­vanced can­cer im­munother­a­pies, in­clud­ing iP­SC NK cells and macrophages for var­i­ous tu­mors. Where the San Diego-based com­pa­ny hopes to set it­self apart in that rapid­ly grow­ing field is in man­u­fac­tur­ing, where it main­tains a "strate­gic man­u­fac­tur­ing re­la­tion­ship" with UC San Diego's Ad­vanced Cell Ther­a­py Lab­o­ra­to­ry. The biotech is backed by a slew of big-name in­vestors, head­lined by Gilead's Kite and Box­er Cap­i­tal.
The push in­to next-gen cell ther­a­pies comes as Chi­na's BeiGene looks to rein­vent it­self around on­col­o­gy R&D, most no­tably in its on­go­ing race to bring its own PD-1 check­point in­hibitor tislelizum­ab to mar­ket. That drug was out-li­censed to No­var­tis in Feb­ru­ary, bring­ing a Big Phar­ma part­ner on board amid late-stage read­outs.
In May, the part­ners read out topline re­sults show­ing the drug met its pri­ma­ry end­point of pro­gres­sion-free sur­vival in first-line re­cur­rent or metasta­t­ic na­sopha­ryn­geal can­cer as a com­bi­na­tion with chemo. The drug topped chemother­a­py alone at a sta­tis­ti­cal­ly sig­nif­i­cant rate, BeiGene said, po­ten­tial­ly set­ting up a Chi­nese ap­proval in the in­di­ca­tion.
Mean­while, de­spite its stat­ed in­tent to ex­pand be­yond an­ti­bod­ies, BeiGene has looked to grow in that space as well. In Feb­ru­ary, the com­pa­ny signed off on a $120 mil­lion-plus deal with Boston Im­mune Tech­nolo­gies and Ther­a­peu­tics to de­vel­op and com­mer­cial­ize their tu­mor necro­sis fac­tor re­cep­tor 2 (TN­FR2) an­tag­o­nist an­ti­bod­ies in Asia (ex­clud­ing Japan), Aus­tralia and New Zealand. That move was all part of BeiGene's play to take more shots on goal to build its on­col­o­gy brand, SVP of ex­ter­nal in­no­va­tions Lu­song Luo told End­points News at the time.
"The com­mon de­nom­i­na­tor is we are try­ing to bring ex­ter­nal in­no­va­tions in, and al­so bring our in­no­va­tions out to oth­er ge­o­graph­i­cal re­gions," Luo said.