BeiGene touts 'en­cour­ag­ing' re­sponse rates as the Chi­nese biotech mounts chal­lenge to BTK, PD-1 lead­ers
As BeiGene sets the stage for a piv­otal show­down with the OG BTK in­hibitor Im­bru­vi­ca, it's ze­ro­ing in on a sub­set of pa­tients for whom their drug, zanubru­ti­nib, could be es­pe­cial­ly help­ful.
The biotech — which has ori­gins in Chi­na — al­so bran­dished the lat­est piv­otal re­sults for its PD-1 drug tislelizum­ab, an­oth­er fran­chise shak­er that's un­der pri­or­i­ty re­view in Chi­na, at the EHA Con­gress.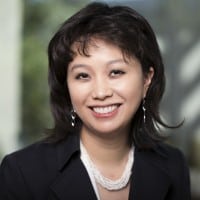 Jane Huang BeiGene
In­ves­ti­ga­tors took a da­ta cut from a Phase III open-la­bel tri­al that is putting zanubru­ti­nib against Im­bru­vi­ca (ibru­ti­nib) in pa­tients with Walden­ström's Macroglob­u­line­mia to show­case promis­ing re­sponse rates. A non-ran­dom­ized co­hort of 26 pa­tients, who has the MYD88WT geno­type of WM, all re­ceived zanubru­ti­nib. Five of them were treat­ment-naïve while the oth­ers had re­lapsed/re­frac­to­ry dis­ease.
"For these pa­tients, who typ­i­cal­ly have poor­er prog­noses with low­er re­sponse rates, we rec­og­nize the re­al need for a high­ly po­tent and se­lec­tive BTK in­hibitor that can sus­tain BTK in­hi­bi­tion and re­duce off-tar­get ef­fects," CMO Jane Huang said in a state­ment.
At a me­di­an fol­low-up of 12.2 months, the drug scored an over­all re­sponse rate of 80.8%, with 53.8% of pa­tients ex­pe­ri­enc­ing a par­tial re­sponse or bet­ter. The very good par­tial re­sponse rate was 23.1% while ex­act­ly one pa­tient achieved a com­plete re­sponse.
Im­bru­vi­ca was first ap­proved in 2015 as a monother­a­py for WM, a rare, slow-grow­ing and in­cur­able form of non-Hodgkin lym­phoma. A com­bi­na­tion with Rit­ux­an was al­so OK'd last year based on pro­gres­sion-free sur­vival re­sults. The haz­ard ra­tio com­pared to Rit­ux­an alone was an im­pres­sive 0.20 (p<0.0001).
But BeiGene is com­ing hard at J&J and Ab­b­Vie with zanubru­ti­nib, which be­came the first drug from main­land Chi­na to win an FDA break­through ther­a­py des­ig­na­tion this Jan­u­ary. It's al­so be­ing test­ed for man­tle cell lym­phoma.
Nei­ther PFS nor over­all sur­vival has been reached in the WM study, though Huang added up­dates from an on­go­ing Phase I/II tri­al give them rea­son to be­lieve that zanubru­ti­nib can in­duce sus­tained re­spons­es, with high rates of CR/VG­PR at 42%.
In that sin­gle arm tri­al — which start­ed off with 77 pa­tients but now has 61 — the es­ti­mat­ed PFS rate at 12 and 24 months was 90% and 81%, re­spec­tive­ly.
Mean­while, tislelizum­ab has demon­strat­ed an ORR of 87% and CR of 63% among pa­tients with clas­si­cal Hodgkin's lym­phoma who've av­er­aged 3 lines of pri­or ther­a­py. Twelve-month PFS was es­ti­mat­ed at 73.8% and me­di­an PFS has not been reached at 13.9 months of me­di­an fol­low-up.
It's a slight im­prove­ment from the da­ta they pre­sent­ed at ASH in 2018, where they saw an ORR of 86% and CR of 61% in 70 evalu­able pa­tients — more than dou­ble the com­plete re­sponse rate for a lead­ing check­point ac­cord­ing to Er­ic Hedrick, an on­col­o­gist and BeiGene's chief ad­vi­sor on this pro­gram.
"If the ma­jor­i­ty are achiev­ing a com­plete re­sponse and they were tru­ly durable, that would be a step up in the qual­i­ty of the re­sponse that we've typ­i­cal­ly seen in PD-1 in Hodgkin's dis­ease," a cau­tious Hedrick told End­points News at the time.