Bet­ter than Am­bi­en? Min­er­va soars on PhI­Ib up­date on sel­torex­ant for in­som­nia
A month af­ter roil­ing in­vestors with what skep­tics dis­missed as cher­ry pick­ing of its de­pres­sion da­ta, Min­er­va is back with a clean slate of da­ta from its Phase IIb in­som­nia tri­al.
In a de­tailed up­date, the Waltham, MA-based biotech said sel­torex­ant (MIN-202) hit both the pri­ma­ry and sev­er­al sec­ondary end­points, ef­fec­tive­ly im­prov­ing sleep in­duc­tion and pro­long­ing sleep du­ra­tion. In­ves­ti­ga­tors made a point to note that the ef­fects were con­sis­tent across the adult and el­der­ly pop­u­la­tions, with the lat­ter more prone to the sleep dis­or­der.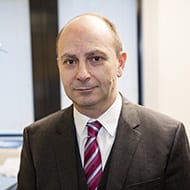 Re­my Luthringer Min­er­va
A to­tal of 365 pa­tients with no oth­er psy­chi­atric con­di­tions were en­rolled in the study and ran­dom­ized in­to five groups: three dif­fer­ent dos­es of sel­torex­ant, place­bo, and Am­bi­en. Un­like the house­hold drug, which pro­motes sleep by ac­ti­vat­ing the GA­BA neu­ro­trans­mit­ter, Min­er­va's drug is "de­signed to mim­ic the nat­ur­al sleep process by in­hibit­ing the brain mech­a­nisms that pro­mote ex­ces­sive wake­ful­ness," CEO Re­my Luthringer said in a state­ment.
The drug scored a clear win in im­prov­ing la­ten­cy to per­sis­tent sleep (LPS) com­pared to place­bo, as re­searchers tracked es­ca­lat­ing least squares mean on changes from base­line on Night 1: 16.4 min­utes (5 mg), 32.2 min­utes (10 mg) and 36.6 min­utes (20 mg), with p ≤0.001 on the two high­er dos­es. "Ad­van­tages over place­bo were al­so ob­served at Night 13: 5.2 min­utes for the 5 mg, 28.6 min­utes for the 10 mg (p ≤0.001), and 21.0 min­utes for the 20 mg (p ≤0.001)," the com­pa­ny added.
But per­haps more in­ter­est­ing were the sec­ondary analy­sis in which sel­torex­ant seems to work bet­ter than Am­bi­en in terms of LPS as well as WA­SO-6, a mea­sure­ment of dis­turbed sleep through­out the night. That was true on Night 13 on both scores, no­table be­cause Am­bi­en did not show su­pe­ri­or­i­ty over place­bo on the same night, like­ly due to a known, wan­ing ef­fect of the stan­dard-of-care drug.
Min­er­va had much less to say about safe­ty — a big deal on sleep drugs — oth­er than that it's well tol­er­at­ed, with treat­ment-emer­gent ad­verse events (TEAEs) tak­ing place in 33.8% of pa­tients across the three drug arms com­pared to 49.3% in place­bo group and 42.5% in the Am­bi­en co­hort. The FDA sets a high bar on safe­ty for sleep drugs, cre­at­ing a chal­lenge that has kept most small play­ers out of a dif­fi­cult field. Mar­ket­ing is al­so a big chal­lenge, even for the ma­jor bio­phar­mas.
The sub­se­quent surge on share price $NERV — up 51.93% and reach­ing $6.43 — helped Min­er­va re­cov­er some lost grounds from the con­tro­ver­sial read­out in May. At one point pre-mar­ket trad­ing brought the stock over $7 but the en­thu­si­asm has sub­sided as in­vestors pon­der on the mar­ket­ing chal­lenges ly­ing ahead.
That tri­al saw a de­crease in the Mont­gomery-As­berg De­pres­sion Rat­ing Scale among the 20 mg group, where pa­tients were treat­ed with the oral pill along­side stan­dard an­ti­de­pres­sant ther­a­pies.
Ven­tur­ing in­to a field most biotechs have steered clear of, Min­er­va's over­all propo­si­tion with sel­torex­ant is to treat in­som­nia and re­lat­ed mood dis­or­ders by tin­ker­ing with the orex­in sys­tem, which is as­so­ci­at­ed with feed­ing, home­osta­sis, arousal, mod­u­la­tion of sleep-wake cy­cles and mo­ti­va­tion. J&J signed on as a part­ner to the ORX2 in­hibitor on two in­di­ca­tions in 2014, but re­turned the rights for in­som­nia three years lat­er.
Pa­tients with de­pres­sion who al­so strug­gle to sleep — around 105 to­tal be­tween the drug and place­bo arms — showed a big­ger im­prove­ment in the MADRS than the over­all tri­al pop­u­la­tion, the com­pa­ny had re­port­ed.
So­cial im­age: Shut­ter­stock